Jitendra Kumar speaks on playing the other half to Ayushmann Khurrana
The Telegraph caught up with the actor for a chat ahead of the release of their film Shubh Mangal Zyada Saavdhan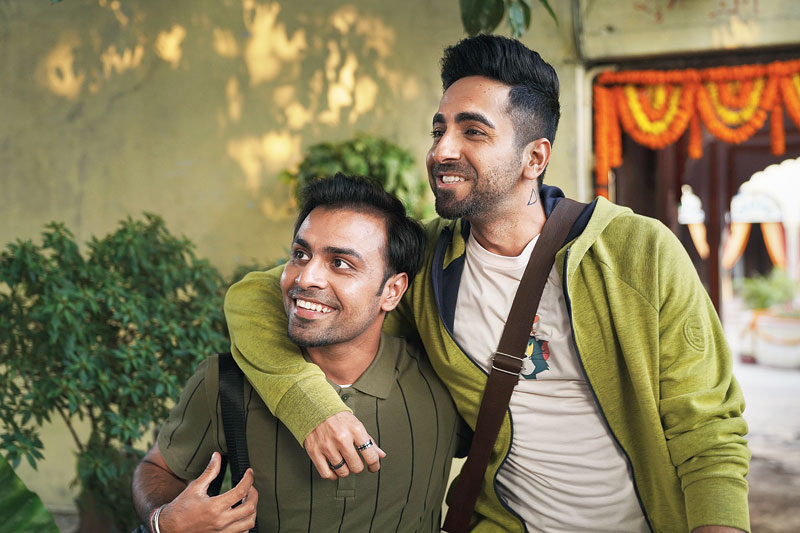 Jitendra Kumar and Ayushmann Khurrana in a scene from Shubh Mangal Zyada Saavdhan
Still from the film
---
Published 21.02.20, 06:56 AM
|
---
Jitendra Kumar plays Ayushmann Khurrana's love interest in today's release, Shubh Mangal Zyada Saavdhan, directed and written by Hitesh Kewalya. The Telegraph caught up with the actor for a chat ahead of the release…
You've been in feature films like Gone Kesh before. But do you think Shubh Mangal Zyada Saavdhan will finally give you the recognition?
When I was doing Gone Kesh, I was still this excited. But since this is a big banner film, I think it has a bigger reach. I'm excited because of that. This is an interesting topic and I'm expecting a good reaction from the audience.
How did you get this role?
Hitesh and Ayushmann have seen my previous work on TVF (The Viral Fever). When they were searching for an actor, Kota Factory had just released (a web-series on TVF). They thought of me for this role. I was shooting in Bhopal on a two-month schedule, so when they called me I couldn't meet and read the script. They called me again after two months saying that the character has still not been finalised. I met Hitesh and we read two scenes together. I also met Aanand sir (L. Rai, co-producer) and he had watched me before in TVF Pitchers. He told me that, 'You look very comfortable acting on screen but now when I'm seeing you during the readings, you look nervous. Imagine this as your part and your film and do it again'. After that, I felt comfortable and the readings went well.
Did Ayushmann and you know each other before this?
We had met in 2009 and he had done two promotional sketches with us at TVF. We had worked together then and had met twice or thrice. He used to say, 'Permanent Roommates and Pitchers mein tum bohot achhe ho'. He had seen all my good stuff (laughs).
And now you're playing lovers on screen and everyone's talking about the kissing scene in the trailer. Were you nervous while shooting it?
When we met on the first reading, the first thing he said was, 'Oh, I have to kiss you'. There was a bit of awkwardness, which I'm sure would have been there even if it was a female co-star. We were mentally prepared for five months that we would have to kiss one day. Before the shoot, we had a little chat and he told me he had kissed a guy while playing Truth & Dare during Roadies. Even I had in college during ragging. So, we both have had that experience. We were like, 'Let's do it'. Generally, you kiss in a closed room but on a film set you have to do it in front of so many people. Apart from that, there was no awkwardness.
How many takes did it take to get it right?
(Laughs) Three to four takes because of technical issues - first his takes, then my takes... so around three takes for every shot.
The film deals with a sensitive issue of same-sex love which is still considered a taboo in India. Do you think this being a commercial film will finally start a dialogue in the middle-class milieu?
I think that's the aim of the film and it has been written in that way. It's a family entertainer, it's not just for two people. It's for all the people who are around these two people too. It shows the entire family's reaction too. Any film made before on homosexuality were made before Section 377, when this was a criminal activity. The creators were also under a lot of pressure to show such things openly. But now the Supreme Court has made this legal and the creator is far more comfortable to show this kind of a love story. I hope people realise after that film that this is very normal and natural, that is what we show in the entire film.
What did you keep in mind while playing a homosexual person so that it doesn't end up looking caricature-ish?
When I was reading two scenes in the beginning, I still didn't know what the larger picture of the film was. I had inhibitions, wondering how they're going to portray this character. But when I heard the full script, I realised that the character is normal and not over-caricaturish anywhere. The director also wanted it to look normal and wanted me to be real... he asked me not to see any past reference or videos. He asked me to portray whatever is written in the script in a normal way. That was the director's job, not mine.
It has an ensemble cast of Neena Gupta, Gajraj Rao and Maanvi Gagroo too. Was the outdoor shoot in Benaras all chaos and fun?
It was madness for two months. I've worked with Maanvi, Neenaji, Gajrajji, Manuji (Rishi Chadha) before too. I knew everyone but I knew Maanvi and Gajrajji the best. But all of us had not worked in such a big project together before. The weather in Benaras was really bad, sometimes it was raining, sometimes it was very hot. The shoot was getting delayed and we were getting holidays. The actors had a lot of fun off set. We were all living together so we discussed each other's love stories and gossiped (laughs).
Any funny anecdote from the shoot?
The dialogue in the trailer where I say, 'Maine jab pehli baar Kartik ko dekha, meri badi ho gayi thi' was actually improvised by the director on set. In the script it was, 'Maine jab pehli baar Kartik ko dekha, meri aankho ko putliya badi ho gayi thi', it was direct. But during the shoot, the director came only to me and asked me to say this. He said when they react to it, you add, 'meri aankho ki putliya badi ho gayi thi'. Their reaction was actually genuine! He didn't tell Gajrajji and Neenaji that we would do this. The first time it happened, they laughed. We had to cut the shot and retake it (laughs). There's another pigeon scene that's actually a small bit of a song sequence but that went on for 15 days. The original plan was to shoot for 4 days and in bright sunlight. But then, clouds came and because of continuity, we had to keep shooting it in bits and pieces. Even if we were shooting other scenes, we had to change our clothes and come shoot bits of this pigeon scene. All so that the lighting difference doesn't show. We shot this till the last day! Everyone is a part of this and no one has any dialogue in it, only expressions. When that's the case, actors go mad because they are stress free (laughs).
Do you think comedy is your comfort zone?
No, it takes a lot of effort. A lot of things matter in comedy - the script, the lines, your timing, the co-actor's timing, how it's shot. You have to see if you'd laugh at the final output. You can crack a joke and make a person smile but it matters a lot when that's on screen. It can be a very nice joke but if you shoot it badly or the actor gets the timing wrong, it won't be funny. Comedy is very tough to do, it never gets the awards but it's the toughest task.
How did you create this amazing chemistry with Ayushmann on screen?
The director had told us that it should look like a normal jodi. People love Jai and Veeru or Munna bhai and Circuit... people love these pairs, right? They love them because they are good friends. He had told us, 'Romance and sexuality hum baad mein dekhenge, first they should look like good friends'. It was easier to create that chemistry of friendship and bonding. Later, I had to look at him with teary eyes and with love like how I'd look at a girl (laughs).
How did your parents react after watching the trailer?
When I signed the film in August, they already knew there's a film being made on LGBT and I'm playing a lead part in it. After watching the trailer, I got calls from all my siblings and cousins but I got my dad's call only after a day. He was excited and told me that he wants to do some screenings in our hometown in Rajasthan. They are very excited.