Dabangg 4 on its way
Fourth chapter in Chulbul tale announced at song launch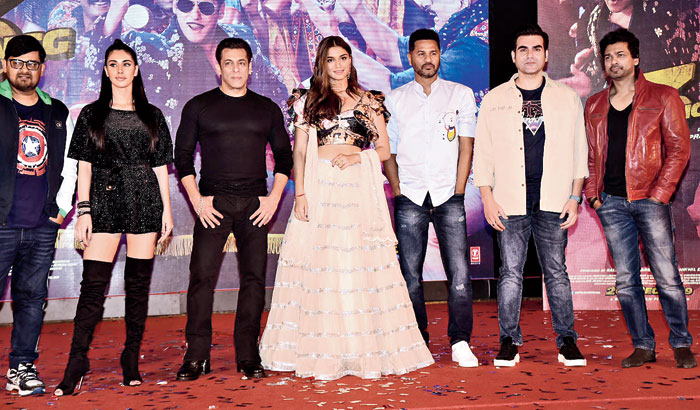 ---
---
Salman Khan has planned the fourth instalment even before Dabangg 3 releases on December 20.
The actor, at the song launch of Munna Badnam in Mumbai on the weekend, said: "We are already planning the next instalment, but right now we have announced Radhe, which is being shot and has been planned for Id release."
Salman's brother, producer Arbaaz Khan, said: "This time you will not have to wait for too long as Dabangg 4 will be made soon."
Salman, who performed and sang at the launch, even clarified the controversy surrounding the song Hudd Hudd Dabangg.
Told that whenever a big film releases there is a controversy and this time it is about Hudd Hudd Dabangg, the actor smiled. "At least people think it is a big film and as for the song it is our song and those claiming things are only trying to gain fame from the film. There is no truth in the allegations made against the song," he said.
The Hindu Jan Jagriti Samiti had objected to the song, which featured Brahma-Vishnu-Mahesh dancing with Salman.
The trade on the other hand is abuzz with reports that the film is eyeing a Rs 45-crore opening on day one.
On what his writer-father, Salim Khan, had to say about the film, Salman said: "My father is a very straight forward person. For this one (Dabangg 3) he said not to worry about it. Which means we have done a good job."
Salman added he wasn't nervous at all. "Only they get nervous who have not done a good job. We have really worked hard and done a good job in Dabangg and from the reactions I am getting I am very happy," said the Wanted actor.