Ashwiny Iyer Tiwari on the story behind Panga and bonding with Kangana Ranaut
She also talked about small-town settings, patriarchy and women's unfulfilled dreams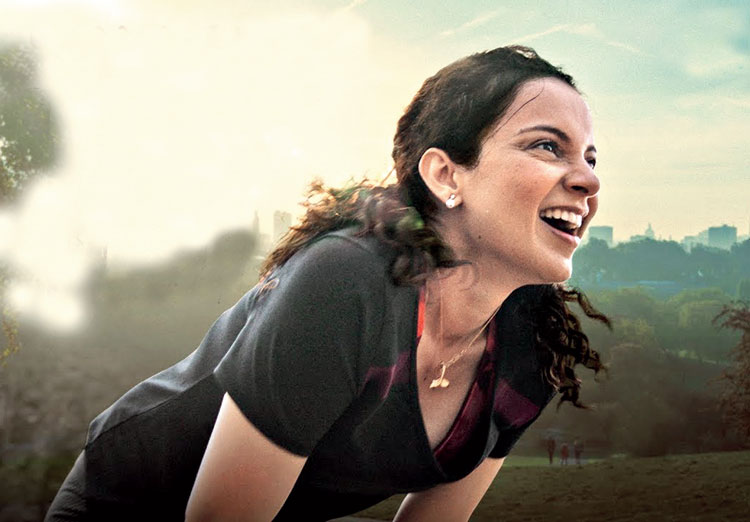 ---
Published 23.01.20, 07:21 PM
|
---
Stories of the Everywoman have fascinated filmmaker Ashwiny Iyer Tiwari for long. She returns to the theme with Panga, with Kangana Ranaut playing kabaddi player Jaya Nigam, who has quit the game after marriage and motherhood. Over a leisurely half-an-hour adda, The Telegraph chatted with Ashwiny about small-town settings, patriarchy and women's unfulfilled dreams and, of course, working with Kangana.
What triggered the story?
The STAR network has this Pro Kabbadi League. During the female kabbadi league, there were a couple of interviews that happened with the players and this came to the creative team here. Rucha Pathak (chief creative officer at Fox Star Studios, the producers of the film) said that we should do something on women and kabbadi, because it's a very rough sport and nobody's really explored it. I told her I can't do something that's only on kabbadi because that won't give me a high. So let's explore it further.
That's when (Facebook COO) Sheryl Sandberg's 'Lean In' campaign had come in, Serena Williams and Sania Mirza had babies. I had also experienced the struggle a mother goes through when it comes to going back to work. I had quit Leo Burnett and I knew so many stay-at-home moms who didn't want to go back to work despite having their MBAs and being on top of their game. My boss told me that I'm going to start feeling guilty and that there would be times when I would question why I'm going to work, but I should manage all of it because it's all part and parcel of life. The truth is everyone cannot afford a nanny, and not everyone has a good support system in the form of parents and in-laws. Then what? That's where Panga came from.
It doesn't matter how progressive you are... even if you're living in a nuclear family, it's now what your husband says. We've progressed but not to a place where we can take decisions that are more selfishly singular in nature
- Ashwiny Iyer Tiwari
What is it that attracts you to women like Chanda (Nil Battey Sannata), Bitti (Bareilly Ki Barfi) and Jaya (Panga)? Is there something specific that threads their stories to you?
Chanda, Bitti and Jaya are from three different generations and socio-economic backgrounds. Bitti and Jaya are both from middle-class families but the age group is different. One is before marriage, the other is after. In spite of saying we're developing and progressing as a country or that women walk around wearing jeans and short tops, there is still a thinking pattern which hasn't changed. There are a lot of hidden hopes and dreams but they don't surface after a point. So, it's all okay till the time you are at your parents' house but everything changes when you get married.
Women are like a commodity — it's like saying that you can take decisions but only if your in-laws say 'yes'. It doesn't matter how progressive you are... even if you're living in a nuclear family, it's now what your husband says. We've progressed but not to a place where we can take decisions that are more selfishly singular in nature. When Bitti's character says that everyone has a point of view on what she does, the father says it's because of the society we're staying in. I may not accept it, but it's what we're living in. You have to accept it and do your own thing. Our biggest problem is that we always think about what other people will say. What will your relatives say, what will your family say? It's true to all three characters, wondering about this but it's also true to everyone of us.
Small-town films have become a genre on their own and that's given rise to its own set of cliches...
When Bareilly Ki Barfi happened, it was the first film that happened in a small town after Tanu Weds Manu. And it had a very different texture, there was nothing made- up about it. I was trying to go back to the Hrishikesh Mukherjee style of filmmaking, to very real stories and taking the fabric of society by imbibing little things. Like Ayushmann (Khurrana, who played Chirag) taking clothes for ironing and going there and chatting... those little things. Then I realised everyone was doing those kinds of films, and there's nothing wrong in saying I started it (laughs).
Films, as an industry, can hugely add to the economy of our country. When I first went to Lucknow they used to have nothing, I had to even borrow furniture for a day from real houses. But now they have their own generators, vans, everything. Nobody had ever shot in Agra and I was shooting in real houses with the family staying in the next room. That's how it was.
If you're using the backdrop of small towns just because it costs less, that shouldn't be your reason for doing it. I take so long to make each film — Panga took two years — but that's only because the stories I want to tell should dictate where to place the film. Secondly, I don't make projects, I make films. Projects are something you finish... put a date to it, find a location, have an actor, wrap it up and release. Films are a part of my being and I can't do that.
There's so much negativity in the world today and focusing on someone's negatives are a sure road to disaster
- Ashwiny Iyer Tiwari
Why did you sign on Kangana to play Jaya?
Because she's the best. I always want my actors to get into character and I believe that some things work for you and some things don't. Kangana was meant to be in this film and I was meant to meet Kangana. We were meant to become the best of friends, we were meant to feed off each others' energy and we were meant to make things positive and change the way people look at us.
She also comes with a lot of baggage but I do not judge people. Everyone can live life the way they want to. For me, it's the person's craft that's important and I see her as a person who's extremely intelligent. I'm not insecure about anything, so that intelligence can only be a value-add to my storytelling. As a director, I can say something a hundred times to sell my film but an actor can say it just once and it'll be there. And we should accept that with humility that this is what it is.
When an actor is coming off a couple of films where collaborators have accused her of hogging credit and steamrolling others, does that not get you worried?
I was never worried. Someone had even reported that I signed a 'No interference' agreement with her and we do make up a lot of things and assume things. When someone has done something in the past or something wrong has happened, we just assume that the same thing will happen again. But my nature is such that I don't assume things. For me, it's just about what's in front of me and what's my relationship with that person. The only thing I said to her was that I trusted her. I trusted her as an actor and I trusted her instinct as a creative person. And I trusted her as a human being and every human being has their ups and downs, mood swings and nobody's perfect. So, I just focused on her positives.
There's so much negativity in the world today and focusing on someone's negatives are a sure road to disaster. We've maintained that for the past two years and there's no behind-the-back talk... we're like a family. She's the way she is with her own family and friends, we've always been truthful and honest about things. If I had a problem with anything, I'd go and tell her. Suggestions are always welcome because actors are intelligent and I'm never going to say that I won't use my actors' suggestions. Rajkummar Rao had a lot of suggestions in Bareilly Ki Barfi, he changed a shirt five times! Did I say anything? No, because he felt like he needed to do that. If the actor has a point and I have an able answer for it and it's not working for me, nobody's going to sit on my neck saying it's wrong.
In these two years, while making the film, was there something you discovered about Kangana as an actor or a person that was unexpected?
I wouldn't say surprised because I always knew there was a hidden, softer side to her. But when you take off the shell, inside there is a side to her which is like a sponge, absorbing so much. She can give and receive so much love. Only her closest people know this. Also, I feel that it's an animal instinct. The minute a mother feels like a child is getting attacked, she'll put up a shield to protect it. If you feel like you're being threatened all the time, you will put up a shield around you. I feel that trust is everything and once you gain trust, it's all there. She's extremely simple at home... she's simplistic and how! That's beautiful to see because what do we really need in life after all. She is what she is.