Birthday boy Mimoh's life lessons from Mithun Chakraborty and the dark side of social media
Mimoh Chakraborty on working with Nawazuddin Siddiqui, training in acting and life beyond films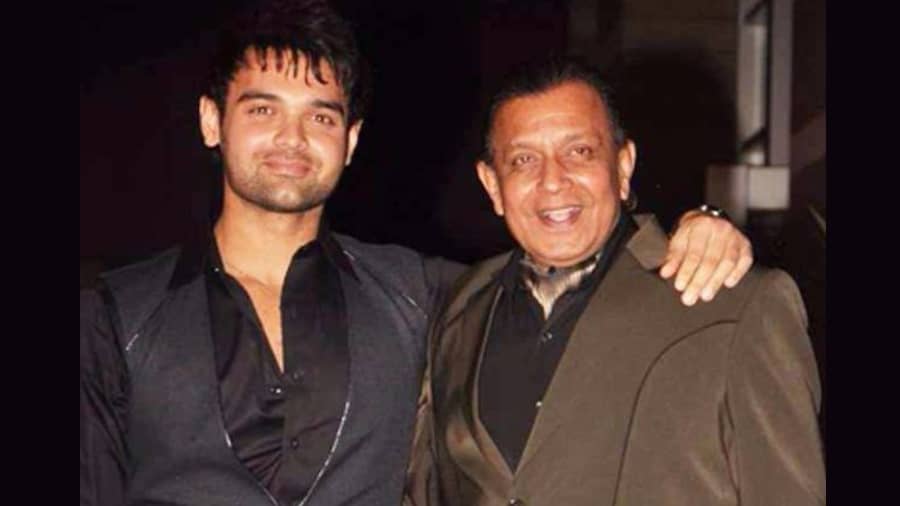 Mimoh with his father Mithun Chakraborty
@Mahaakshay Mimoh Chakraborty/Facebook
---
Calcutta
|
Published 30.07.22, 11:40 AM
|
---
Mahaakshay 'Mimoh' Chakraborty, who turns 38 today, debuted in 2008 with Jimmy, a name that reminds us of the iconic song picturised on his father, Mithun Chakraborty. We caught up with Mimoh to find out about his upcoming films, his other pursuits and why he's staying off social media. 
TT Online: You've worked with Nawazuddin Siddiqui in your forthcoming film Jogira Sara Ra Ra. How was the experience?
Mimoh: Jogira Sara Ra Ra (co-starring Neha Sharma) is based in Lucknow and is about a family, and how miscalculations and misdemeanors bring everybody together. For this film, I had to undergo a complete physical transformation in the way I talked and walked. And senior actors like Nawazuddin Siddiqui, he is a very giving actor. There were times when the director Kushan Nandy would not say "cut" when Nawaz sir and I were performing. 
You also have another film called Rosh. What is that about?
Mimoh: I am playing a computer analyst in Rosh; the director is Jayveer Panghaal. The film is based on two to five characters and is about what happens to these people one night when they come together and what you think who they are. For instance, my character, at the beginning, you don't know if it is a good or a bad character, but as the story unravels you realise that everyone has their own motive
You are an alumnus of the New York Film Academy. How is the academic experience helping you? 
Mimoh: Being a part of the New York Film Academy was one of the greatest moments of my life. I was touching 19, I think, when I went for the course. It showed me the basics, the ABC of acting, gave me confidence to do improvs and create a character. I recommend acting workshops because they give you the confidence to stand in front of the camera and enact in front of complete strangers. 
What has been your biggest learning from your father, Mithun Chakraborty?
Mimoh: His life is dedicated to us. Whether it is from the pencil I wanted in school to the pants that I wanted to wear for the audition, he has done everything he could and is still doing for his children and family. 
He has always taught me the right values, to stand up for what is right and not for what is popular. He has been my greatest motivator and my biggest critic. And now, touch wood, we have come to an age where we are very good friends. 
What are your three favourite Mithun Chakraborty films?
Mimoh: (Laughs) I have seen most of his films and those three would be Phool Aur Angaar, Suraksha, and he played a villain in Jallad, so Jallad. 
Do your parents guide you while choosing scripts?
Mimoh: No, never. My dad and mom have made it perfectly clear that just because "you are our son, it doesn't give you the entitlement of us helping you. It is your path, you chose it because you wanted to. So, you'll cherish the success and you will learn from the failures."
Your dance with your father and brother Namashi to I Am a Disco Dancer, as a tribute to Bappi Lahiri, created a stir on the internet. Are there in-house dance sessions when you three are together?
Mimoh: Not at all! The thing is dad loves cooking, so he is always in the kitchen. And I am into my studies. I am studying more now than I studied back in school. Namashi has his set of friends; he goes to the gym, and his movie is coming out, so he is busy with that. In fact, what happened that day had actually never occurred before! That's the first time we three danced together on Disco Dancer.
Why aren't you on social media?
Mimoh: I used to be on social media until four-five years ago. Putting myself out there and showing the world what I was doing had a negative impact on me. Not being on it is a blessing because now I am doing so many things that I wouldn't have done if I was on social media. Whether it is learning languages – I am learning Spanish – or studying online… I am reading a lot about space and astronomy, becoming a crossfit athlete. Back then, it was more like – I have to show my weightlifting. That became very negative for me and I stepped out of it. That's the best decision I've made in my life.