Asuran to Polladhavan: Watch these 5 politically charged action thrillers by Tamil filmmaker Vetrimaaran
The 47-year-old director is a National Award winner and has collaborated with Dhanush for many of his films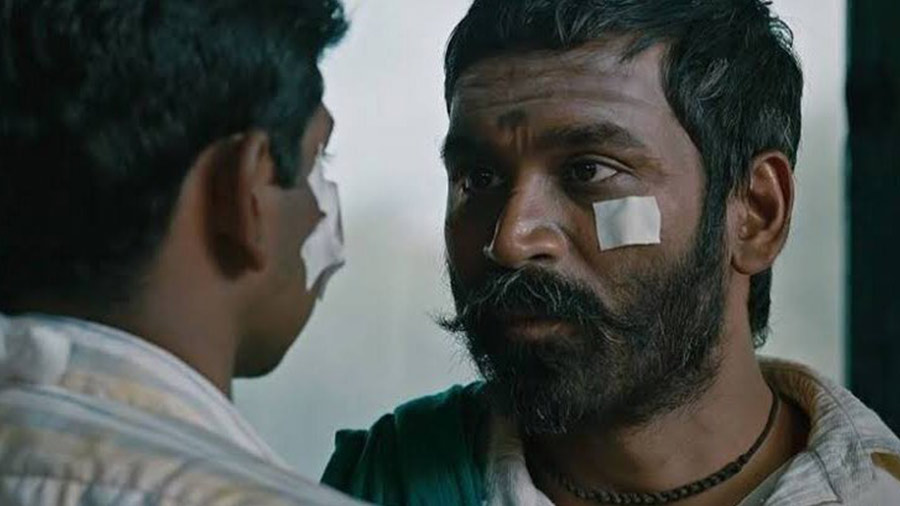 A still of Dhanush from Asuran.
Twitter
---
Calcutta
|
Published 03.09.22, 05:49 PM
|
---
It takes serious courage, commitment and passion to translate India's caste and ethnic problems into the language of cinema. National Award-winning Tamil filmmaker Vetrimaaran pulls it off with a dash of black humour.
As he turns 47 on September 5, we pick five movies by Vetrimaaran that should be on a film buff's watch list. Written and directed by Vetrimaaran, this action drama is based on Sahitya Akademi award-winning author Poomani's celebrated novel Vekkai. Starring Dhanush and Manju Warrier, Asuran, which is themed on caste oppression and politics, also takes inspiration from the real-life Kilvenmani massacre that occurred in 1968 in Tamil Nadu. 
Dhanush's Sivasaami is a meek Dalit farmer living with his sons and wife Pachaiyamma (Manju). After his son kills an upper-caste man, Sivasaami goes on the run along with his members. In spite of typical commercial elements, the macabre revenge drama mirrors hard reality and points at the futility of caste violence. Apart from the emotional appeal of the movie, Dhanush's brilliant performance makes Asuran a gripping watch.
Watch it on: Amazon Prime Video
Vada Chennai (2018) Vetrimaaran's 2018 period gangster thriller narrates a fictitious tale set in the criminal underbelly of north Chennai. It goes deep into the heart of the local fishing community to trace the fate of Anbu (played by Dhanush), an easy-going carrom player who gets thrown into the criminal world due to his short temper. The story chronicles how Anbu reluctantly participates in a gang war to avenge the death of a friend. 
From a realistic portrayal of the lives of people in those parts to the obvious political undertone, Vetrimaaran's Vada Chennai is an unforgiving reflection on insecurity, revenge, rage and an insatiable urge for bloodshed. Dhanush's brilliant portrayal of Anbu's transformation from a carefree young man to a bloodthirsty gangster is a treat to watch. 
Watch it on: Disney+ Hotstar and Sony LIV
Visaranai (2015)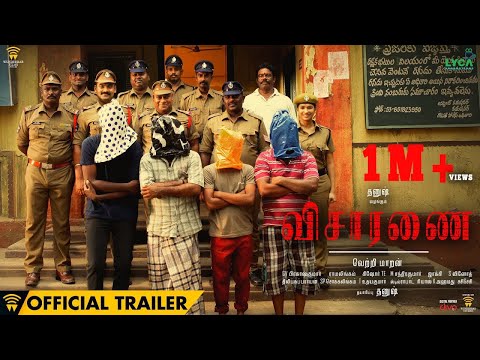 Visaranai, or the Interrogation, is a crime drama based on author M. Chandrakumar's autobiographical novel Lock Up. In this movie, Vetrimaaran captures the plight of Tamil migrant labourers — played by Attakathi Dinesh, Aadukalam Murugadoss, Pradheesh Raj and Silambarasan Rathnasamy — in Andhra Pradesh by throwing light on the ethnic tension between Tamil and Telugu people. Upon its release, the film faced backlash from Tamil Nadu Police for its portrayal of police brutality in custody.  
Visaranai follows the story of four Tamil labourers in Guntur, Andhra Pradesh, who are implicated in a theft case and tortured into confessing to the crime. The labourers are then offered a chance to escape — if only they take part in a shady conspiracy scheme. This politically-charged film covers volatile issues like ethnic tension, class divide and exploitation of the underprivileged by law enforcement agencies. It won the National Film Award for the best feature film in Tamil in 2016.
Watch it on: Netflix
Aadukalam (2011) Going deep into the wild world of cock fights in rural Madurai, the film stars Vertimaaran's close collaborator Dhanush opposite Taapsee Pannu. 
Dhanush plays Karuppu, a brilliant rooster breeder who specialises in breeding and training roosters. His mentor is Pettai (V.I.S. Jayapalan), a master who knows all about cock fights. However, Karuppu disobeys Pettai during a crucial cock fight and gets his rooster to fight in the tournament. Although Karuppu is victorious, Pettai becomes jealous of his disciple and decides to destroy him. From then on, it is a battle of wits as well as muscle for the mentor and the apprentice. Aadukalam won Vetrimaaran his first National Award in the best director and best screenplay categories in 2012.
Watch it on: YouTube
Polladhavan (2007) Vetrimaaran's directorial debut marks the beginning of his collaboration with Dhanush. The action thriller showcases Vetrimaaran's exquisite writing skills and attention to detail as he presentes audiences with a new visual experience.  
Dhanush plays Prabhu Shankar Prabhu, who considers his bike as a lucky charm. But after his bike gets stolen by some drug-trafficking gangsters and his father gets assaulted, Prabhu decides to hunt the goons down and put an end to their illegal business. Upon its release, Polladhavan toppled box office records and established Dhanush as a youth icon. Polladhavan has since been remade in Kannada, Telugu, Bengali and Sinhala.