Are these exciting times in the Indian cine creative space?
Hear it from a panel led by Anil Kapoor and Rakeysh Omprakash Mehra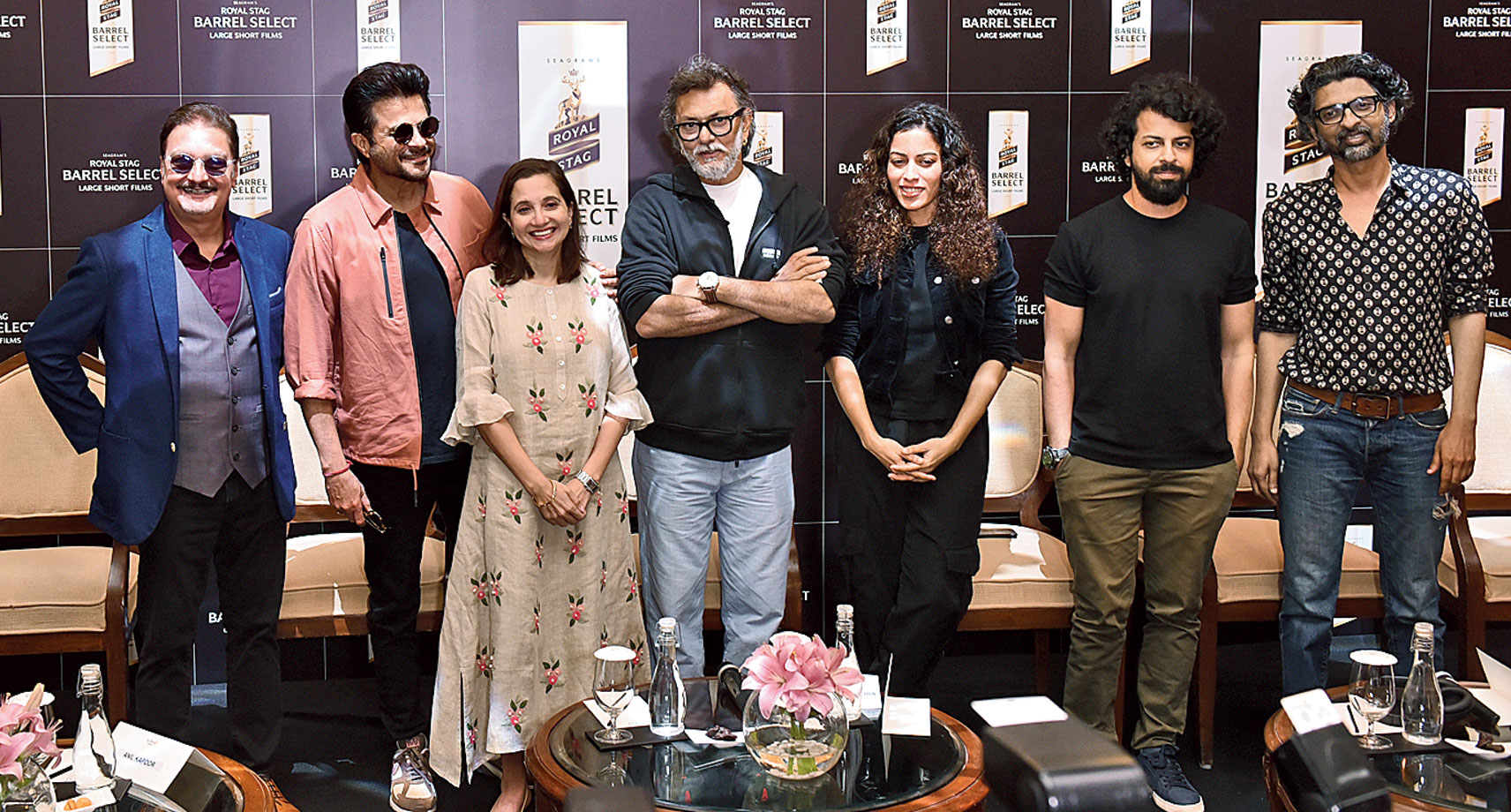 ---
---
Royal Stag Barrel Select Large Short Films — an initiative that has been supporting short films through the years — recently organised a discussion at Taj Bengal that had an eclectic panel — actors Anil Kapoor and Vinay Pathak, filmmakers Rakeysh Omprakash Mehra and Bejoy Nambiar, actor-director Sheetal Menon and writer Niranjan Iyengar — talking about the then and now of Indian cinema. Excerpts from the chat, moderated by film critic and author Anupama Chopra…
Anupama Chopra: Anil, you have been an actor since the late 1970s. It's an amazing journey. What's your sense of the cinema we are creating today and how do you consistently keep reinventing yourself to match whatever kinds of films are working at that time?
Anil Kapoor: It's a good time now, to be honest. There are more and more filmmakers aligned to my kind of thought. There was a time in my career — especially in mainstream cinema — when I was kind of an odd man. People used to say, 'Arre yaar, yeh bahut zyada real kaam kar raha hai! (He is doing too much real work) (Laughs) My inclination was always towards the kind of cinema that's being made today. The filmmakers that I admired were mostly from Calcutta and I was fortunate to meet some of them. I met Mrinal Sen and always wanted to work with him but never got an opportunity to. I shot for an M.S. Sathyu film (Kahan Kahan Se Guzar Gaye, 1981) in Calcutta for 45 days. We used sync sound and shot it guerrilla style. They had a low budget and we had no permissions to shoot… it was financed by the film federation here and by NFDC (National Film Development Corporation). We shot at beautiful locations. I was supposed to do a film with Aparna Sen, but it didn't happen. I hope we get to work together soon. I did a film (Pallavi Anu Pallavi, 1983) with Mani Ratnam. And then I was like, 'Chalo, kuch mainstream karte hai… paisa bhi kamaana hai' (Let's do a mainstream film. Need to earn money too).
When I started working in commercial films, I felt like a fish out of water. They were like, 'Anil Kapoor thaile waala actor hai'. I was used to sync sound aur main jab dialogue bolta tha, (when I said the dialogues) the director would say, 'Sir, sunai nahin de raha hai. Zor se bolo' (Speak loudly, you cannot be heard) (laughs). I came to learn about a certain kind of pitching that's required for these films, which is also not easy, it's an art. I transitioned smoothly and I learnt on the job.
Now, there are certain mainstream filmmakers who are making all kinds of films, many of which are not pure mainstream. The lines are blurred now. Rakeyshji's (Omprakash Mehra) films are an example of that. Rakeysh, agli film kya kar raha hai? Mere ko leta hai kya? (Rakeysh, which is your next film? Will you take me?) (Laughs)
Anupama: Are you using this opportunity to network?!
Anil: Ya, ya! (Everyone laughs) What I am saying is now the world is opening up, storytelling is developing, platforms are coming in. Apple (TV) is coming in, which is good news for all of us. These are exciting times, so many opportunities for people like us who are middle class (smiles).
Anupama: Rakeysh, your films — whether it's Aks or Rang De Basanti — have always been considered to be ahead of their times. Do you think that times have at last caught up with you?
Rakeysh Omprakash Mehra: I have grown up on the cinema of the '50s and '60s. I was a Delhi boy who wasn't exposed so much to regional cinema, but I remember that on Sunday afternoons, we would get to see cinema from different parts of the country. Those were benchmark films. Later on, my work in advertising used to take me to London often and on weekends, I would wander into HMV stores and they have this huge, huge collection of world cinema. I am not from a film school, nor have I assisted anyone. When I started watching those films, they had an impression on me and I felt like, 'This is what Indian cinema of the '50s and '60s is like'.
When I entered the industry, I was told, 'Hollywood mein aisa hota hai. Unki filmein dekho, unka DVD leke copy karo' (This is what happens in Hollywood. Watch DVDs of those films and copy them). I couldn't come to terms with that because I felt that we could not only match them, but also beat them. We have always been on a par and we've had masters who have been recognised among the best in the world. Do Aankhen Barah Haath (1957) had already won a Silver Bear (at the Berlin International Film Festival), in the face of the competition that he (director V. Shantaram) was facing from the world cinema masters of that time. So yes, we have had a humongous legacy in terms of our cinema. I have never thought that we are behind times or that I had to look for inspiration anywhere else but in our own cinema. I am caught up somewhere in between building a bridge between so-called art and commercial cinema and integrate them into one kind of cinema. The endeavour has always been to tell stories that move me and through me, move the viewer.
Anupama: Vinay, Rakeysh just spoke about building bridges. You've built bridges not only between types of cinema but also between formats, long form or shorts. Where do you feel you are most stretched as an actor?
Vinay Pathak: For an actor, the biggest excitement lies in working. Anil Sir worked in films like Chameli Ki Shaadi and Woh Saat Din, which were not mega-commercial films, but they were such good films. I came in from a theatre background and started doing low-budget films, but the satisfaction of telling a story was immense. And it's exciting that new storytellers are emerging today and there are so many different platforms through which one can tell a story. Everything is now so cinematic — whether it's a feature film, a short or even a web series. In six episodes, one feels you have watched six films. For me, the character and story is paramount. I am often drawn to the films where I am able to completely immerse myself.
Anupama: We have spoken about new voices in filmmaking and that's the perfect time to bring in Sheetal. Why did you choose to debut as a director with a short (Siblings)?
Sheetal Menon: The need to showcase my work as an actor kick started this process, actually. I waited too long as an actor for a part and the right kind of work hardly came in. There was no plan in my head that I would direct. It started about two years ago when I started working on the story with the thought that I would be part of it as an actor. I took almost a year to write it and then Bejoy (Nambiar, filmmaker and Sheetal's husband) was like, 'You've taken too much time. Either close this or move on' (laughs). That was the time when I started working backwards. When we started discussing who to get on board to direct it, I realised that I was so attached to the story that I couldn't bear to part with it. And then I had to choose between whether I had to direct or act. But Bejoy told me to do both. I was like, 'Okay, I don't care if I make a bad film, but I have to make this' (laughs).
Anupama: Bejoy, you have worked across industries. Where do you think we stand? Are these really exciting times?
Bejoy Nambiar: I completely agree. I started my career with short films and that time we didn't have proper platforms, apart from YouTube, to showcase them. I had my first short film (Reflections) on a reel that I would send to film festivals. Cut to now where you can shoot an entire film on an iPhone and send it to the biggest festivals. The biggest benefactors of the boom that we are experiencing now are storytellers and actors. Writers are finally getting their due… it's almost a renaissance for writers.
Anupama: Niranjan, is it a renaissance for writers?
Niranjan Iyengar: Well definitely, considering the number of offers across platforms that I have been getting! (Laughs) It is a very, very good time. More than the money or the opportunities, I think respect has really risen. One heard a lot of stories of writers being sidelined in terms of credit or limelight or money, but now they can lay down their terms and conditions. Finally, realisation has struck that writing forms the spine of a film. The choices now are so many. If you are able to navigate through those choices and make the correct decisions, then this is the time for you.