Anjan Dutt: 'I always wanted to play a detective but I'm too old for it'
Dutt plays a detective's mentor in his film Revolver Rahasya starring Suprobhat Das and Tonushree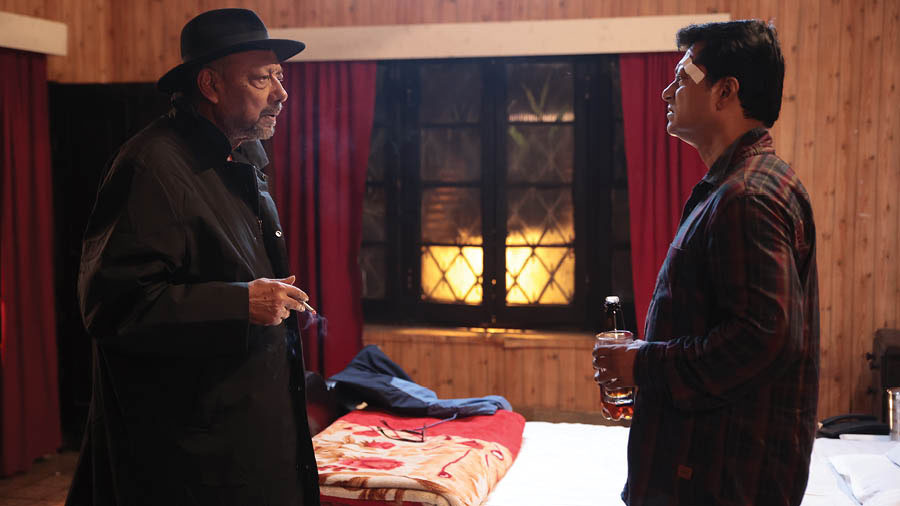 (L-R) Anjan Dutt with Suprobhat Das in Revolver Rahasya
---
Calcutta
|
Published 27.02.23, 03:28 PM
|
---
His first directorial work was a detective series – Rudra Sener Diary for Doordarshan — and his latest outing at the theatres is a film based on his book, Danny Detective Inc. Anjan Dutt takes us through the backstory of Revolver Rahashya, where he plays detective Subrata Sharma's mentor, Danny. 
You have been a detective fiction lover since childhood. Which are the books that were your favourite? 
Anjan Dutt: When I was in Class IX in Darjeeling, the first books I read were Tiger by the Tail and Strictly for Cash by James Hadley Chase. The books excited me in terms of the language and the story. Those two books have very provocative covers of semi-nude women, which had nothing to do with the stories. James Hadley Chase's books had very strange covers of women at that point in time. For this reason, I used to borrow them from my seniors, put a cover and read. 
When I came to Kolkata, I regularly visited the libraries here. I read books by Raymond Chandler and Dashiell Hammett. I really liked it because of the whole ambience and fun of pulp. Much later, when I was in college, I started reading British writers like Arthur Conan Doyle (Sherlock Holmes) and Agatha Christie. The Americans came to me first. 
When I was in university, I started reading Bengali novels. I realised that I had to learn Bangla. I was told by Ajitesh Bandopadhyay and Badal Sircar that I must learn Bengali. They asked me to read Bengali detective novels. Every serious brilliant writer had a detective character. My introduction to Premendra Mitra's literature was through Parashor Barma. My introduction to Samresh Basu was through Gogol, Samresh Majumdar was through Arjun, Sunil Ganguly was through Kakababu and Nihar Ranjan Gupta was through Kiriti Roy. 
It was then that I realised that Bengalis have looked down on detective fiction as lower grade literature. The only person who took it seriously was Sharadindu Bandopadhyay. As a filmmaker, Satyajit Ray took it seriously through his thrillers. He gave a lot of dignity to the characters, which nobody did at that time. 
What made you write the book, Danny Detective Inc.? 
Anjan Dutt: After making quite a few films, I decided to buy the rights to the Byomkesh Bakshi stories and build a franchise. But no one was willing to fund the franchise at that point of time. I wanted a comparatively fresh face called Abir Chatterjee. We spent almost a year trying to find a producer.  It was very successful. I wanted to continue with it. But everybody started doing it too. There was no uniqueness to it. Byomkesh was not mine anymore. I decided to quit. Instead of choosing something else, I decided to write. That is when I created Danny Detective. This was a one-and-a-half-year journey where I wrote six stories, created the Danny Detective agency and the characters. The whole idea was to make films, but I decided to write the stories first. 
When I was writing the book, the first story I wrote I wanted to test out whether this was going to work at all or not. I did a very small four-part series for Klikk. It was based on the first story. Then I wrote the second book, which was published recently. Revolver Rahashya is the sixth story I've used for my film. 
Your songs and scripts have a different style. How challenging was it to find your own style of writing and creating a detective character? 
Anjan Dutt: That was a huge challenge. I took a long time to find my style. The writing of Raymond Chandler attracted me. The terse, hard-boiled edgy writing is missing in Bengali. I wanted to find a different style. It took a long time. Finally, it's a mixture of a style translation of James Hadley Chase. The fun interaction between detective Subrata Sharma, played by Suprobhat Das, and Danny, played by me, is something I wanted to portray in Revolver Rahashya. I have consciously broken the fourth wall in the film. 
Detective Subrata Sharma is not a typical detective. How did you go about creating this character? 
Anjan Dutt: People are liking Subrata because there's too much of Feluda and Byomkesh happening. Every actor is playing those characters. The audience is bored of it. Subrata is the guy-next-door. I wanted to create a character who represents today. I wanted somebody who's a Bengali, who's a little confused, has courage and honesty but is lazy and impulsive. I thought of having a politically incorrect hero in the world of too many intellectual and politically correct people. He's imperfect. He ends up loving every woman he meets. I use this fact in the plot in a way that if he didn't fall in love, the situation wouldn't have arisen. You will not see a Feluda or a Byomkesh giving guns to the suspect. This trust is a human trust. Subrata is very vulnerable. He's street smart.  
You played Danny in Revolver Rahasya. Did you have yourself in mind while writing the story? 
Anjan Dutt: Yes. I always thought I was a funny person and I make funny films. People have never really used that ability. I always wanted to play a detective but I'm too old for it. I cast myself as the detective's mentor. I never thought of casting anyone else as Danny. How did you zero in on Suprobhat and Tanushree?
Anjan Dutt: Suprobhat is Bengali, very non-anglicised but intense. He has an ordinary face but there is character in his face. It's a slightly vulnerable but smart and romantic face. He was always on my mind, and that's why even before the film, I used his face on the covers of my books. For Tonushree's character, Tamali, I wanted to cast someone from the commercial Bangla cinema space.
Your love for detective fiction made you create Rudra Sener Diary on Doordarshan, which was also your first directorial venture. Will we ever see Rudra Sen on the big screen?
Anjan Dutt: Rudra Sener Diary was very popular. By the time I became a filmmaker and had money to bring it to screen, Sabyasachi (Chakrabarty) got old. I couldn't think of anybody else playing that role. I can't identify it with anybody else.
You have already directed the Danny Detective series for OTT. How is directing for OTT different from films?
Anjan Dutt: There is a big difference. We used a certain kind of style in the film which was more flashy with different camera angles and movements. I have hardly done anything in post-production. The slow motions, high shutter speed, everything is shot on camera. There is a scene where I'm running in a circular motion and Subrata is standing still and talking over the phone. It was done at a low shutter speed. We wanted it to rain. We shot in a damp environment. The shots are handheld, there are jerks. It looks natural.
You shot Revolver Rahasya in your favourite place — Darjeeling....
Anjan Dutt: Yes. I could shoot it properly because I know the place. It is a challenge to show the same place in different ways. We shot it in difficult conditions and in difficult places with a lot of people around. We shot in the bazaars, colonies and many houses without letting people be aware of it. It was very difficult. It was raining. Since people connect with me and they don't mind so much, I got away with it. I wanted to show the non-touristy places more.
What was your brief to Neel Dutt for the music of Revolver Rahasya?
Anjan Dutt: Since the visuals and shot-taking are very different in the film, I told Neel that the music should not be very Hitchcockian. I wanted the music to be slow. I wanted to use melody. We followed that.
You are slowly venturing into the web space. How do you see it as a platform to tell stories?
Anjan Dutt: I think OTT is here to stay. We should be able to tell stories which probably are not possible in cinema. It will get saturated if it continues to tell the same kind of story. Both cinema and OTT have to evolve. Right now OTT is in a more comfortable position. The OTT space is primarily for writers. Cinema is a space for writers and directors together.
Your role in Haami 2 has received a positive response from the audience...
Anjan Dutt: Yes, but I am not very personally comfortable in the sentimental genre. I prefer genres which are slightly out of the box, unconventional. Like my role in Nirbaak. I like roles that are challenging to me.
What are your upcoming projects?
Anjan Dutt: I am making a film on Mrinal Sen. It's a wacky comedy about my personal connection with him. My family and I will be funding the film.