Ananya Panday: Model student
Ananya Panday knows that she is lucky because she had access to Karan Johar but also knows that nobody's going to put his money on you only because of who your father is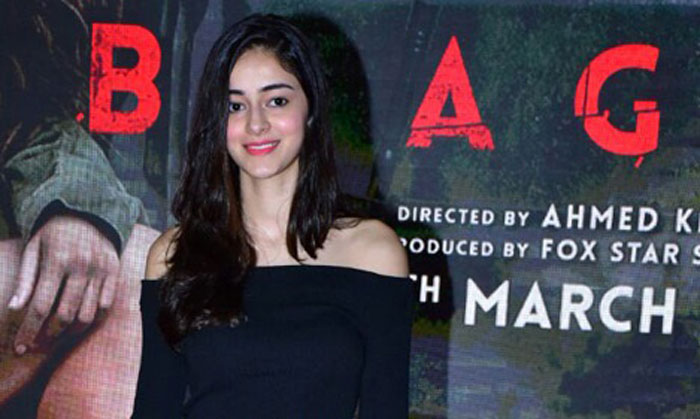 Ananya Panday
(Wikimedia Commons)
---
Published 29.06.19, 08:32 PM
---
What's it like to be barely 20 years old, on the cover of Cosmo and half-a-dozen other glossies, and have flashbulbs popping every time you step out?
What's it also like to get a break more easily than anybody else because Karan Johar has seen you right from the time you were in your cradle?
Would she be floating like she'd bathed in bubbly, perhaps be blasé too?
Her father, thanks to who she grew up knowing Karan, certainly didn't handle fame with discipline in his initial years. A natural charmer, he was once late even for the mahurat of his film where Amitabh Bachchan was waiting.
But refreshingly, the extremely disciplined Student Of The Year, Ananya Panday is not your average giggly 20-year-old.
One week after SOTY,"I was on cloud nine when I went to Pune and found the crowds chanting my name. Earlier, they knew only Tiger Shroff," she'd exulted. Everything had excited her.
But three weeks and many magazine covers later, Ananya misses the exhilaration of being on set and making a movie. "It's the highest of highs being on screen."
Was it only the high of acting or the fame, flashbulbs, covers and brand endorsements that she wanted?
"It's a mixture of everything," she says frankly. "I can't say I don't like getting 'papped' or why are people interested in my personal life. I signed up for this entire package of being an actor."
Yes, she takes those stories about her and co-star Kartik Aaryan, too, in her stride. It's a part of what she signed up for.
There's a sensible head on those young shoulders as this girl who knows that she was lucky because she had access to men like Karan also knows that nobody's going to put his money on you only because of who your father is.
As she puts it, "I had access to Karan Johar but nobody will put his money on you because of that. Making a movie is not like making a home video."
So, although she got her second film, BR Films' Pati Patni Aur Woh, even before her first film was released, and she's endorsing three big brands, guess what she did after SOTY? She went back to her dance classes and diction lessons.
"Discipline has been a part of my life since a young age," she points out. "I went to Dhirubhai Ambani International School where I studied hard and was always disciplined. So I've become that kind of person. Being an actor is what I've wanted all my life, so I'm not going to take it lightly."
One of the quietest celebrity kids around, whose voice never registered with most of us when she was growing up, playing the catty, outspoken Shreya in the campus film brought out the real, un-shy Ananya. "Playing that character who's so expressive, so very loud, made me open up. Punit (Malhotra, director) stripped my fear away so I could be myself in front of 100 other people too and not just with my friends."
By the way, Ananya's voice is exactly like her mother, Bhavna's. A nice bass, not shrill and high-pitched.
She gets that and more from both her parents. When Bhavna and Chunky realised how serious she was about becoming an actress, they went about it sensibly. They told her to do her auditions but also to apply to colleges at the same time.
Today, all of them are part of her script choices — and she is in no hurry to say yes to any.
"My father's opinion means a lot to me, he's got so much experience, while my mom reads a script like the audience would. So both their opinions matter," she explains. "But ultimately, it's my gut feeling and my decision. I have to live with the character and the film all through its making. So I have to love it."
From the makers of Pati Patni Aur Woh, one hears that Ananya is one of the most hardworking girls they've worked with. The last time one heard this about a new girl, she went on to become Katrina Kaif.
Bharathi S. Pradhan is a senior journalist and author.