After Pink, Taapsee Pannu reunites with Amitabh Bachchan in Friday film Badla
I don't treat him like "The" Mr Bachchan, says Taapsee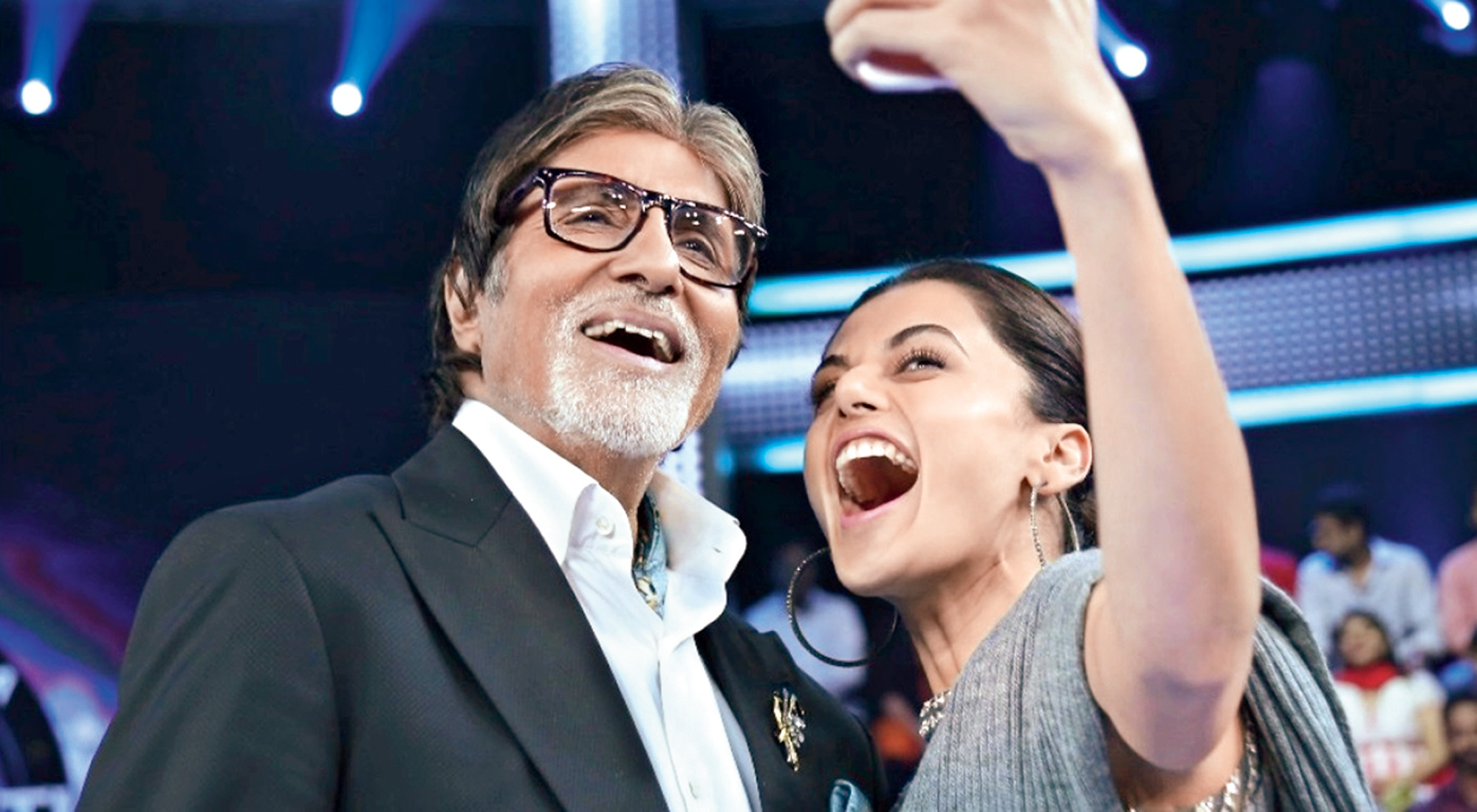 Amitabh Bachchan and Taapsee Pannu
The Telegraph picture
---
Published 06.03.19, 07:04 PM
|
---
There's no doubt that Taapsee Pannu is one of the most exciting young talents in Bollywood today. An actor who can go toe-to-toe with the legendary Amitabh Bachchan and still make her mark is someone to watch out for. The Pink co-stars are back together in Sujoy Ghosh's Friday film Badla, a remake of the Spanish whodunit The Invisible Guest. t2 met the actress in the swank Mumbai office of Red Chillies Entertainment, the film's co-producers, where she chatted about her equation with Bachchan (that even Bachchan's son Abhishek is amazed at!) and working with Bhumi Pednekar in Saand Ki Aankh.
Like last year, you'll have four releases in 2019. How insane is your life right now?
(Laughs) It's been consistent rather from last year to this year. I'm not complaining; I'm already planning so that I should have an equal number of releases next year as well! (Laughs) I'm happy that it's an interesting mix of films, because that's what is scary — when you have a lot of releases, you can't have similar stuff coming. Because it's such a mixed bag, people won't slot me as an actor in only a particular type of film. 
When t2 spoke with you during Manmarziyaan last year, you joked that you were happy it was your last release because even the audience must be tired of seeing you!
Yeah, because that was a fear. In fact, I remember Shoojit (Sircar) Sir also called me after Mulk and told me he liked it. And even he told me to take a break and do a little less. I told him my next release is in March, and I'm really happy now to be back after a bit of a break.
When you're working on multiple films, have endorsements, a wedding planning business and a sports team, is there any downtime at all?
Not as much as it used to be and it is slowly decreasing. Thankfully, I do a lot of stuff with my family. My sister runs the wedding planning company. This morning, for example, I had a meeting with her to sign some cheques and contracts. She also helps me manage the PBL (Premier Badminton League) team and my father handles my finances. Family and work have merged in a way, so I get to spend quite a bit of time with my family. The only work that I do without any involvement from them is acting.
My holidays are mandatory; it's a part of my schedule and it's never compromised. I have to take five days off between two films. For those five days, if I say I won't work, I just won't. That's important... otherwise I'll exhaust myself and it'll eventually start affecting my films.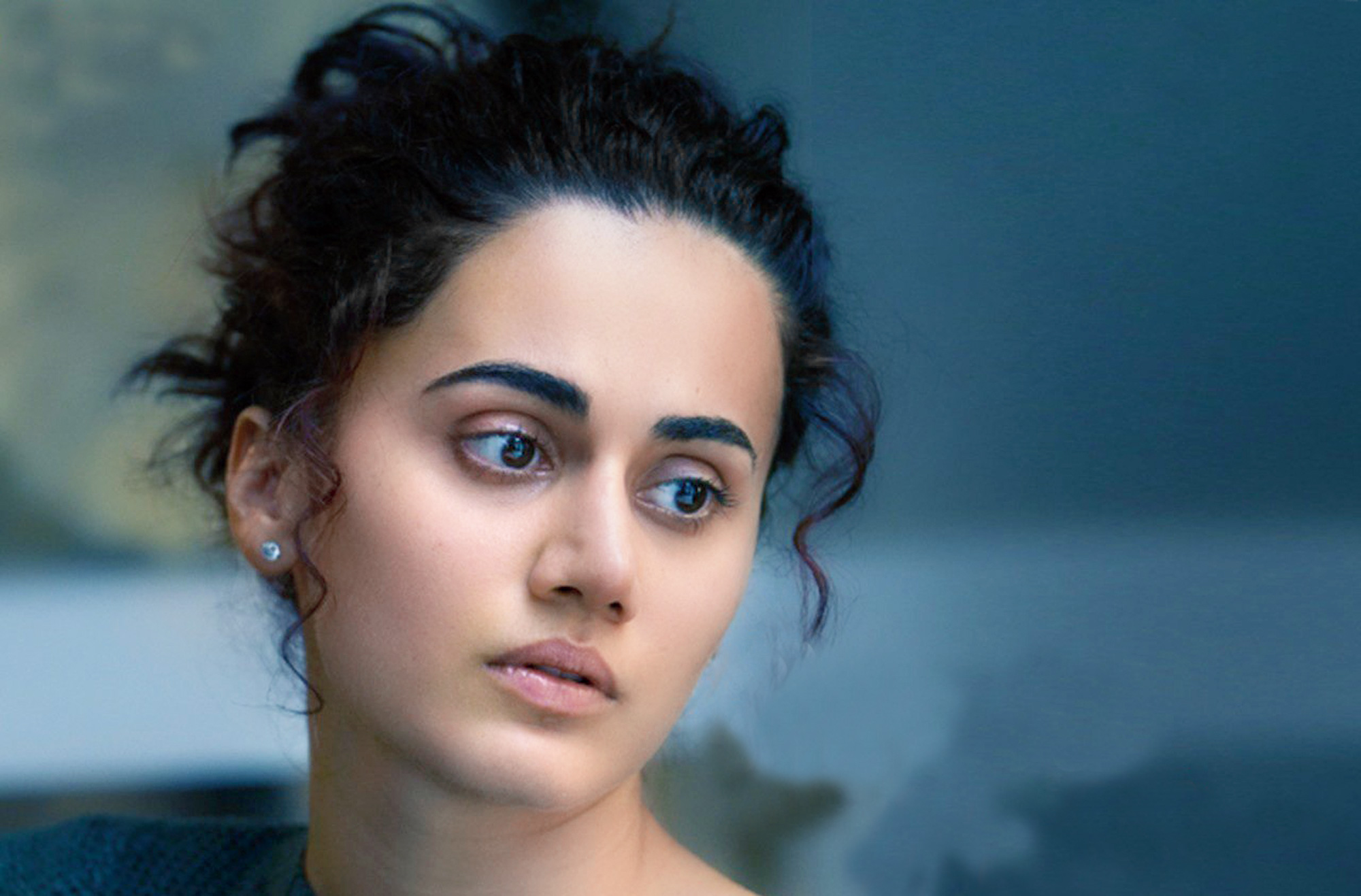 Badla is a film that you were keen on getting made. What got you so interested?
Firstly, I had not done a murder mystery, even in the south. Also, I thought it's been a while since we've had a really good whodunit in Bollywood. There's very interesting client and lawyer chemistry, and we're lucky that Mr Bachchan and I ended up doing this film. It's so different from what we did in Pink. The relationship might seem to be the same, but the characterisation and the friction between the two has completely changed. Especially my character, Naina, is nothing like Pink's Minal, who was a victim, was meek and didn't know how to deal with things. While Badla's Naina is a self-made, strong woman who is a multimillionaire in Glasgow.
What was it like to be reunited with Mr Bachchan on set after the gap?
On the first day, we were on set and Mr Bachchan came in and started saying, 'Where's the chick? Where's the chick?' (Laughs) The equation we share is regular... he treats me like a regular co-star and so do I. I don't treat him like "The" Mr Bachchan because I feel that being put on a pedestal makes him really uncomfortable. He probably feels isolated and gets all awkward and weirded out. We would sit for six-eight hours every day across the table shooting for this film, and in between takes, we'd just sit there and chat about everything.
I've worked with Abhishek (in Manmarziyaan) as well and there are no conversations that I would have with Abhishek that I can't have with his father. Two films now, and I've shared so much time with him. So, it's just got comfortable and chilled.
Even Abhishek makes fun of the fact that the kind of equation I have with his father is way too chilled for even him to fathom — that someone younger than him can treat his father like that. For me, he's just my co-star and the way he sees and talks about things is damn cool. With things that are happening in a millennial's life, his point of view is very cool. So, I have fun conversations with him that way. His mother was a Sardarni and he sees a lot of that Sardarni attitude in me. So, he keeps calling me kudiye and has this way of treating me like a Punjabi girl. When you stop treating him like a legend, you discover a fun co-star anyone can connect to.
Did he never intimidate you, even on the sets of Pink when you first shot together?
On the first day of Pink, I had to do a shot where I had to just sleep while he was delivering dialogues with my co-actor at a distance. I couldn't keep my eyes still and you could see my eyelids fluttering. Shoojitda came to me and told me that it would show on the big screen. That's when I realised that I was nervously excited about working with Mr Bachchan. I couldn't focus and that could become a problem. The next day when he arrived, everyone stood up, except me and I wondered aloud 'Why has everyone got up?' He agreed with me and I realised that it's others who make a big deal about him. That's when my equation with him changed. Like we were in his office for a meeting for Badla, and he asked everyone around the table if they wanted anything. Everyone was too intimidated to ask for anything. I asked him for green tea and samosa and everyone was shocked! (Laughs)
The other co-star I am very excited to see you with is Bhumi Pednekar. How is the shoot for Saand Ki Aankh going?
It's by far the most difficult and challenging role of my career. So much so that if you ask either of us, we don't know how we're going to finish it. We're taking it one day at a time, because it's hugely challenging because we are playing people who are alive and the kind of life they've lived I've not even remotely experienced. The identification thread between me and those characters is almost nil.
It's a huge challenge to portray characters you don't connect with at any level, be it age, lifestyle or anything. But every single time I read the script it brings tears to my eyes. That's why I had to do it, and I always think, 'If not me, who?' I keep saying this to Bhumi as well — if not us, who else would do something like this? Either people will love us to pieces or they'll wonder what the hell did we do, but they'll appreciate the fact that we tried.
Bhumi has replaced you in the remake of Pati Patni Aur Woh. Did that make things awkward at all?
She actually picked up the phone and told me that she had no clue about replacing me. Until then, I was aware that someone was doing the film but didn't know who. I just believed that it is a brilliant part and whoever did it is going to be really lucky to have it. I was on a flight when the story broke and when I landed, I had missed calls and messages from Bhumi asking me to call her back. I did, and she was very apologetic. She was really sweet, and didn't want any awkwardness between us because we were starting such a beautiful film together. I told her not to worry, and the reason I didn't even ask who was doing the film was because it wasn't important. The decision to replace me was taken by someone else and that's who I have a problem with.