The short film Home, directed by interdisciplinary artiste Sujoy Prosad Chatterjee, is about "women sharing their ecstasies, uncertainties, solitude, libido and a friendship with oneself". Inspired by a poem by Arundhathi Subramaniam, the film — starring Sudipa Basu, Sohag Sen, Sohini Sarkar, Aparajita Adhya, Bidipta Chakraborty, Chandreyee Ghosh, Debjani Chatterjee, Tuhina Das, Ratasree, Sauraseni Maitra, Paramita Saha, Suparna Datta and Subhasree Patel — is a string of images and conversations in silence that builds up and even deconstructs the verse. A chat with Sujoy who wrapped up the shoot of Home recently.
What was it about the poem that moved you?
The poem lived within me for years. Initially it was cathartic but then gradually it liberated me. My sister Anuradha Sen had introduced me to Arundhathi's works. What moved me were the wings the poem gave me to fly my imagination.
Why did you decide to make it into a short film?
It's mostly a social experiment through poetry shot in a short mode. One afternoon, we were discussing this poem in our interdisciplinary collective and we were all generating images out of the word 'home'. It was fun and intense at the same time. I think the following day I met my friend Deepak Bajaj and was talking about this poem to him and that's when he expressed his desire that I should direct a short out of this verse. I think what moved me to do a short is the premise of the text.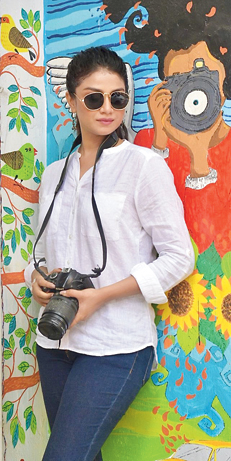 Sauraseni Picture by Pabitra Das
Why did you decide to direct it yourself?
Initially, I wanted my chief associate director Sunny Ray to direct this. But then Deepak wanted me to make my directorial debut with this one and then I had Sohag Sen as the mentor. I was also curious to start the process of understanding the nuances of directing a film. I don't have a film school background and I never aspire to be a full-fledged director.
On the sets, as a director, what were the challenges for you?
No challenges actually. I am immensely proud and grateful to my cast, my crew, my producers. In fact, here is where Roadshow Films and Aritra Sen came forward to support post-production. And trust me with Sohag Sen as the mentor, nothing can go unnoticed.
How much did you improvise during the shoot?
We improvised mostly with Sauraseni's scenes. It was easy because you are working with one of the finest actors of her generation. Sohag Sen actually helped me with a whole lot of ideation for these moments.
Do you have a favourite moment from the shoot?
Yes, three favourite moments actually. The scene where Sudipadi kisses Sohagdi. I actually went up and told Sudipa , "I wish a man knew how to hold and kiss". Another moment was when Madhura, my DoP, showed me the first frame of the shoot. It was so lyrical and I realised how deeply she was involved. Well the other moment was when Aritra Sen hosted a lunch for the cast and crew. He is like a baby brother for me.
What was your takeaway from the shoot?
I have a whole lot of takeaways. It's not very easy to make a film out of an abstract verse and to convince your crew to see that. My crew was fantastic. I think I learnt a few technical nuances from my team, which I am not hugely confident about. Another takeaway is a cast like what I could pull through. I am grateful to my actors. I missed working with Ritu and Indrani Halder. They were also supposed to be a part of this film.
Tell us about the casting choices you made?
My casting choices are very definite. Most of the cast are known to me. May I say that as a director, I understand their vulnerabilities. Trust me there's this scene where Ratasree breaks down and I actually realised that I possibly didn't know her potential but have identified her human space. Actors or artists are not cartons of tobacco. They are real. Suparna Datta and Subhasree Patel were actually facing camera for the first time. But the way they bring out the element of objectification, surprised me. This film is an actor's holiday. Aparajita, Bidipta, Chandreyee, Sohag Sen, Sudipa Basu, Sohini Sarkar, Tuhina, Debjani Chatterjee, Sauraseni Maitra and others have given their best.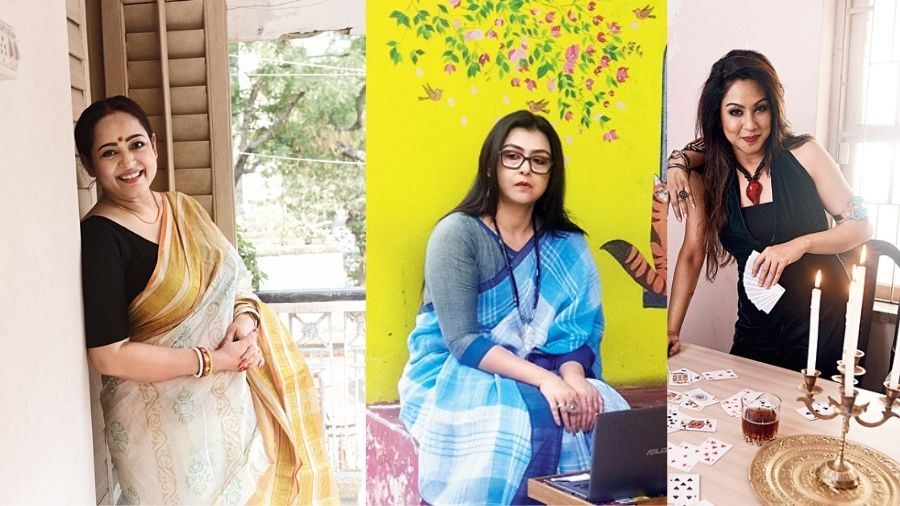 (Left to right) Aparajita, Debjani Chandreyee Pictures by Pabitra Das
How did you brief the actors?
We had outlines for everyone. It took a while for Sohag Sen to be convinced of the reason why she is going to kiss. She helped me to deconstruct the poem by asking me several questions. In this context, our wardrobe designer Suchismita Dasgupta played a very important role in giving us the looks of each character.
Would you like to direct more films?
Yes I would like to direct more films but never want to be tagged as a film-maker. I am not one. I am an artiste who wants to say his story and he shall choose his form accordingly. I have a few ideas to do more shorts and I think that's the best economic opportunity today.