A chat with Mohan Agashe at KIFF about his Marathi-language film Dithee
'The film is about educating people. That's the reason I became a producer. I did not want anyone to interfere with Sumitra Bhave's film-making process' — Actor-producer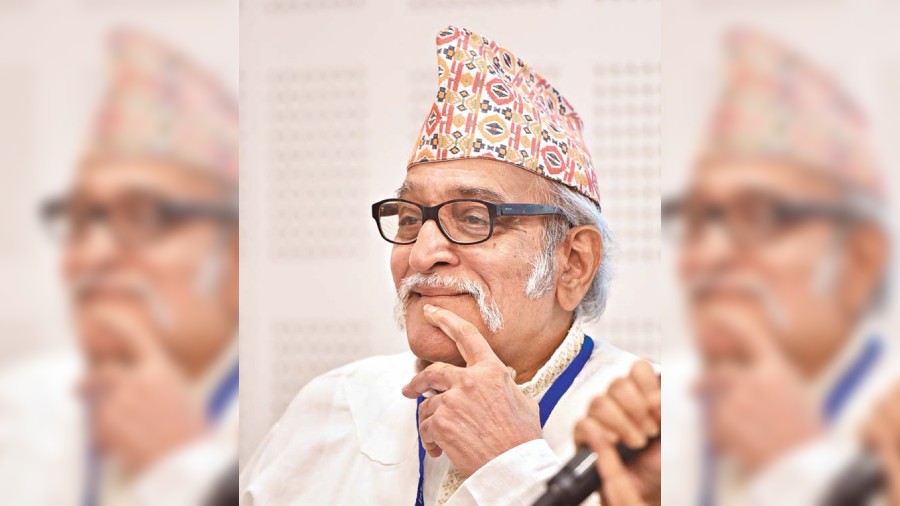 Mohan Agashe at KIFF 2022
---
Published 19.05.22, 01:12 AM
|
---
The Marathi-language film Dithee tells the story of an ironsmith, a tragic incident in his life and how he learns about a different perception of life and death, and makes peace with his grief. It was directed by the late Sumitra Bhave and produced by psychiatrist and actor Mohan Agashe. The film that's streaming on SonyLIV was also screened at the Kolkata Film Festival this year. It brought Mohan Agashe to Kolkata last month. The Telegraph caught up with the ebullient actor-producer...
What interested you about the film Dithee as an actor and as a producer?
 I live a double life. But I wouldn't call it a double life, I would call it a balanced life. God has given us everything in two. We all start our life with acting, we all start our learning through acting. Any other profession in life comes much later. I became a doctor much later. As a child, I read Robin Hood. He took from rich people and gave it to poor people.
Now what people do in films is collect money rather than focus on authentic information that should help people in life. Sumitra was into those kinds of films. To support those films, I did them. All her films are tools for public engagement through authentic, scientific information be it women empowerment or child employment or any other issue. She used scientific research. After the age of 40, she took up film-making.
She realised, it was a more powerful tool than formal education for it uses the language of compassion and emotion. The moment emotion is converted into words, part of the experience is lost. What made me do Sumitra Bhave's film was her commitment for bringing social justice and sharing authentic scientific information.
What was your experience of being directed by her?
A sensible actor always prefers to do a film with a good director because half his job is done by the director. Theatre is an actor's medium. Once you get the script, it doesn't matter what the director told you. But performance in a film is a director's vision. You cannot act well unless there is a good director.
Were there any challenges in shooting the film?
The biggest challenge was collecting money to do such a film. We had everything else. An excellent team, an excellent cinematographer and talented actors. But it did not have any cheap entertainment. The film is about educating people. That's the reason I became a producer. I did not want anyone to interfere with Sumitra Bhave's film-making process.
Otherwise she would have to compromise for the satisfaction of the producer who would look only after the business. People who produced her films were like-minded. For Dithee, she had the script with her for 10 years because she could not find a producer. I was also initially not very keen.
The film is streaming on OTT but what kind of reception is it receiving at various film festivals that it is travelling to?
The ones who watched the entire film loved it. People won't know unless they watch it entirely. Only those people walk out who have come for cheap entertainment. So, if they have come for sex and violence they will walk out. If they have come to become better citizens, they can't leave, they won't leave.
As a producer, what kind of films are you looking forward to producing in future?
First of all, I am not a producer, neither by profession nor by choice. I am a middle-class human being who has studied medicine and you can see why. Otherwise I could go into films full-time. I became a producer first by default then by choice as my film Kaasav got a National Award. If I have to think of producing something, I have to meet a filmmaker like Sumitra Bhave.
There's an unfinished script by her on elderly singles. It will be completed by Sunil Sukthankar, her co-director for many of her films. That was the project we were working on when she passed away. So, as a tribute to her, I want to produce that.
Picture: B. Halder