6 recent Bengali films where Durga Puja is central to the plot
The films are directed by Arindam Sil, Srijit Mukherji, Mainak Bhaumik, Dhrubo Banerjee, Soumik Sen and Pavel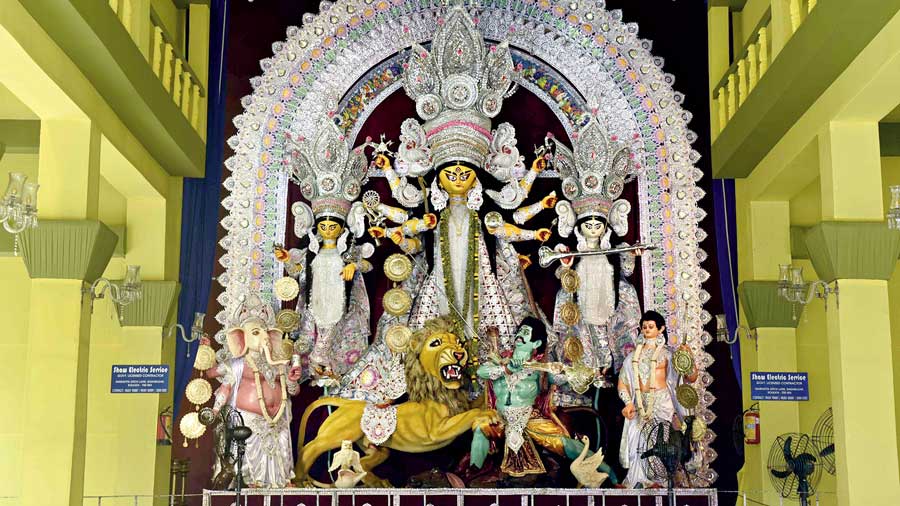 Representational image.
TT archive
---
Calcutta
|
Published 05.10.22, 09:37 AM
|
---
Satyajit Ray's Joi Baba Felunath to Aparna Sen's Parama, Durga Puja has played an important part in moving the plot forward in many landmark Bengali films. We pick six films from the past few years that had Durga Puja woven into their narrative, which you can watch as you prepare to say goodbye to the goddess. 
Ekannoborti (2021)
This film by Mainak Bhaumik is a story of three generations of women — Malini (Aparajita Adhya), her mother (Alokananda Ray), and her daughters Shila (Sauraseni Maitra) and Pinky (Ananya Sen). The family gets together in their ancestral home for Durga Puja. Underneath the festive cheer lies unpalatable truths that each woman is struggling with and Abhradeep Dutta (Koushik Sen), a filmmaker, comes into their lives as a breath of fresh air. Asur (2020)
In 2015, the Durga Puja organisers at Deshapriya Park in Kolkata installed the world's largest Durga idol. The frenzy around this gigantic Durga idol sparked a law-and-order situation. This forms the context of this romantic thriller directed by Pavel. A tribute to sculptor Ramkinkar Beij, Asur is also the story of a love triangle between three friends Kigan (Jeet), Aditi (Nusrat Jahan) and Bodhi (Abir Chatterjee). Durgeshgorer Guptodhon (2019)
The second film in the Sonada franchise, this adventure thriller directed by Dhrubo Banerjee follows Sonada (played by Abir Chatterjee), Abir (played by Arjun Chakraborty) and Jhinuk (played by Ishaa Saha) as they visit the ancestral house of his student Damburopani Deb Roy (played by Aryann Bhowmik) to participate in the family's Durga puja. Family lore has it that Damburopani's great grandfather Durgagati had received a huge cache of treasure from Raja Krishnachandra Roy. The task of finding this lost treasure falls on Sonada. The unique traditions of the Deb Roy Durga puja hold the clues to the mystery. Mahalaya (2019)
Mahalaya morning has been synonymous with All India Radio's special programme, Mahisasurmardini, since 1931 when it was first aired. One of the programme's most recognisable features is Birendra Krishna Bhadra's voice chanting the slokas. However, during the Emergency, the authorities wanted to replace Bhadra's iconic voice with that of Uttam Kumar — the Bengali matinee idol. What happened next is the subject of this film by Soumik Sen. Subhasish Mukherjee as Birendra Krishna Bhadra and Jisshu Sengupta as Uttam Kumar put in fantastic performances. Uma (2018)
Evan Leversage, a terminally ill Canadian boy, wished to experience another Christmas before he died. His townspeople brought the winter festivities forward by a month. Inspired by Evan's story, Srijit Mukherji made a film around a terminally ill Bengali girl, Uma (played by Sara Sengupta), who lives with her father in Switzerland. Uma has heard amazing tales about Durga Puja from her father and yearns to visit Kolkata. Her father Himadri (played by Jisshu Sengupta) moves mountains to fulfil his daughter's dying wish, helped by some benevolent souls of the city. Durga Sohay (2017)
This drama thriller directed by Arindam Sil focuses on the wealthy Basak family. The film begins on Mahalaya when Durga (played by Sohini Sarkar) enters the household as a house help. She wins the trust of the family, specially Manasi (played by Tanusree Chakraborty), and is welcomed into the fold. But is Durga really just a poor, innocent girl? The mystery is resolved on Dashami.