CV in the digital age
How do you ensure your resume snags you a job? Here are some pointers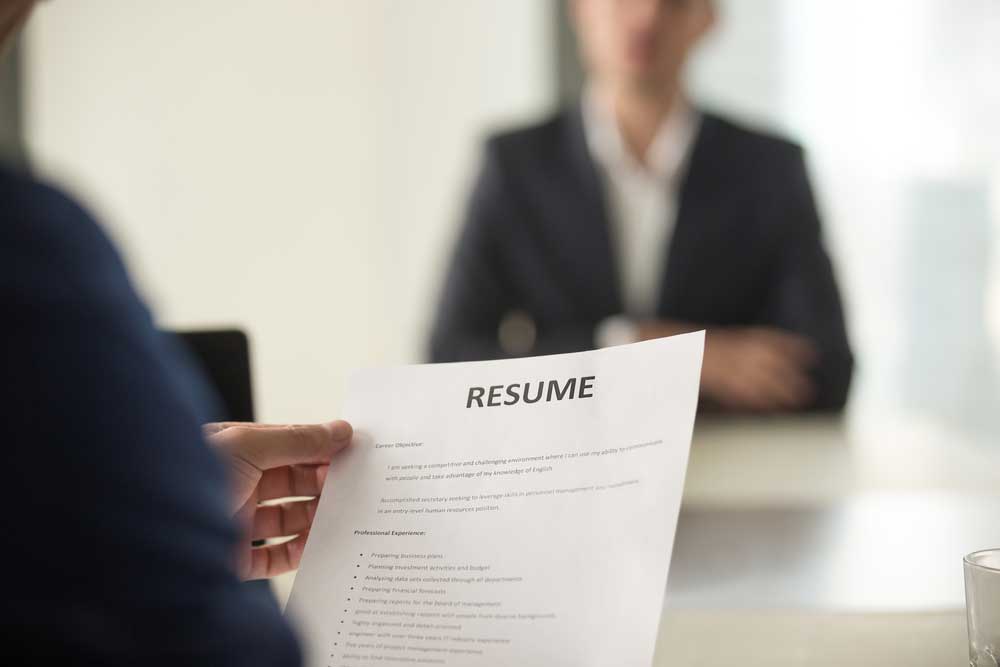 Instead of scrambling to put together a CV (biodata in Stone Age terms) in the final year, when you have to negotiate the exams, get a head start now.
(Shutterstock)
---
Published 15.01.19, 07:09 AM
|
---
As rising unemployment data shows, jobs are getting scarcer. In today's highly competitive hiring landscape, recruiters come across tonnes of resumes every day. The challenge is to match your resume to what employers are looking for. The right content can help you stand out in the crowd.
If you are not yet in the final year of graduation or postgraduation — still juggling college lectures with hanging out with friends and trying to squeeze every bit of fun out of serial fests — it's time to come back to earth. Instead of scrambling to put together a CV (biodata in Stone Age terms) in the final year, when you have to negotiate the exams, get a head start now.
Those who are in their final year, block some time in your chaotic schedule to quickly learn to write a proper CV. Writing a resume that catches the eye is actually an art. Apart from academic qualifications, you have to highlight work experience and attitude towards the profession or job you are aspiring to.
"Your resume is often your first and best chance to get noticed by recruiters and hiring managers, hence it is pertinent to see that you have the qualification they're looking for," says Sashi Kumar, managing director, Indeed India, a job search portal. "The focus needs to be on writing a strong headline, tailoring your resume to the position, and adding notable contributions in each role," he adds.
Online profile
In the era of social media, recruiting through professional networking sites and job search portals is quite popular. A strong profile on LinkedIn can keep you ahead of others. "A CV summary is the most important part that encapsulates the profile in a few lines. Make it crisp, highlighting key points and aspirations. You could showcase your lengthy projects and experience through hyperlinks," says Sumit Kumar, vice-president, Netap (national employability through apprenticeship training), Teamlease Services, a recruitment and online job portal. "Be careful about typos in your CV because such mistakes show how careless you are," he added.
A high-quality, job-appropriate profile picture can give you the edge when employers are faced with two similar resumes. Before posting your profile photo on an online CV, think about what kind of image you want to project. Your profile photo should be shot professionally, keeping in mind your career path, personality and the type of job you aspire to. As they say, dress for the job you want, not for the one you have.
"An online CV gives the option to showcase a lot, without making the CV lengthy, through hyperlinks. It can be interesting and captivating." says Kumar of Teamlease. "A CV on LinkedIn gives a good overview of the candidate. On a social media platform, one gets to know the efficacy of the profile through recommendations," he adds.
Internship experience
In today's competitive job market, internships are a must. Says the Bangalore-based HR head of a tech company (who is not authorised to comment), "These days automated software used by most recruiters scan for keywords, such as "internship", "intern" or "work experience". If there is nothing on those lines, the bot rejects your CV outright."
Ideally, you should hunt for an internship from the summer break of your first year. Take it even if it's an unpaid one because it's the experience that counts. In other words, internships have now become equivalent to entry-level jobs; it's high time you go out and get some real-world experience, if you haven't already. Martin Yate, author of Knock 'em Dead: Secrets & Strategies for First Time Job Seekers, writes, "Employers expect to see internships on a resume because this says you have some experience in the real world. Internships give you experience, credentials, connections, a stronger resume and references."
However, in India many employers give a lot of importance to academic scores or educational qualifications. "Education qualification is an important criteria for us. That's because the programme is for a fresher and there is a regulatory guideline," says Kumar of Teamlease. "Employers stress on quality of work done by candidates only when it has got something to do with lateral hiring," he adds.
Extracurricular activities
Don't lose heart if you haven't been able to snag an internship yet. Turn your passion into brownie points on your CV. Do you help the local club arrange blood donation camps or health check-up for the underprivileged? Mention that on your CV, along with other volunteering activities such as teaching the basics of computing to street kids or organising cultural programmes at an old age home or collecting funds for a non-government organisation.
Volunteer positions demonstrate your capability, responsibility and how resourceful you are. Volunteering in one position for a long time shows your passion for that work.
You can also mention your trekking expeditions, sports you took part in or the role you played in organising your college fest. "Even if the extracurricular work doesn't match your field of work or the post you are applying for, it says a lot about your qualities such as team work or the ability to lead a team," says the tech-company HR.
Soft skills
Soft skills — qualities that enable someone to interact effectively and harmoniously with other people — are key for employees dealing with customers and teammates.
A recent study by researchers at Harvard University, Boston College and the University of Michigan, all of them in the US, found that soft skills training, like communication and problem-solving, boosts productivity and retention by 12 per cent. They also deliver a 256 per cent return on the investment in training. And these skills are expected to become even more important for employers in the future.
So how do you showcase your soft skills on a resume?
Writes Aaron Scwartz of `Indeed.com`, "This can mean doing something as simple as giving credit where credit is due. Is the candidate presenting the wins as solo efforts or as the result of collaboration where each member played an important role? Even if your business is just you, you'll be better served by having a team player working for you — so show signs of teamwork." It ought to land you that job.