Life in limbo
Students are concerned that the decision to cancel board exams and mark them on an average will hurt their future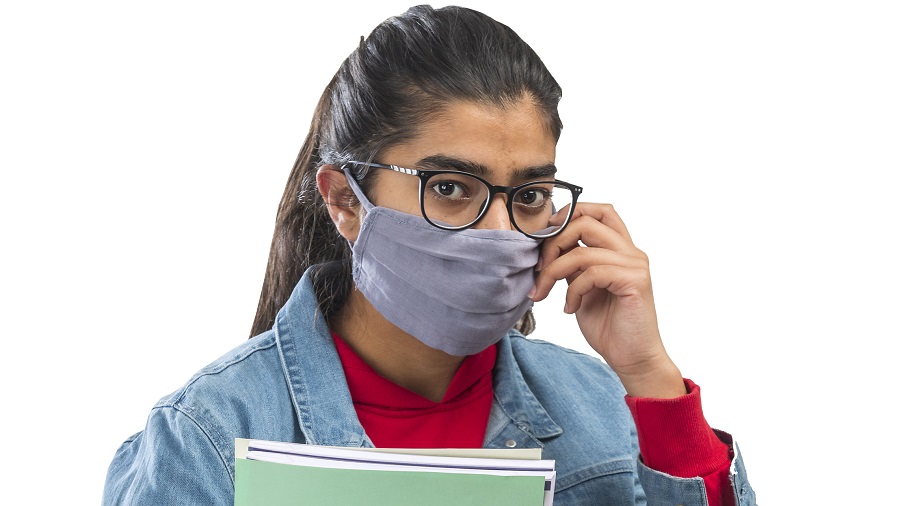 ---
---
The cancellation of board exams at the state, national and international level due to the ongoing pandemic has left many students in limbo. The decision to mark students based on internal examinations —though just — hasn't really brought a sense of relief. On the contrary, it has added to their worries. While the results are about to be published, students have been left in the lurch, perplexed by the strange turn of events and uncertain of the future.
Adrish Banerjee, a Class XI student of La Martiniere for Boys, Calcutta, says, "The previous year was hard for me as I had to give up extra-curricular activities to concentrate totally on the preparation for my first board examination. The last three months were even worse as I had to attend online classes for Class XI while simultaneously preparing for my pending ICSE exams. I had hoped to score excellent marks but now that they have been cancelled, I feel at a complete loss. I may not be able to achieve such good marks based on my internal assessments because pre-board exams are not always the easiest. Though I appreciate the council's decision, I am now anxious about the marks I will finally score."
If they are unsatisfied with these marks, Class XII students of the West Bengal Council of Higher Secondary Education now have the option of sitting for these exams later. This too is a stressful choice given the dilemma of how this would impact undergraduate admissions.
Says Jacinta D'Cruze, a student of Loreto Convent, Entally in Calcutta, "The last three months have been frustrating, with no clarity whatsoever. When I finally got to know that the Class XII exams had been cancelled, I was unhappy because I had prepared very well for the three remaining examinations — psychology, home science and sociology, all of which are scoring subjects. I'm extremely upset as my pre-boards did not go that well and ISC was the only chance of proving myself. I'm anxious because I'm wondering if I will be able to get into a good college with the average marking. Currently, my immediate future looks blighted. On the positive side, we will go down in history as the first batch to have had their board exams cancelled worldwide."
Her classmate Suijana Mondal had decided to graduate in sociology. "Calculating my marks according to my pre-boards will affect my future because I won't score as I intended. This situation is causing a lot of stress," she says.
Arden Vineet Ekka of Loyola High School, Calcutta, also feels that the pending exams were his strong subjects and, if he had been able to sit for them, his overall percentage would have increased. About college admissions he says, "I'm a little hesitant to join a college because I don't want to attend online classes. I would prefer to join once the situation normalises and colleges reopen as usual."
Laiba Hassan of St. Paul's Boarding and Day School, Calcutta, feels, "The situation has actually changed the normal admission procedure".
Surkhab Younous of Loreto Day School, Bowbazar, Calcutta, is in a different situation. "My biology exam was cancelled. I'm not particularly happy or sad about it as I've been a consistent student and my yearly average is quite good. That, however, doesn't mean that I could not have scored better in the exam. I think that after the cancellation, a majority of the students are relieved. I'm currently planning to study for my competitive exam as well as relax a bit."
Not all students were directly affected by the cancellation of exams; some had already completed their exams while others knew way in advance that their exams were being cancelled. In spite of that, they too are facing a difficult situation. Varenya Churiwal of La Martiniere for Boys had finished all his papers and was set to leave India for his dream college abroad when the lockdown happened. "Now my college choices need be restricted within India. As I never had plans of staying in the country for further studies, I did not sit for any of the entrance exams needed to get into a college. So I've had to study for those entrance exams, give them online with sub-optimal preparation and go through the cumbersome process of applications yet again. Even if I get into a college here, the future is still unclear. I'm still confused whether I should defer my acceptance to the college abroad. Should I join an Indian college? What if the mode of instruction remains online? Does it make more sense to take online classes at an Indian college and resume in-person classes in January or should I start at my dream college abroad and take a gamble as to whether January will bring online or in-person classes? With the dynamic nature of the current situation, there is no constant that I can base my decisions off. So a time that was meant to be the most relaxed and stress-free period of perhaps my entire life has now been plunged into an abyss of uncertainty, deadlines, stress and pressure."
Sakshi Mehta of Modern High School for Girls, Calcutta, was supposed to sit for her International Baccalaureate or IB exam this year. "Due to the worsening condition across the globe, IB decided to cancel the exam well in advance. However, to ensure that the students don't suffer, they are going to mark us based on our assignments and predicted grades. The uncertainty involved in how we're going to be marked has become a cause for severe distress. Moreover, some students work the hardest in the last two months. It is due to this that students often perform better in their board exams than predicted. This is the reason that many feel they're currently at a disadvantage. Almost every student has his or her dreams and a future planned. Unfortunately, the times have forced them to change their dreams as well. For the last four years, I have been working towards studying abroad. I have already been accepted at a few colleges. I was miserable when I realised that although I had achieved my goal, circumstances would not let me pursue my dream."
"It has not been easy for the councils of ICSE and CBSE to cancel the exam. It is a fair decision because it would not have been possible for some children to sit for the exam — such as those living in containment areas or having Covid patients in their building. The council has kept a window of opportunity open for children who want to give their exam at a later date when the situation is normal, even though their results will be published by July 15," says Jessica Gomes Surana, principal of Loreto Convent, Entally.
Then there are the students who have spent a lot of time and money preparing for competitive exams. "Luckily, my board exams were over before the lockdown but I've been preparing for NEET for two years. It has already been postponed once and is now scheduled for July 26. I am in constant stress as all the exams have been postponed except JEE and NEET," says Nayab Shamim of Mahadevi Birla World Academy, Calcutta. She is continuing to study for the exam and hopes to get admission in a good college.
Ashi Singh of St. Mary's Convent School in Santragachi is also preparing for NEET. She says, "I am definitely not happy about being marked on my yearly average as many of us fail to complete our syllabus before the school exams. But we try to give our best during the board examinations."
Zaid Ahmed of St Thomas' Boys' School in Khidderpore, Calcutta, understands that the cancellation was necessary. "I have decided to take a year off for my preparations of NEET," he says pragmatically.
"I had planned to take up nutrition but thanks to the many months of quality time I had for myself, I now have better plans in mind," says Insha Sami of Loreto House, Calcutta.