School? Tube it
Teachers are going beyond their call of duty to help underprivileged students who cannot attend regular online classes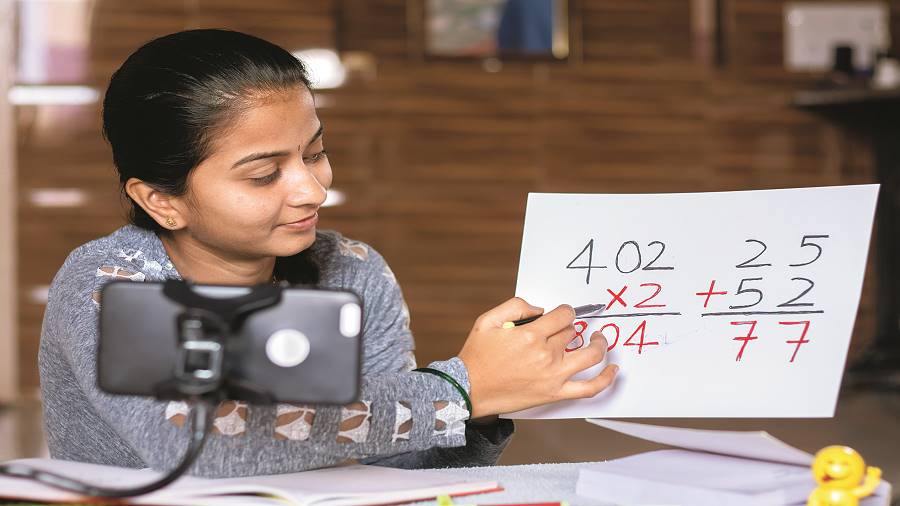 Several teachers and educators all over Bengal — especially those catering to first-generation learners in rural areas — are using YouTube to continue lessons
iStock
---
Published 19.10.20, 08:36 PM
|
---
Manika Barman, an English teacher at the Khila Girls' High School in Udaynaranpur, Howrah, started a YouTube channel two years ago to teach lifeskills through painting. Post the lockdown, she is using it to teach English grammar to her students, many of whom have limited access to smartphones and cannot attend online classes at the stipulated time.
She is not the only one. Several teachers and educators all over Bengal — especially those catering to first-generation learners in rural areas — are using YouTube to continue lessons. The online platform used mainly to watch films and videos has now turned into a useful teaching tool.
"Thanks to YouTube, many of my students can continue with their education," says Utpal Sarkar, an English teacher at the Darapur High School in Chakdah, Nadia. "Around 85 per cent of my students are from the minority and backward communities. About 40 per cent don't have smartphones. The rest share it with their family members and can only access them in the evenings for a short time. Before the pandemic, my colleagues and I would have to go on home visits to bring students back to school. Now we are using YouTube to teach and check the dropout rate," adds Sarkar. Three of his colleagues also teach via YouTube. Sarkar has posted around 150 videos since April, often continuing post-lesson discussions on WhatsApp. "I had to become tech-savvy first," he admits.

The best part about teaching on YouTube is its greater reach. The channels are free, catering mainly to children from vernacular schools. History teacher Pradip K. Basak has over 8,000 followers — mostly first-generation learners and underprivileged students. His YouTube channel has crossed six lakh views. "I had trained in multimedia. I used that knowledge to make short educational films to capture my students' interest," says Basak. From making and posting one or two documentaries a year, he is now uploading a video every day.
"I have been posting audio-visual lectures, PowerPoint presentations, animations and short videos on topics that are part of the syllabi for classes IX to XII and, sometimes, for even the junior classes. I realised that not every student in my school can be regular for online classes. Fifty per cent have access to their parents' smartphones in the evenings. My aim is to make lessons accessible to students as per their convenience," says the much-loved "sir" of Sukantanagar Vidya-niketan High School in Salt Lake, Calcutta. Basak has also started teaching through his personal website, www. eitihas.com.
Says Sujit Manna, a Class X student of Sukantanagar Vidyaniketan High School, "My family had to take a loan to buy a smartphone. My mother, the only earning member, works as a domestic help. We invested in the phone so that I can continue studying. Lessons on YouTube help as I can access them at any time."
Ria Biswas of Santoshpur Sikshayatan, Calcutta, is waiting for a smartphone to go back to studies. "My parents share a basic phone, so I am missing out on both the live and recorded lessons. I sometimes go to my friend's house to study English grammar on YouTube," says the Class V student whose parents are vegetable vendors.  
Tania Basu, a physics teacher at Dakshin Barasat Sibdas Acharya Higher Secondary School, has been spending at least four hours beyond work hours on research for her YouTube channel. "I began teaching through YouTube from April. Initially, I just wanted to keep my students' interest. But the YouTube lessons are turning out to be more interesting than the classroom ones," says Basu, who also uses animation and related video slides.
"Not only do my students have limited access to smartphones, their data too is limited. So I compress my videos before uploading," adds Basu. She is often flooded with requests from students of other schools as well.
"Most of my students are children of factory workers. They would come to school for the midday meal," says Sayandeb Chaudhury, who teaches history at the Chengail Shree Vidyaniketan High School in Howrah. "My YouTube channel helps keep the interest for education alive in my students. Since they are using their parents' phones now, the latter have started taking an interest in their wards' education, which is a bonus," he adds.

Aditi Banerjee quit her corporate job to start teaching through YouTube last year. "I teach children from vernacular schools spoken English and grammar through two channels. I use my third channel to develop their personality and prepare them for various interviews and competitive exams. I have got many more followers since the pandemic," says the Belghoria resident.
Many teachers from English-medium schools too have personal YouTube channels. Anu Khosla, a senior teacher at Indus Valley World School, Calcutta, is aiming to make maths lessons simpler through her channel.
"My English grammar lessons are meant for all, even those who cannot access online classes. I started it with an aim to help out a larger number of students," says Margaret S. Gomes, who teaches in the primary section of Don Bosco, Calcutta.
YouTube lessons are filling an essential gap in the lives of those who cannot attend regular online classes.