New careers, new thoughts for higher education
Minister and academics exchange notes on how to make students job-ready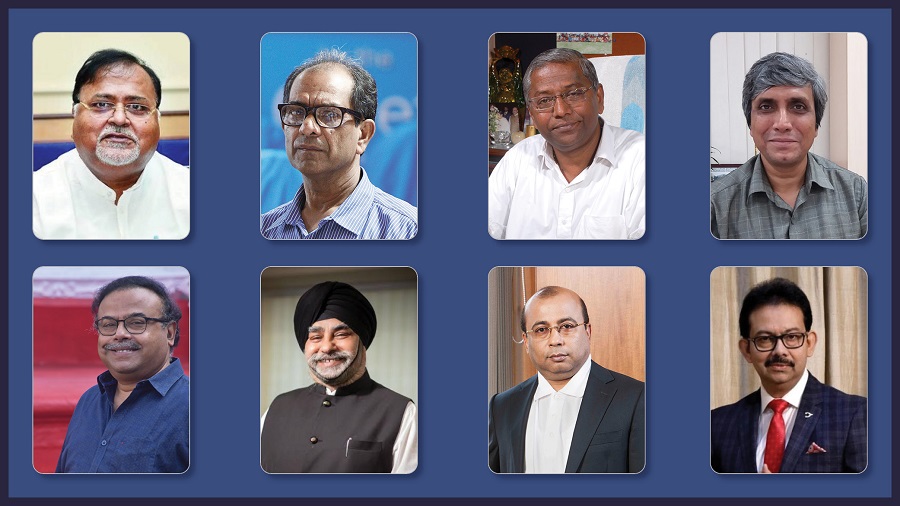 Bengal Education Leaders' Summit: (First row) Education minister Partha Chatterjee, Suranjan Das, Father Felix Raj and Saikat Maitra.(Second row) Anupam Basu, Taranjit Singh, Samit Ray and Satyam Roy Chowdhury.
Telegraph picture
---
Published 13.08.20, 12:21 PM
|
---
Bengal's readiness to deliver higher education aimed at the careers of tomorrow was the focus of the Bengal Education Leaders' Summit on August 12.
It was the opening session of CampusToCareer 2020, a webinar series from ABP Education, exploring emerging courses and careers.
Education minister Partha Chatterjee was the keynote speaker at the virtual summit.
The panel of speakers comprised Jadavpur University vice-chancellor Suranjan Das, St Xavier's University vice-chancellor Father Felix Raj, Makaut WB vice-chancellor Saikat Maitra, NIT Durgapur director Anupam Basu, JIS University chancellor and JIS Group MD Taranjit Singh, Adamas University chancellor and RICE Education chairman Samit Ray, and Sister Nivedita University chancellor and Techno India Group founder MD Satyam Roy Chowdhury.
The session was moderated by Anjan Bandyopadhyay, editor of Anandabazar Patrika Digital.
Bandyopadhyay set the ball rolling by spotlighting two sets of skills that are in demand for careers of tomorrow. The first is technical capabilities; the second is human skills.
Partha Chatterjee, education minister
The minister touched upon a range of issues, from the need for quality education to making students employable. 
On NEP 2020: We had expressed our reservations about the National Education Policy right after the draft was shared with us. Education is on the concurrent list, yet our suggestions were ignored. No one from Bengal was inducted in the committee. Bengali did not find a mention in the list of classical languages. Our stand is very clear — the National Education Policy is breaking the federal structure and has no connection with ground reality.
On CSC: The duration of the College Service Commission (CSC) panel of eligible candidates will be extended because we could not conduct interviews during the pandemic.
On employability: It is important to gain knowledge and to apply that knowledge in real life. Creating an academic-industry interface is important but first one has to acquire knowledge. If the industry helps us to draw up the curricula, we can produce employable students. Industry, academia, chambers of commerce and universities need to join hands for this.
On maintaining academic standards: Private institutes must have good teachers and solid infrastructure in terms of facilities, labs, libraries and study materials. These institutes have the liberty to recruit faculty and create their own terms of service but the quality of faculty needs to be on a par with that of government and government-aided institutions.
Suranjan Das, Jadavpur University, vice-chancellor
The industry-university partnership in Bengal must be strengthened. Academics and the government cannot ensure an industry-appropriate curriculum without the help of chambers of commerce. We need the industry to help with funding academic research too. We need the industry to help turn our inventions into innovations.
Besides, when we think of job-oriented courses, we only think of science and engineering but we must not forget that humanities and social science, too, have immense potential and we need to create opportunities for students in this field.

Father Felix Raj, St Xavier's University, vice-chancellor
Bengal has some of the best universities but our students are constantly looking outside Bengal for jobs. We need to think seriously about it. My suggestion would be to encourage start-ups.
The industry-academia interface is not strong in Bengal right now. We need to strengthen it. Many students are not employable after completing their courses. So the universities need to come together to address this issue and provide a student-centric education.

Saikat Maitra, Makaut WB, vice-chancellor
The number of professional courses offered by us has seen a four-fold increase. We have over 200 courses in keeping with the market demands. Now the industry format is changing. The emphasis is on micro, medium and small-scale industries, and the future is a knowledge-based economy. West Bengal is ahead in this sector.
New-age career opportunities need professional courses to equip students with design thinking. It is nothing but gaining better understanding by analysing human behaviour. It is essential to have a multidisciplinary approach with collaborative intelligence.
Anupam Basu, NIT Durgapur director
Professional education has two components — knowledge and skill. Knowledge does not mean rote learning but the ability to understand and analyse, while skill comes from practical application. We need to have an open mind and give equal importance to fundamental knowledge and new-age technologies. Also, we must remember that not just data analytics and artificial intelligence, geo informatics and bioinformatics, too, can find many applications in Bengal.
Taranjit Singh, JIS University chancellor and JIS Group MD
It is not right to think that new-age courses in the private sector are expensive. Our fee structure is in keeping with the Supreme Court norms.
We have been introducing professional courses with the necessary approvals from MAKAUT and AICTE.
The selection process for our faculty strictly adheres to guidelines. We conduct annual evaluation of all employees on 30 parameters and follow all AICTE norms.
Samit Ray, Adamas University chancellor and RICE Education chairman
We have a free hand in designing and launching courses. But the problem is that a professional degree no longer guarantees that what one is learning now will remain relevant after 10 years. We should aim at equipping students with an analytical mind so that they are ready to face future challenges.
Also, just knowing one's subject is not enough; one needs to have a multidisciplinary approach. Courses should be designed in a manner that students can learn humanities and basic sciences too.
Satyam Roy Chowdhury, Sister Nivedita University chancellor and Techno India Group founder MD
The Covid-19 situation has forced us to jump 10 years forward. We have seen digital transformation that we could have only imagined. It gave us the opportunity to have full-fledged online classes, use digital labs, connect to digital libraries and have online teaching material. For the industry-academia interface, it is important to create a platform where we have representation from academia, industry and industry bodies. We are working on creating such a forum.
To join ABP Education's CAMPUSTOCAREER webinar series, register for free here