At your service
You can bag a job in the booming hospitality sector even without a fancy degree. All you need is the right training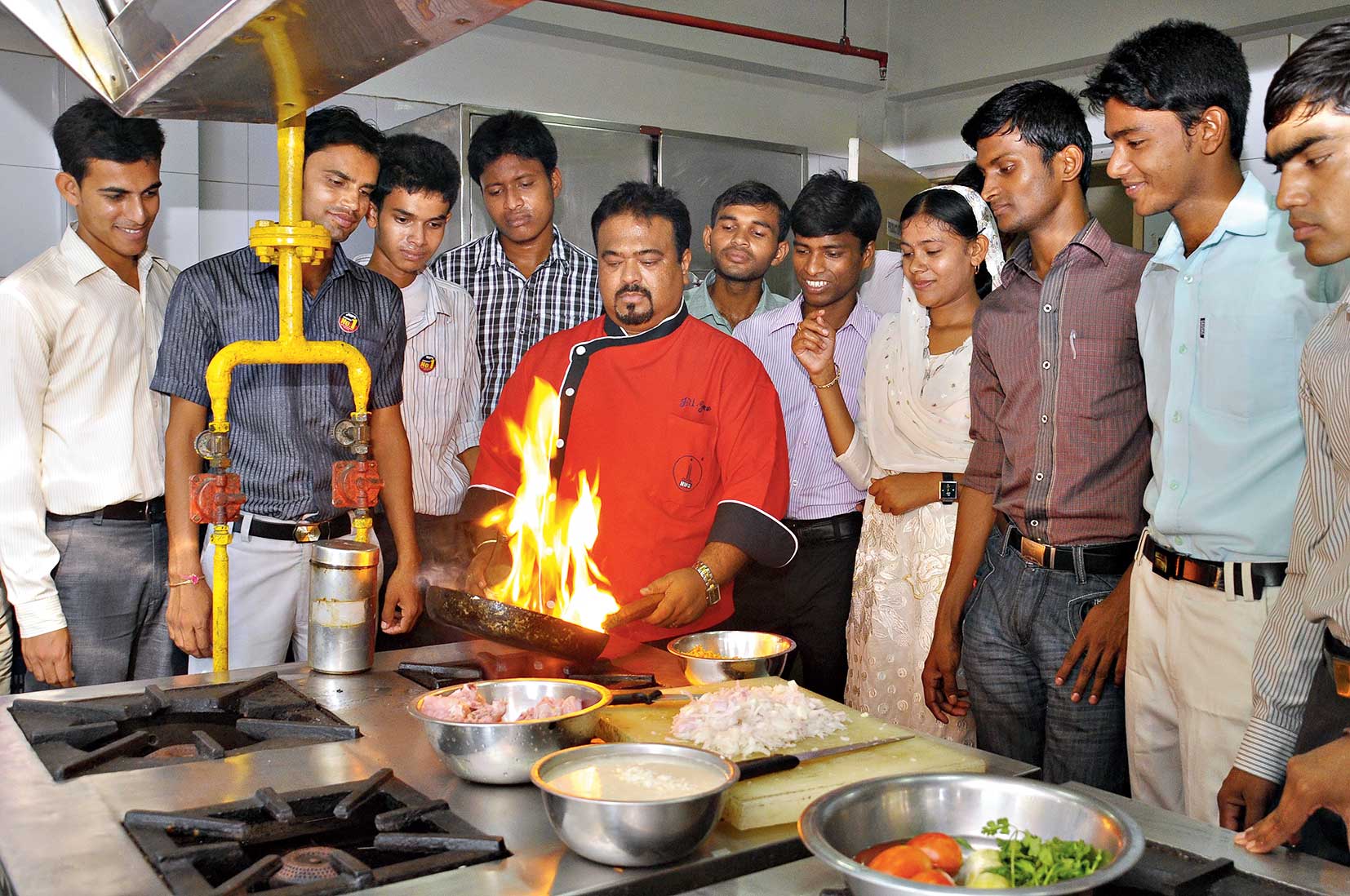 ---
---
Chamru Hussain from Matelli village in the district of Jalpaiguri in West Bengal, wanted to pull his family of four out of the poverty pit. He worked as assistant to his father, hair cutter Madis Hussain, for two years but was not happy. He then joined the hotel operation course at a skilling centre and was eventually employed as F&B (food and beverage) staff at the N-Convention — a convention centre and banquet hall — in Hyderabad at a salary of Rs 8,500 per month, with free accommodation.
Renuka Dangal had to give up higher studies because she needed a job. When she came across a skilling school, however, she decided to enrol. The course landed her a job at the Summit Grace Resort and Spa in Darjeeling.
Bahamuni Majhi from Nagrakata, Jalpaiguri, was disappointed when she could not continue her studies as her father could not afford the fees. When she came across a hotel operation course she could pursue for free, her father was extremely happy that his child would not end up a daily wage labourer like him and his wife. Bahamuni now works at a Café Coffee Day outlet in Bangalore.
Arbin Rai is a spa receptionist at The Leela Palace Chennai. Subham Sharma, the first in his family to complete Class VIII, works as F&B staff at the Summit Hotel in Gangtok. A skilling course in hotel operations has got many other people like Chamru, Renuka, Bahamuni, Arbin and Subham jobs.
India's people are its weakness as well as its strength. More than 50 per cent of this country's population of 133.92 crore is below the age of 25 years. If they have the right skills, they can drive the economic growth of India. The need of the hour is to invest in skills training to create sustainable, inclusive development for all Indians. That is why the Indian government came up with Skill India — a campaign that aims to provide skills training to over 40 crore people by 2022, hopefully leading to gainful employment.
Almost every field requires skilled workers — IT, communication, retail, healthcare, automotive, hospitality — and students can enrol themselves in relevant skilling courses at mid-school level to gain expertise in the subject of their interest. They can then build a career based on their skill, especially the not-so-privileged section, who cannot complete school because of a paucity of funds.
Vivek Pathak, managing director of NIPS School of Hotel Management in Calcutta, says that skilling provides an ocean of opportunities to students from all socio-economic backgrounds. "It is said that one million candidates enter the Indian job market every year but cannot get jobs due to a lack of professional training," says Pathak, pointing out that this is where skills training comes into the picture. It gives childen from a not-so-privileged background the opportunity to choose their own profession instead of being forced to follow their family profession. The son of a carpenter can become a chef and the daughter of a farm labourer can become a receptionist with the skills taught at NIPS, in association with the National Skill Development Corporation of India.
"We train them and also place them in various reputed organisations to jump-start their career in the field of hospitality," Pathak adds.
Sudesh Poddar, chairman – administrative committee, Hotel & Restaurants Association of Eastern India, claims that the hotel industry generates the largest number of employment opportunities in the country. "It recruits people from diverse skill domains — from a cook (food and beverage section) to an engineer (maintenance of HVAC or air-conditioning system), from a firefighter to a designer (interior decoration), from an IT professional (online booking) to a plumber," he says.
Experts say that the booming hospitality industry in India is generating employment for both the well-educated (hotel management graduates) as well as the not-so-educated (people with hotel operation skills). "The ratio of employment in this industry is two to three employees per room. Therfore a hotel with 500 rooms requires about 1,200 to 1,500 employees," Poddar explains. "The number of hotels coming up in the country is very high; the growth is tremendous compared to any other industry. Also, there is a huge opportunity for employment abroad, such as on luxury cruises. India can supply human resources to the hospitality industry in many developed countries in the West," he points out.
As one digs deeper, one learns that the primary reason students opt for hospitality courses is the job opportunities, growth and handsome pay package it promises in comparison to some others. "The return on investment for skilled people is very high here. The glamour of this industry also attracts students," says Poddar. But, of course, it isn't as shiny as it looks from the outside.
People from rural backgrounds join the industry with an inherent disadvantage. "They are aware of the look and feel of the industry, thanks to mobile phones and Internet connectivity. The problem lies in their lack of exposure and self-confidence, their fear of failure," says Pathak. Hospitality education is not only about classroom learning. The major part of the process is based on the hands-on training a student gets. Pathak talks about how they send these students to various hotels and restaurants for training. This exposure gives then the confidence to handle all the challenges thrown at them when they finally land a job.
Even though the skills training scenario is changing very rapidly for the better — and awareness about it is spreading like wildfire — Pathak still considers the sector to be in its nascent stage. He says, "According to the latest statistics, only 2.3 per cent of the current workforce in India has undergone formal skills training. In countries such as Japan and South Korea, that number has reached above 80 per cent of the workforce already."
"While awareness has already spread to urban and suburban areas, the rural areas — which are the main focus of the drive — have to be explored more and more for this project to reach its optimum potential."
Hopefully, that will be only a matter of time.