From the ruins: Heritage conservation as a profession
Legacy as career is one growing concern amongst India's youth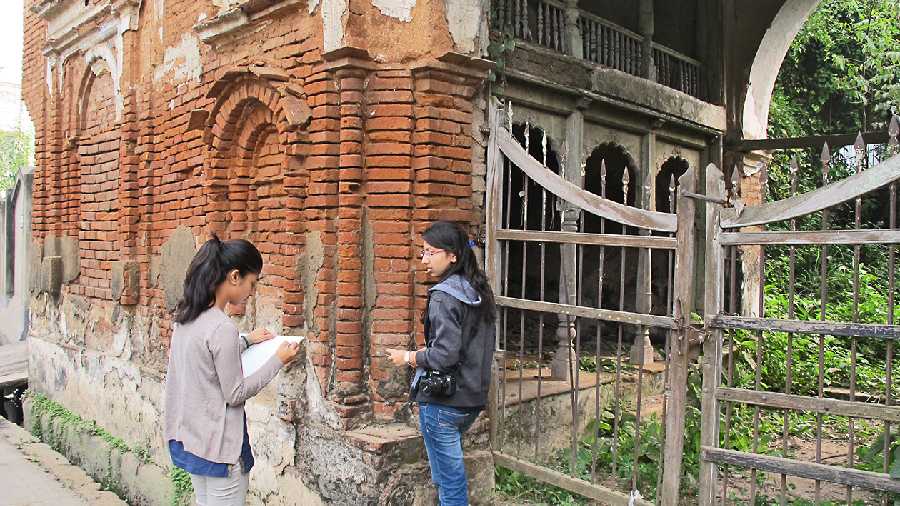 Students inspect an old house in Murshidabad
Kamalika Bose
---
Published 29.11.22, 04:42 AM
|
---
Yug Samanta of Chandernagore was widely expected to carry on in the teaching profession, given his English literature background, but one day it all changed. That day he saw his ancestral home being razed to make way for apartment blocks. These days he is volunteering for heritage management work and hoping to take it up as a full-time profession.
Nithya, Shreya and Udayakumar made a far more conscious choice. Nithya Rajendran decided to pursue a career as a heritage researcher and professional, shifting focus from a lucrative architectural career. Shreya Pai is an experienced researcher who has worked on the ancient town of Srirangapatna, once the capital of Tipu Sultan. Her initial on-the-job training resulted in a longer association with ArCHIAM (Centre for the Study of Architecture and Cultural Heritage of India, Arabia and the Maghreb) at the University of Liverpool, UK. Udayakumar, a postdoctoral researcher in heritage studies at the National Institute of Advanced Studies in Bengaluru, has a bachelor's degree (BFA) in traditional bronze sculpture from the Government College of Architecture and Sculpture, Mamallapuram, and a master's in ancient Indian history, culture and archaeology from Pune's Deccan College Post Graduate and Research Institute.
Heritage is a growing concern amongst India's youth, who find the eroding of self-identity quite unsettling.
Soumyen Bandyopadhyay, the Sir James Stirling Chair in architecture at Liverpool University, says, "Conservation does not mean that of a brick or stone, but of the idea or the spirit of the place". He is a good example of someone who has achieved international distinction by adopting a cross-disciplinary approach in heritage research and implementation.
Heritage awareness has moved away from a monument-centric conservation effort to embrace entire settlements and communities, engaging not only with their pasts but their futures too.  Creating well-planned, all-inclusive infrastructure for the development and preservation of historic cities has been a primary aim in recent years. Historic Urban Landscapes (HUL) is a concept that has only emerged in the past decade and opened up immense possibilities of linking historic preservation with developmental goals. Ajmer, Varanasi, Gwalior and Orchha have been selected by Unesco under the HUL Project. This will not only give a boost to tourism but also generate employment. 
Ian Magedera, a senior lecturer at Liverpool University with years of work in applied heritage research in West Bengal, says that there may not be a lot of jobs at present but there certainly is a lot of work that will shape up into future professions. A trainee or volunteer in a project today will be the consultant of tomorrow. Diverse knowledge — of archaeology, culture, history, linguistics, literature and the social sciences — needs to be merged with the knowledge of physical and economic planning, urban design and architecture, for any successful contribution towards managing heritage. Certainly, this is not the job of a single professional.
Bente Wolff, the celebrated Danish anthropologist who led the successful Serampore Initiative, is an example. The project was in the works for more than a decade and involved the government of West Bengal, the people of Serampore, restoration experts, city planners, researchers, students and Indian craftsmen specialised in traditional construction methods.
The restored Danish Government House, St. Olav's Church, and the Denmark Tavern have metamorphosed into a popular tourist hub. The endeavour has regenerated interest in the former colonial belt on the banks of the Hooghly. The Liverpool University and ArCHIAM spearheaded the Hugli River of Cultures Pilot Project from Bandel to Barrackpore, from 2018 to 2021. The positive response of the local administration and the people have sparked hopes for sustaining heritage for future generations.
Recently, Intach Hooghly launched an initiative to create sustainable heritage awareness among students. Liverpool University, ArCHIAM, Victoria Memorial Hall, Konnagar Municipality and Intach collaborated to inaugurate the first virtual museum at Abanindranath Tagore's country house at Konnagar in September. It was a unique effort and one that involved the people of the area.
As conservation architect Kamalika Bose walks the streets of Khidderpore, she muses at the once-affluent suburb, "The majestic buildings today suffer from multiple issues of perception and demographic shifts and are in need of a holistic revitalisation roadmap". She thinks sustaining built and cultural heritage is of utmost importance, as we face critical development and environmental challenges. Bose is certain that given the ample opportunities, there is much in heritage conservation to interest young people who are willing to look beyond traditional careers.