Cash in your love of video games
While the rest of the economy is in the doldrums, the gaming industry is experiencing a boom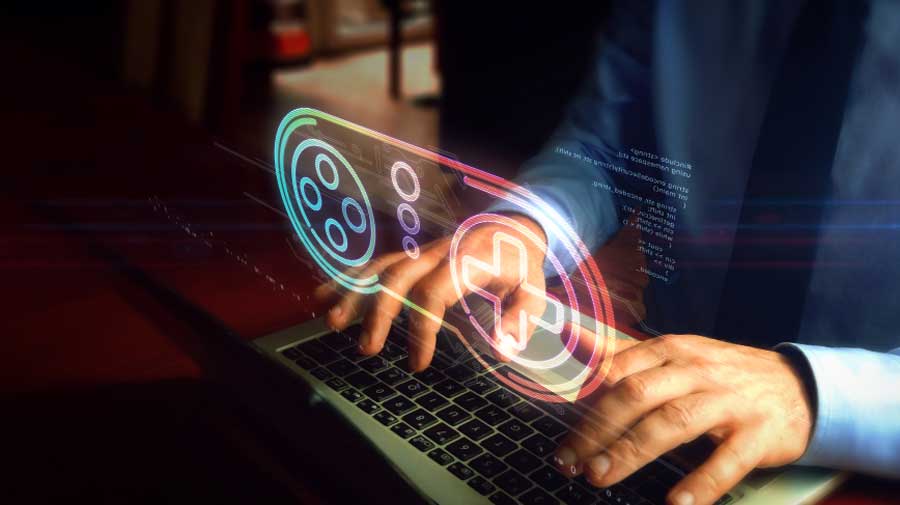 ---
---
The idea that video games are a waste of time is fading fast. Narrowing age and gender disparity among players, affordable smartphones, high-speed Internet, free mobile games and the growing merger of gaming technology with different industries has widened the gamers' base manifold.
Indira Kar wants to become a game programmer and is doing her BSc in gaming offered by Virtualinfocom in iLead, Calcutta. "This industry is huge with many categories of gaming," she says. " A person with innovative ideas can go a long way if he or she can seize the multiple opportunities on offer. It also makes games on real-life simulation, such as crane-simulation games which are used to train employees."
With more people turning to video games and the Internet as a source of entertainment during the lockdown, the video game and e-sports industry is among the few sectors to have experienced a boom. It has established itself as a fast-evolving sector in the entertainment field with more than 2.34 billion gamers worldwide. Global Web Index's data indicates that more than a billion people around the world now stream games or watch live streams over the Internet each month. The video games industry generated $119.6 billion in revenue during 2018, according to SuperData. The Indian online gaming industry is set to add 190 million gamers and will grow to $1 billion by 2021, a study by KPMG in India and Google found in May 2017. According to Nasscom — a trade association of Indian information technology and business process outsourcing industry —the Indian gaming industry does business worth $890 million every year.
"The fact that more people are now playing online — and will for the next two years at least — is a positive for the industry. I believe it will grow rigorously and dramatically in the next two years," says Yan Garin, associate vice-president of operations at the Ecole Intuit Lab in Mumbai. "There will be a need for technicians, programmers, game testers, directors, marketing people and creative people," he adds. "Small independent studios now have big potential because many games are made by a group of 1-5 people working as a team, which is manageable online. Plus they don't require the technical resources of the games made by big publishers, who are finding it challenging to coordinate the international teams some of them have," he explains.
There are peripheral careers attached to the gaming industry, including YouTubers who post videos of them playing and e-sports people who get content from such games. Right now a lot of e-sports tournaments — of games such as PUBG — are being conducted.
In a country like India, cloud gaming has massive potential because it requires only a screen and a controller. It's cheaper and you don't need to keep updating your device. Since it is all digital, the industry of gamers who are not making the game but playing it is also increasing. You can become a professional e-player and participate in official worldwide tournaments with representatives from every country.
Sagnik Roy, 21, is a full-time gamer who has been playing Counter Strike professionally for four years. "I used to attend local events and later got to know that there are national events as well. So I started to participate in national events. At that time, Global eSports was recruiting players and I joined them. Since then, we have participated in international qualifier games and represented India in Malaysia last year," says Roy, who earns Rs 30,000 to 40,000 a month, excluding winnings from tournaments.
The available games, such as PUBG and Ludo King; are growing in content and receiving heavy traffic. But the games that were supposed to be released this year or early next year may experience a setback. There are many areas of game creation such as narrative, game art creation and production — and if the work on even one of these areas is hampered by the lockdown, it will delay the release of the game, explains Sameer Desai, founder of IGX, India's largest consumer events platform for the gaming industry. "The circumstances in India are just right for gaming to grow. I am seeing a lot of interest in it even from non-gaming brands. This industry is in its nascent stage in India and globally is very young. Investors are seeing that it is robust and will flourish both offline and online. So, many people want to invest in it now," adds Desai, who is also a gaming industry consultant. India already has credible players in the sector such as Ubisoft, Technicolor, Rockstar, Sumo Digital and WMS Gaming.
Says Arijit Bhattacharyya, founder and CEO of Virtualinfocom, India's first original game production company, says, "There is a huge demand for game programmers and game artists as they know UI/UX design. In India, maximum companies are working on outsourced game art, so there is a huge demand for game artists. Eventually, people will be asking for full-fledged games rather than only game art, so programmers too will be in demand."
Alok Gaikwad, a senior technical artist in Ubisoft, says, "As technology changes, so does our thinking process. As an artist or programmer, you are constantly challenged by how to replicate real-life on a digital platform."
"The user base has definitely expanded during the lockdown, especially in games such as Call of Duty Warzone, PUBG and Just Dance Now. More users equal more money, just like in other industries," says Gaikwad.
Now you have a justification for all those hours spent gaming online.
Career call
Profiles in the gaming industry
Game designer
Narrative designer
Game animator or visual artist
Sound designer or audio engineer
Game developer or programmer
Game tester
Art director
Art manager
DevOps engineer
Game journalist or critic