Beyond class: Black lives matter
Harvard creates a fund to redress its ties to slavery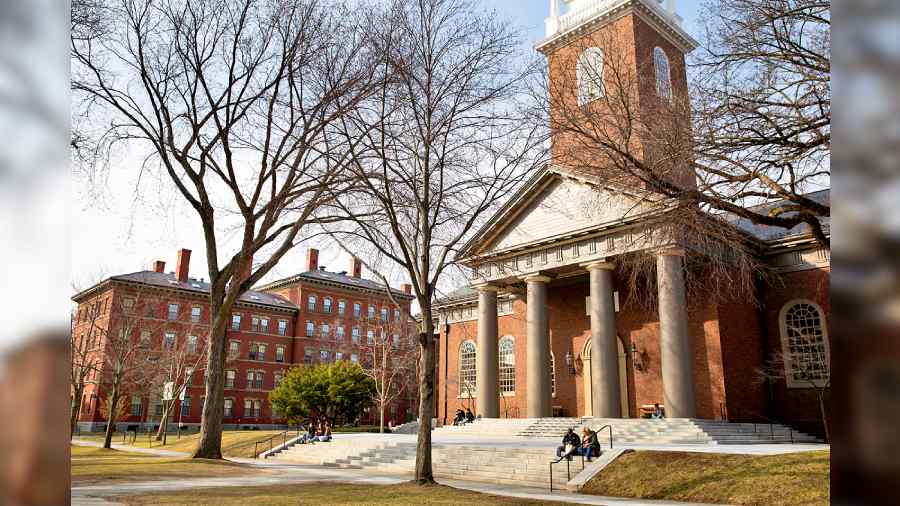 The Harvard Yard at the university in Cambridge, Massachusetts, US
NYTNS
---
Published 07.06.22, 03:29 AM
|
---
Harvard University is committing $100 million to study and redress its ties to slavery, the university's president announced recently, and with that money will create an endowed "Legacy of Slavery Fund", which will continue researching and memorialising that history, working with descendants of Black and Native American people enslaved at Harvard, as well as their broader communities.
With the announcement, Harvard joins many other universities — including Brown, Georgetown and Princeton Theological Seminary — that are not just grappling with their complicity in the institution of slavery but also putting financial resources behind efforts to make amends.
Harvard's commitment rivals the $100 million pledged by the leaders of the Jesuit conference of priests in March 2021 to be used for racial reconciliation and to benefit the descendants of 272 enslaved people sold in 1838 to pay off the debts of Georgetown University.
At its roots, Harvard, which was founded in 1636, owed its immense wealth to patrons of the university whose fortunes were made on the backs of enslaved people, and whose names festoon dormitories and other buildings that students walk in and out of every day.
"Harvard benefited from and in some ways perpetuated practices that were profoundly immoral," Lawrence S. Bacow, Harvard's president, said in an email to the university's students, faculty and staff members. "Consequently, I believe we bear a moral responsibility to do what we can to address the persistent corrosive effects of those historical practices on individuals, on Harvard and on our society."
The Presidential Initiative on Harvard & the Legacy of Slavery was commissioned by Bacow in 2019. It expanded on work promoted by Bacow's predecessor, Drew Faust, which in turn built on early work done by historian Sven Beckert and his students at Harvard.
The Harvard Corp. has authorised the allocation and the funds are on hand, officials said, but the final details are still to be worked out. The recommendations include: working to improve educational opportunities for the descendants of Black and Native American enslaved people, notably in the South and the Caribbean, where plantations traded with New England; honouring enslaved people through memorials, research and curriculum; forging partnerships with historically Black colleges and universities and tribal colleges, including a programme to exchange students and faculty; and identifying and building relationships with the direct descendants of enslaved people who laboured on the campus or were enslaved by Harvard's leadership, faculty or staff.
The committee report says the Legacy of Slavery Fund is "a necessary predicate to and foundation for redress", but does not call for direct financial reparations to descendants of enslaved people.
Its most emotional component may be an appendix that lists more than 70 Black and Native American people enslaved by prominent figures at Harvard — presidents, fellows, members of the board of overseers, teaching faculty, staff members and major donors, in the 17th and 18th centuries. Almost every enslaved person is identified by a first name only — Titus, Venus, Juba, Cato — and the names of those who enslaved them. A separate column documents how the enslavers are memorialised by buildings, streets, paintings, sculptures and professorships.
Carissa Chen, now a Rhodes scholar at Oxford, UK, spent two years as an undergraduate studying with Beckert, tracing the descendants of the enslaved connected to Harvard. She had a list of 121 names. She found 50 living descendants of two of them, eight generations removed.
Jordan Lloyd is one of the descendants. Lloyd, 32, a former actress, had worked as a server at Harvard's A.R.T. Theater, without realising how connected she was to the university's past. One of her ancestors, Cuba Vassall, was enslaved by Penelope Royall Vassall, described as sister of the slaveholding benefactor of Harvard Law School. The Royall family crest was adopted as a symbol of the law school, until it was withdrawn in 2016, as students protested the slaveholding association.
Lloyd ponders what Harvard owes the descendants: "Having our kids be allowed to attend some of the summer school," she said, "working to help people locate who their ancestors were, that feels like reparations." And, she added, "There's the emotional toll of hearing that your family was enslaved; there's the economic perspective and the loss of capital from their work."
Ben Bryant, a Harvardsenior, vividly remembered the moment in his freshman year when he noticed a plaque commemorating four enslaved people who had lived in Wadsworth House, a former residence of Harvard presidents. The plaque was installed in 2016. To read it, he said, he had to move up close because the writing was so small.
NYTNS