The Intern
A final-year hotel management student, on her experience of working in a Doha hotel during the World Cup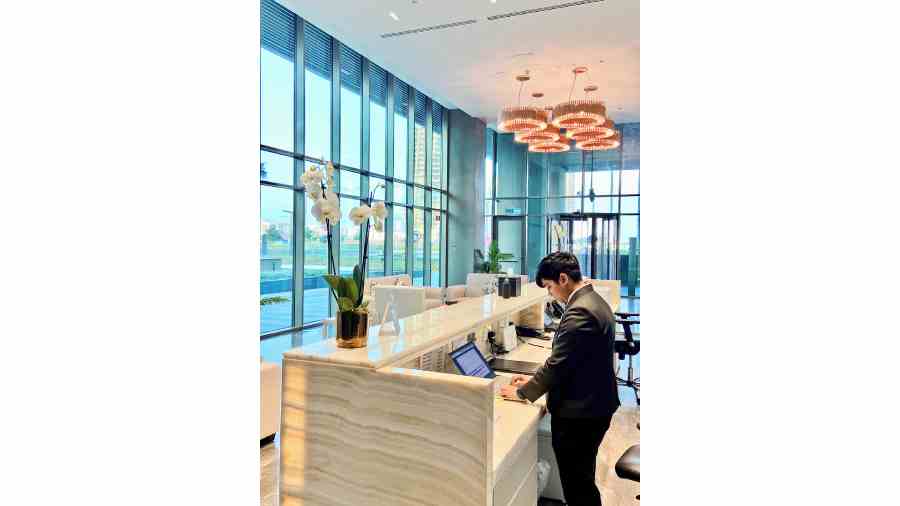 Sonali Nayak at the front office of St Regis Hotel in Doha.
Courtesy: Sonali Nayak
---
Published 31.01.23, 05:45 AM
|
---
We had been waiting for our visa since our interview in July 2022. We, as in, the 40 students of Calcutta's International School of Hospitality Management selected to intern at a hotel in Doha, Qatar, during the Fifa World Cup 2022. It finally arrived in October, just days before we left for Doha.
We arrived at the brand new Hamad International Airport wondering what was lying in wait for us. The airport was decked with Fifa posters. The queue at the immigration counter was quite long as tourists were arriving; it took us about half an hour to get clearance. We had to wait for our counterparts from different institutes across India. All together, there were 230 interns, including Indians, Moroccans, Kenyans, Hongkongers and one American who had been hired for Fifa.
Two buses ferried us to our accommodation on Najma Street in 20 minutes. The newly constructed towers and the hyper-modern skyline were all brightly lit. The roads were broad and squeaky clean, and never clogged with vehicles. Traffic rules were strictly adhered to and even during the matches, when 1.4 million visitors from across the globe had descended on Doha, snarls were rare. After a cool Delhi, Doha was comparatively warm, although as the days progressed it became cooler.
Our accommodation — a seven-storeyed fully-furnished, air-conditioned building — was meant for around 90 interns. On each floor there were three apartments, each shared by five interns. We were given food packets — yellow rice, chicken and dal. The next day we were tested for Covid at the Alfardan Medical Centre, and this despite the fact that we had been tested 48 hours before leaving our respective home countries. The app, Ehteraz, was supposed to indicate our Covid status and unless it showed green, we were not allowed to leave the building where we stayed.
The next day we went for "orientation" at St. Regis, Doha. The brand new metro transported us in 45 minutes. The flashy underground was all steel and glass, and mini-footballs decorated the rails inside the compartments. The compartments were quite empty then. The crowds swelled only days before the matches began. Unlike the Metro railway in Calcutta, the compartments here were segregated price-wise — standard, family and gold club. During Fifa they were open to all.
I had been selected for the front office at St. Regis, a luxury brand hotel where the guests are mostly international VIPs, Boston Consulting Group leaders, top officers of the Emir and administration, and other top guns. Local residents wore spotless white dish dash and carried prayer beads. Others wore business suits or dresses. The women were stately and elegant in black hijabs. Our hotel had more than 15 spanking-new culinary establishments offering a variety of cuisines.
Us interns were posted according to our duties. I began as a concierge intern. I had to escort guests around the hotel, check mail, attend calls and arrange flowers in guest rooms, book cars for guests and tables in restaurants both inside and outside the hotel.
Occasionally, I had to accompany guests to the ATMs, prayer rooms and swimming pools. Guests who wished to visit Katara beach were taken to another hotel property. We worked nine hours daily, including an hour's break for meals. We were to be paid 1,200 Qatari Riyal at the end of the month and transport was free.
After two weeks, as the World Cup dates drew closer, the volume of guests increased and some of us were shifted to the new project, Lusail Towers. It comprised nine towers and was close to the Lusail stadium. The four iconic towers of Doha were near it.
Here my job was to check in Amiri Diwans who hold sway over the state of Qatar. The guests were from Saudi Arabia, France, Morocco, Ireland, Pakistan, UK, Mongolia, Croatia, Japan and Argentina. Here the front office project manager, Ahmed Aly of Egypt, was very kind, supportive and helpful. A manager of St. Regis who also oversaw the Lusail project, Dip Budha of Nepal, always encouraged us.
I was mostly on night shifts and was entrusted with the job of night audit, tallying the registration cards, assigning future arrivals' rooms and integrating guest defect logs (guests' complaints). Here, I became thoroughly acquainted with the skills of guest handling, communication, meeting international guests, manual operation of many jobs, including property management for which software is generally used, and problem solving. We had to sell our products and restaurants to guests and ensure their satisfaction.
But it was not all work. We interns went out to explore tourist spots such as the Souq and enjoyed a boat ride at Corniche. We went for a meal at a restaurant called Famous near Al Mansoura Metro station and ordered paratha and pepper chicken, Afghanistani chicken with complementary green salad. A Pakistani waiter went out of his way to be nice. It was a relief to be able to speak with him in Hindi.