The Library at Shaheen Bagh
The Fatima Sheikh-Savitribai Phule Library came into being on the fourth death anniversary of Rohith Vemula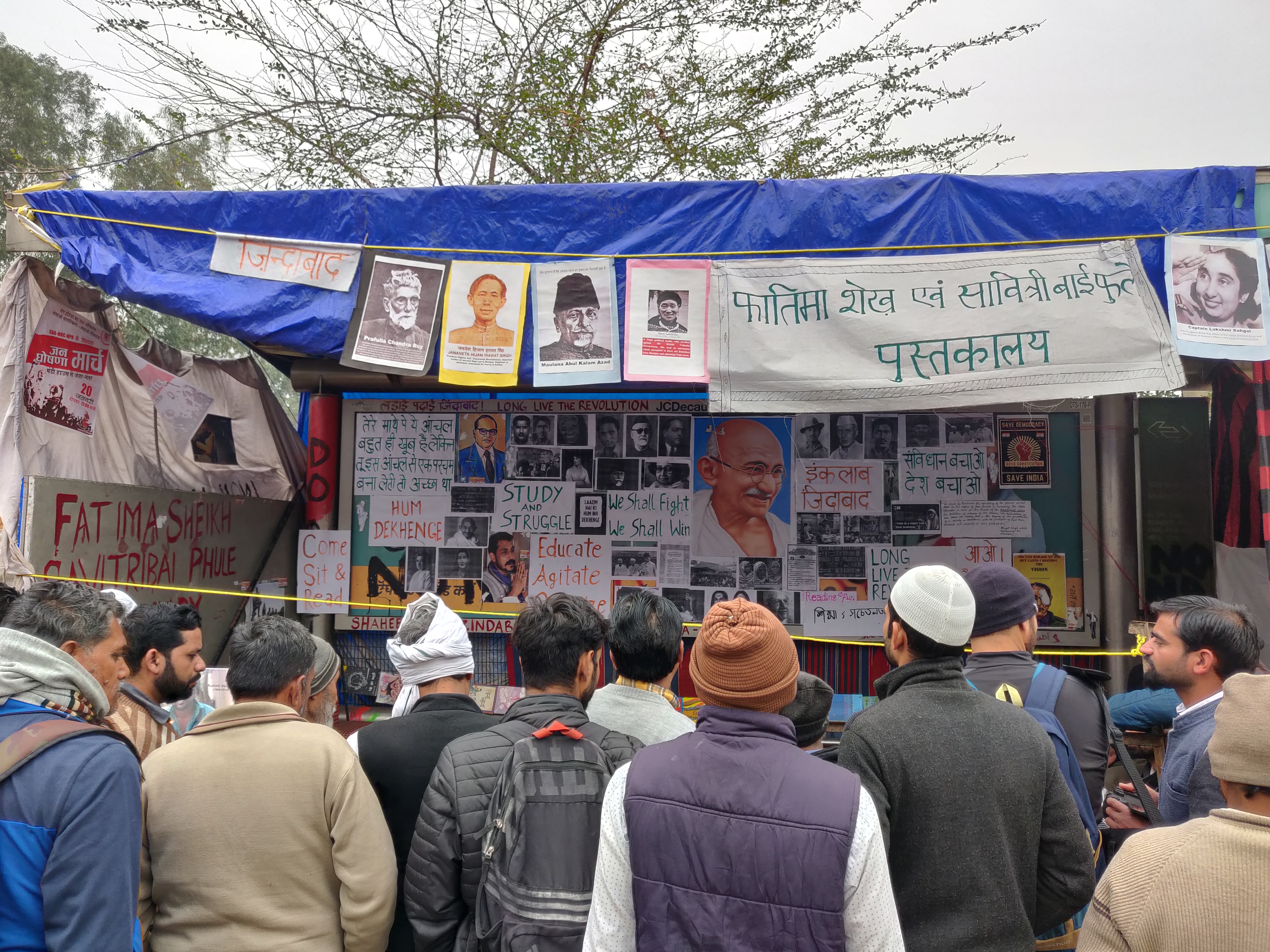 ---
---
What was earlier a bus stop, about 50 metres from the Shaheen Bagh protest site, is now a library. It started three days ago. The Fatima Sheikh-Savitribai Phule Library came into being on 17 January 2020 – the fourth death anniversary of Rohith Vemula. Rohith, a dalit research scholar at the University of Hyderabad, was abetted to suicide, sparking nationwide protests against injustice and discrimination.
"This is also a symbol of protest," said 25-year-old Mohd Asif, one of the student organizers of the library. "Rohith's death was institutional murder – the questions he raised, we will continue to reiterate."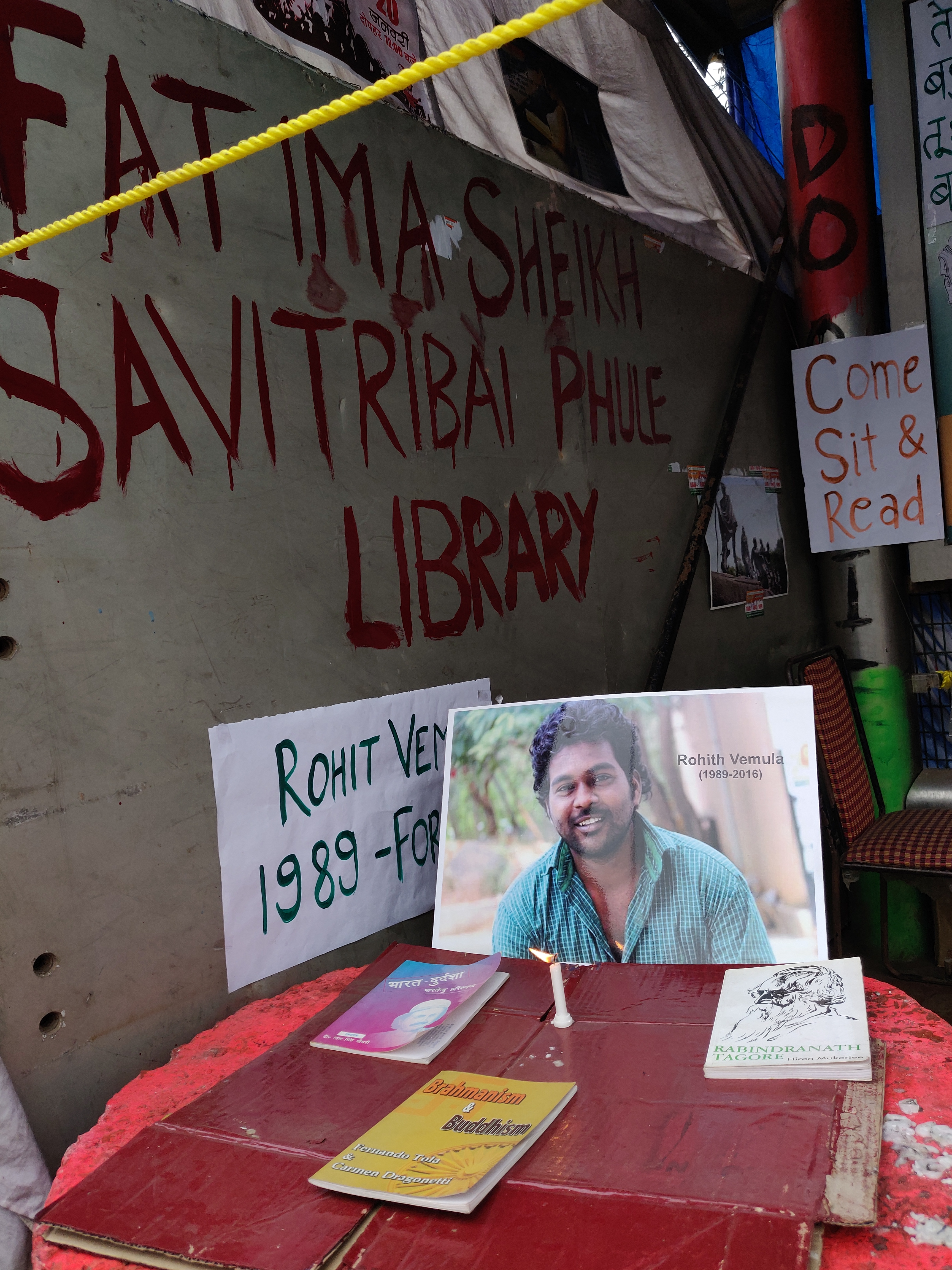 Rohith's portrait occupies one corner of the ragged library, a candle burns, some books are arranged on the floor, while others hang in the back. Portraits of exemplary social reformers Fatima Sheikh and Savitribai Phule, who the library is named after, occupy the wall which provides the library its backdrop. There are other posters too – one will find Gandhi, Ambedkar, Abul Kalam Azad, and Nehru, among others.
We often raise a slogan – Lado padhai karne ko, padho samaaj badalne ko (Fight to read, read to change). A majority of Shaheen Bagh ke auratein (the women of Shaheen Bagh) have stepped out of their homes for the first time. This space is new to them. This is an attempt to bring these women closer so that they read and facilitate the social change they today exemplify.
- Mohd Asif, student organizer, The Fatima Sheikh-Savitribai Phule Library, Shaheen Bagh
Asif believes that the movement will sustain if people educate, agitate and organise. The library is open from 12 in the noon till midnight every day. Plans to make it a 24x7 space are afoot. The library at present houses a collection of about 150 books, but mostly in English – demand for Hindi and Urdu books are high.
"When someone asks us what kind of books we need, we tell them to get books in Hindi or Urdu," said Asif.
Asif put the library together in association with friends and fellow students, and donated 25-30 titles from his personal collection of history and literature books. Soon others started contributing, and a collective was formed to run the library. A Facebook campaign also helped in procuring books.
"The response is good. Some people have sat here for two-three hours, reading books. Till now, a pamphlet explaining the Citizenship (Amendment) Act and National Register of Citizens, along with the National Population Register has generated most interest," said Asif.
25-year-old Mohd Noor Alam is another member of the library collective, and also a student at Jamia Millia Islamia. He informed that people have also shown interest in the writings of Saadat Hasan Manto, Munshi Premchand and Gandhi.
"There is also a demand for a book on the Constitution of India. The younger generation seems to be more interested in books on Nehru," said Alam, .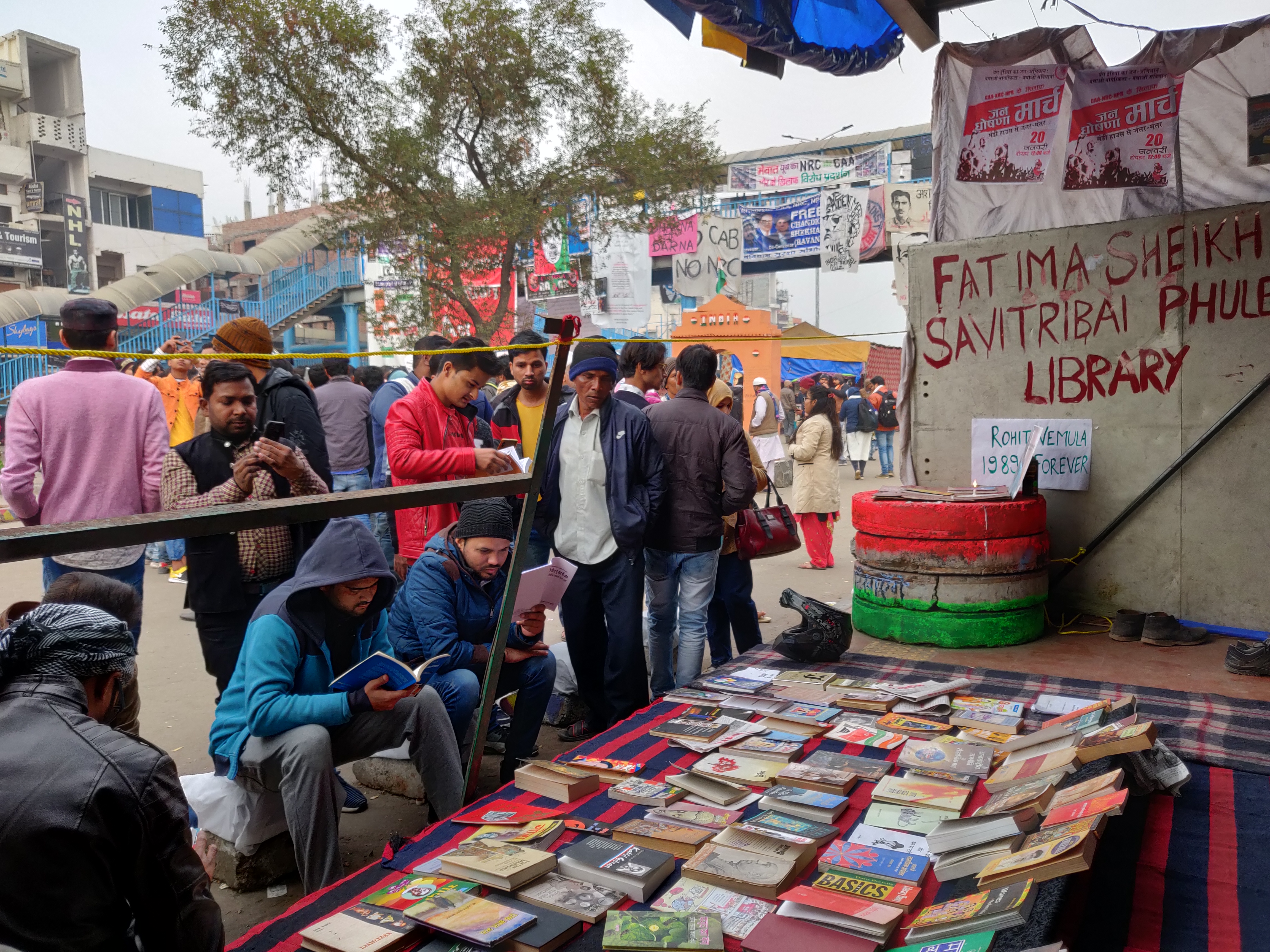 A lone copy of Hitler's Mein Kampf lies with others books on the library floor. "Why do you have that book?" we asked Asif. "Padhenge toh hi janenge (People will understand only when they read it)," he replied.
Various slogans raised at Shaheen Bagh have made the protesting women familiar with Fatima Sheikh, Savitribai Jyotiba Phule, and Birsa Munda. The library believes that now is the time to augment their knowledge of these people's struggles and ideas.
"These names have been imprinted on their (the protesting women) minds and lips – it is time they imbibe their ideology. Both Fatima Sheikh and Savitribai Phule fought for education in a time when women were systematically kept away from it," said Asif.
Asif and Alam feel that this is a fight for identity, which includes Muslims, Dalits, Adivasis, the disabled, LGBTQ people, and all those who are oppressed. The group plans to run the library at the protest site as long the protesting women are there. And when the time comes to leave the protest site, they plan to convert it into a permanent space in Shaheen Bagh and hand it over to the local residents as their library.
"After all this is over, many people will come to learn about, and research this movement. The Fatima Sheikh-Savitribai Phule Library will welcome them too. It could become a museum to commemorate this protest," Asif said expectantly.