Luxe lair on air
A business class flight to Abu Dhabi followed by a visit to the Etihad Innovation Centre. t2 finds out what it's like to live the high life!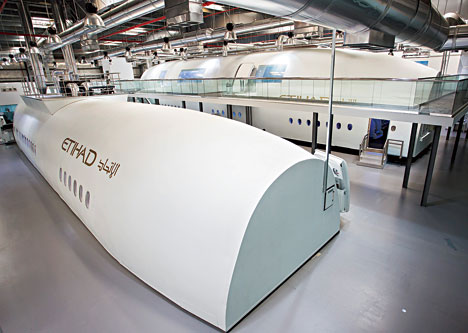 ---
Published 10.03.18, 12:00 AM
|
---
'Business Class' read the ticket.
I grinned ear-to-ear at the Etihad Airways official behind the check-in counter for my flight to Abu Dhabi. In a few weeks, I had planned to take a sabbatical — as far as my savings could stretch! — and hoped that this trip would get me ready for a life of leisure, luxury (read: afternoon sleep) and lyadh.
Trying not to mope over the fact that the Etihad Airbus A380 — the world's largest passenger aircraft — does not fly in India anymore, I settled into my Business Class seat in the EY 255 Airbus A320 that flies from Netaji Subhas Chandra Bose airport. A smooth sip of Baileys Irish Cream liqueur in hand (the bar is a welcome perk on most international flights), I was in the capital city of the UAE around four-and-a-half hours, two movies, and a three-course meal later.
After a restful night at the regal St. Regis Abu Dhabi, we headed to the Etihad Innovation Centre for a walk through some of the best-designed aircrafts by Etihad Airways.
Built in 2014, the Etihad Innovation Centre is where aviation ideas take flight. And with Abu Dhabi prepping for its new airport terminal (expected 2019), there's a lot happening here. It houses a reconstruction of the Airbus A380 (yes, finally got to sit in one even if it didn't take off!) and Boeing 787 Dreamliner. The way to the display zone has a dreamy Star Trek kind of entrance that screams "click me". The Centre also houses the Innovation Training Academy. We instinctively smoothened our loose strands of hair as we spotted classrooms filled with cabin crew being groomed before they took their skills to the skies! (Entry to Etihad Innovation Centre is by invite.)
Airbus A380
We walked through the various mock-ups of the cabin classes starting with the upper deck of Etihad Airways' Airbus A380, which houses a three-room suite called The Residence at the far end. Imagine an exclusive living room, bedroom and restroom on a plane! It sounds almost like private jet travel except there's more… a tailor-made menu and a personal butler trained at The Savoy Hotel, London.
There are also nine First Apartments on the upper deck, and each has an ottoman that converts into an 80x26 inch bed. A380 flies from Abu Dhabi to New York, London, Sydney and (from March 25) Paris.
Boeing 787 Dreamliner: Isn't she a beauty? If you fly from Abu Dhabi to Amsterdam/ Melbourne/ Shanghai and several other destinations (starting March 25, Geneva will be added to the list), you'll get a chance to sit in one of these.
Common to both the A380 and Boeing 787 is the Economy Smart Seat. In the economy class, aisle space has been cut down to make the seats wider and lend more leg space. "Guests prefer the window seat. When we asked them why, they said it was because they had more space to lean the head. So we tried to create the same experience in every seat," explained our guide.
YOU CAN STAY AT...
ST. REGIS ABU DHABI
Part of the iconic Nation Towers, the hotel is located in the heart of Abu Dhabi on the spectacular Corniche, minutes from the Central Market.
The hotel has 283 guest rooms and suites from Floor 33-49. t2 checked into a Superior Room.
The hotel has a helipad, 2 restaurants, 5 bars and lounges, Remède Spa, 2 swimming pools, 2 exercise rooms, library and a private Nation Riviera Beach Club.
One of the services you must try is the famed St. Regis Butler Service (call the butler for literally anything, even packing your luggage!).
Text: Karo Christine Kumar