Test Cricket Test
This is the year a Test king will be crowned anew. The Telegraph scours the field and picks out a team that could rival — even trump — the champs of the game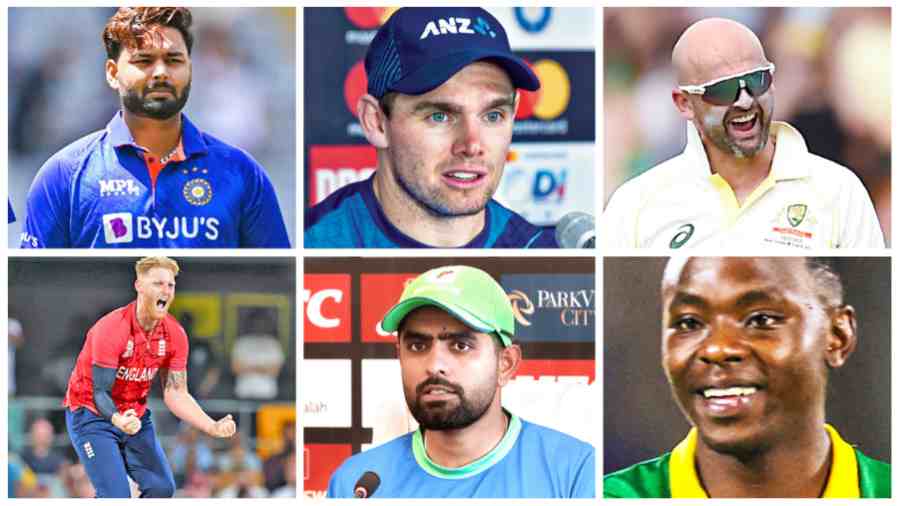 Clockwise from top left: Rishabh Pant, Tom Latham, Nathan Lyon, Kagiso Rabada, Ben Stokes , Babar Azam and Kagiso Rabada
---
Published 05.02.23, 04:03 AM
|
---
For purists, the mouth-watering contests between the bat and the ball across continents, involving eight different Test teams, provided some warmth in an otherwise nippy December of 2022. Much to the disappointment of the T20 fan club, no one can summon the courage to write the epitaph of Test cricket. Red ball cricket is alive and kicking.
Based strictly on recent performances — home and away — here's my 15-member World XI Test squad. Unsurprisingly, Ben Stokes is the skipper and also the leading all-rounder of my team.
Newcomers from England, Australia and Pakistan — Harry Brook, Cameron Green, Saud Shakeel and Agha Salman — have stamped their authority in red ball cricket with some impressive performances. The good news is that while the young players are adding value, glamour and colour to Test cricket, the veterans aren't lagging. The exuberance of youth and experience of the tried-and-tested players are two guiding factors behind my team selection.
The Ben Stokes-led World Test XI will have opening batters from New Zealand and Pakistan.
1. Tom Latham
Calming Influence
With two double centuries, one each against Sri Lanka (264*) and Bangladesh (252) in Wellington and Christchurch respectively, the southpaw from New Zealand is no mug with the bat as Test opener. Behind the stumps, Latham is a reliable gloveman. After featuring in 70 Tests, the New Zealander is nearing the 5,000-run mark at a batting average of 40-plus.
2. Abdullah Shafique
Sialkot Stallion
This 23-year-old cricketer from Pakistan has been sensational since his Test debut against Bangladesh in November 2021. A stylish righthand opening batter with a solid technique wears a thinking cap. He has stroked three centuries, one each against Australia, England and Sri Lanka, and four fifties. No wonder that his captain, Babar Azam, rates him very highly and often draws his parallels with India's Rahul Dravid.
3. Marnus Labuschagne 
Run Machine
In a recent Test series against West Indies, player of the series Marnus Labuschagne amassed 502 runs laced with three hundreds, including a double century at 167.33. Labuschagne is in the form of his life. The 28-year-old South Africa-born cricketer has crossed the 3,000-run mark, laced with 10 centuries, in only 30 Tests at an impressive batting average of 61. He is the world's number one ranked Test batter at the moment.
4. Babar Azam
Sizzling Talent
2022 has been a year of Azam's batting prowess across all formats. In red ball format, he has been in red hot form. Across three formats, Azam was the lone international player to cross the 2,500-run mark in 2022. He amassed 2,598 runs at an average of 54.12, which included eight hundreds and 17 fifties. In nine Tests in 2022, Azam scored 1,184 runs with four hundreds and seven fifties at 55.
Azam has scored about 12,000 runs with 28 centuries and 78 fifties. No wonder that in ESPNcricinfo's ODI team of the year (2022), Azam is leading the men's side. He has amassed 679 runs in nine ODIs at an average of 85. He also made 735 runs in 26 T20Is in 2022, including a century and five fifties.
5. Joe Root
Dependable Backbone
With 10,629 runs from 127 Tests, laced with 28 centuries and 55 fifties at a batting average of 50, England's Joe Root will be an integral part of the batting line-up. At 32, Root has scored five double centuries in Tests on pitches in Manchester, Galle, Hamilton, Chennai and Lord's.
6. Ben Stokes
Fearless Leader
Less is more when it comes to Ben Stokes. A veteran of 89 Tests with 5,602 runs and 193 wickets, Stokes will be the leader of my World Test XI side. His all-round abilities, and his leadership of England in the red ball format, recommend him highly.
7. Rishabh Pant
Game Changer
India's dashing batter-keeper Pant is now out of danger after he got injured in a car accident. He is an impact player and a game-changer in red ball cricket.
In only 33 Tests, 56 innings, the swashbuckling player has made 2,271 runs, which include five centuries and 11 fifties, at 44. Three of his five Test centuries have been scored in Sydney against Australia, and Birmingham and The Oval against England.
In a match versus England in Birmingham, Pant amassed 146 runs in only 111 balls at a strike rate of 131. At The Oval, he stroked 114 runs while the Indian team was chasing an improbable target of 464 runs. He salvaged some pride to reach 345 in response. Recently, in the Mirpur Test against Bangladesh, Pant made his mark yet again with an aggressive innings of 93 runs from 104 balls.
For his courage and ability to turn the match on its head, I will have Pant, should he recover well enough to play.
8. Cameron Green
Genuine All-rounder
A five-for by Green at the MCG against the Proteas was reassuring in more ways than one. Unsurprisingly, Green pocketed a whopping Rs 17.5 crore contract in the latest auction at India's lucrative Indian Premier League (IPL). The Mumbai Indians know pretty well that the grass is greener with Green in the MI dugout. Although Green is new to the red ball format, he has shown that he can win matches with both bat and ball.
9. Pat Cummins
Gun Bowler
As a classical fast bowler, Pat Cummins will be the leader of the bowling attack. In 46 Tests, the 29-yearold Aussie bowler has scalped 210 wickets including eight five-fors and12 four-fors.
10. Mitchell Starc
Yorker Specialist
The 75-Test Aussie veteran Mitchell Starc will be a "partner-in-crime" for Pat Cummins. Great fast bowlers often hunt in pairs. Starc and Cummins will forge a bowling partnership that is capable of wreaking havoc from the word go in all conditions. He is a left-armer andhis inclusion will add variety to the bowling attack that comprises Pat Cummins, Ben Stokes, Nathan Lyonand Cameron Green.
11. Nathan Lyon
Wily Offie
No one can raise a finger when it comes to the phenomenal rise of Lyon as a crafty off-spinner. He has featured in 114 Tests for Australia and claimed 458 wickets, including 21 five-fors and 19 four-fors. He is my main spinner.
Here is my 15-member World XI Test squad:
1. Tom Latham
2. Abdullah Shafique
3. Marnus Labuschagne
4. Babar Azam
5. Joe Root
6. Ben Stokes (Skipper)
7. Rishabh Pant (Wicket-keeper)
8. Cameron Green
9. Pat Cummins
10. Mitchell Starc
11. Nathan Lyon (Off-spinner)
12. Kagiso Rabada
13. Shaheen Afridi
14. Jonny Bairstow (Wicket-keeper)
15. Keshav Maharaj
In the current cycle of the ICC World Test Championship (2021-2023), Australians are leading the WTC table while India, South Africa and England are in contention for a second spot. Pakistan and Sri Lanka have made life difficult for themselves. Because of Australia's dominance in Tests, my World Test Squad includes five Aussies.