Doggos and their humans during Covid-19
Five pet parents share their lockdown woes and wows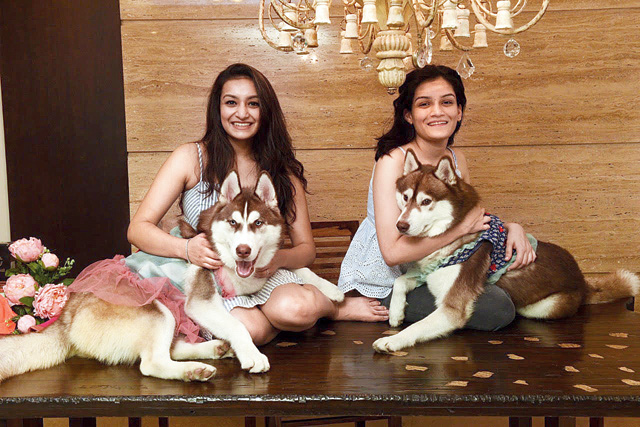 ---
---
Having a pet has its perks. A lot of fun time, a playmate, complete stress-busters. Being a pet parent is, however, not always easy. Apart from having to follow a regular schedule in order to keep the pet healthy and well-groomed, you have to be ready to shoulder challenges. And, the lockdown did make things difficult for many a pet parent. They are not complaining though. Anything for their little bundles of joy, who had a whale of a time having their human parents around. t2 caught up with five pet parents.
Abhishek Dutta, fashion designer, pet parent to St. Bernards Bosky and Alexa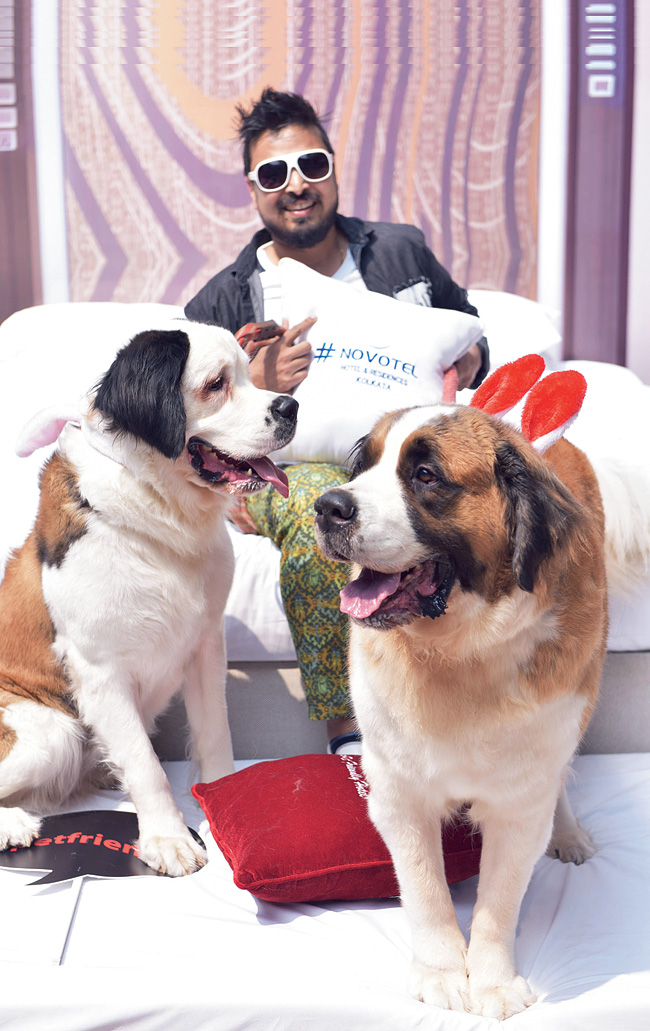 Was petcare tough during lockdown?

It wasn't very tough. They were very happy seeing all of us at home all the time. The only problem was we couldn't take them out, but we have our terrace and they got some exercise there. They need to exercise and go out a bit. The difficult part was to get their food. The delivery of their dry food was delayed. Otherwise, they were quite cheerful all the time. It is a relief for pet owners to see their pets happy. It acts as a complete stress-buster to have pets around with so much free time on our hands.
What were the major challenges?
Generally, I don't send them for a bath, but they were missing out on their regular vet check-up as the vet's clinic was shut and that was a problem. I tried my hands at cutting their nails. Thankfully, there were no bigger problems. Not all medicine shops keep all pet medicines and since it was difficult to move around, I was constantly a bit worried hoping nothing bad happens.
Was working from home and managing the pets difficult?
They used to always appear on the video during all my live sessions and workshops with NGOs. It was difficult to get them out of the frame. They shook the mobile and the laptop. (Laughs) It is not too much of a challenge though. I didn't face too many problems. We can't watch TV or Netflix all the time so we also did a lot of funny videos with them.
Despite the hindrances, do you count your blessings for having a pet, especially during such tough times?
The kind of bond that we share is really special. Only a pet owner will know the experience of that kind of love. They come and sit next to me. They understand my emotions. They are great emotional support during tough times. It is not possible to form that kind of attachment with humans all the time. Pets also help us to get over our loneliness.
Bidyut K. Biswas, designer, pet parent to a Labrador called Benny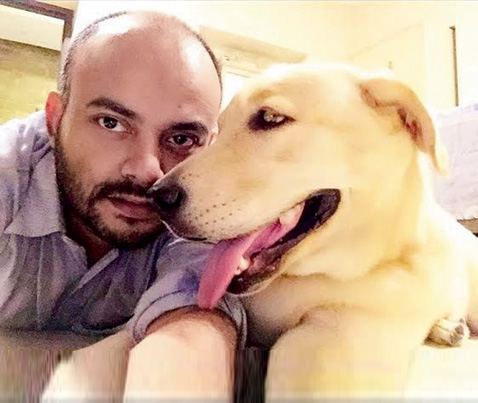 You had a harrowing time with Benny...

I had a pretty bad time during the lockdown. Benny was a little unwell since January. We had been taking care of her and talking to the vet regularly, but the vet became a little reluctant with the treatment process. Benny was vomiting, having indigestion, and coughing. We then consulted a new vet. The new doctor suggested many new medicines and tests and charged me a bomb. We then stopped the medicines as there was no improvement and went back to our previous doctor. After two-three days, the lockdown started and her back was completely paralysed. The clinics were all shut down and the doctor gave Benny a dose of antibiotics. But after having that, Benny got really unwell. She had a urine and uterus infection and the doctor said nothing could be done at that moment. She needed hospital care but many people told me not to take her to the hospitals because of various reasons. And there are not that many hospitals also. Then my friends suggested a clinic. There on the first day, the doctor did not arrive. The compounder said that it was complicated and I almost broke down on hearing that. When I met the doctor finally, he told me everything negative. Finding a place to do all the tests was also an issue. Then I posted the problem on a Facebook group and from the recommendations I received, I went to a clinic to get it done. Things were, however, still complicated as the initial clinic refused to accept their test reports.
Then by God's grace, I found a good doctor, who did the right kind of treatment and Benny is much better now.
There are hardly any good vets in Calcutta, no proper system for animal care at most clinics during the lockdown, and our hands were completely tied. I had a car to commute and get Benny treated, but for most people, transportation was a problem and they had to suffer a lot if any such emergency came up. I witnessed a complete monopoly business while running around to get Benny treated. After having the wrong medicines Benny became worse health-wise, depressed and the uterus got bloated up. Still, the previous doctors never asked us to do the necessary tests. My relative's pets had died earlier due to such negligence. So this time I was more careful.
What were the other major challenges?
Benny does not have dog food. So I didn't have to face any other problems. The medicines were thankfully available.
Was working from home and managing the crisis difficult?
Most of the time because Benny was ill, there was no scope of taking her out. Otherwise also Benny is not an active dog. She is very quiet. So, we never face any problem in handling Benny. Previously we used to take her out for long walks but nowadays only for five minutes.
Despite the hindrances, do you count your blessings for having a pet, especially during such tough times?
Benny is the youngest member of the family. We got her at a time when all of us as a family agreed on having a pet in the house. We love playing with her. Seeing a pet around always helps. It is true that while doing some work sometimes a pet interferes. Even Benny at times indulges in a lot of wicked stuff. However, in this lockdown, she didn't have a chance to be naughty. I was always suffering from the constant fear of not being able to give her the proper treatment. At times it was a very helpless situation. People were giving me strange looks whenever they saw me running around so many places during the lockdown to make sure Benny gets better. This is because taking care of animals is still not a familiar concept to many. My mother was also depressed when Benny was ill.
Parno Mittra, actress, pet parent to Maggie, a Lhasa Apso, and a Labrador called Kedarnath aka Kedu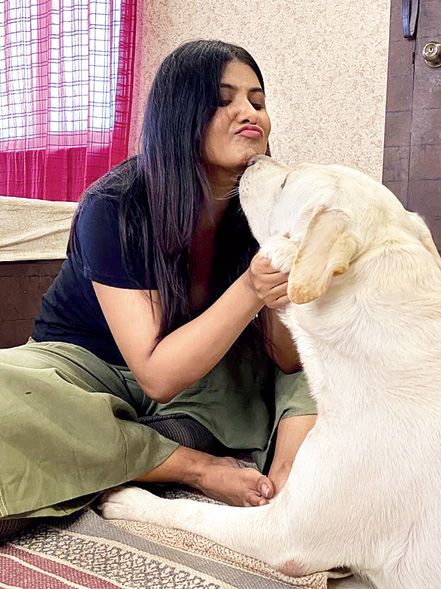 Was petcare tough during lockdown?

It was tough in the sense that we couldn't take them out for their walks. My maid went home for seven days when lockdown started and was unable to return later. We were also having to do all the household work. So their usual walking routine got disrupted. Also, many areas were barricaded off and that was also a problem while taking them out for a walk.
What were the major challenges?
They were not getting their usual grooming session. There is something called a five-part cleaning that they have to go through. That could not be done as the man who does that for them couldn't come to our house. We were doing the basic cleaning but we can't do it like the professionals.
Despite the hindrances, do you count your blessings for having a pet, especially during such tough times?
Without them, it would be boring. They are family. If someone in the house is crying then Kedar will go and slap them and make them stop crying, that is his way of doing it and it is quite funny. I didn't have much trouble with them but I was constantly feeling bad that we were not being able to take them out for their walk.
Our dogs have become a part of the family now. During the lockdown, we were having to do a lot of household chores. But they are like the children of the house. Kedar is a little naughty that way and runs away with my mother's pillow and socks. My sister was not talking to Kedar for a few days because of all the naughtiness he does. And I was telling her why are you doing this with him. Every time I try to mop, he tries to run away with the mop. But Maggie is very chilled out that way and she doesn't disturb that much. I am so glad we have them at home.
Sneha Singhi, chef, Paris Cafe, pet parent to huskies Zeus and Luna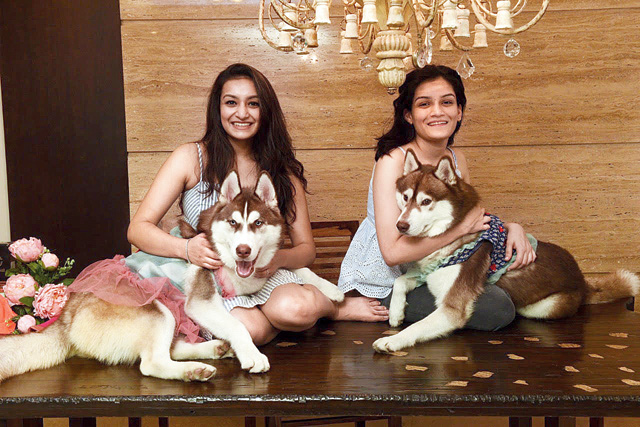 Was petcare tough during the lockdown?

It was not tough but a lot of pet products were unavailable. That was a problem. We are a vegetarian family, but we feed chicken to our dogs. That is cooked somewhere else and then brought home to feed them. That became a little difficult during lockdown.
What were the major challenges?
During the initial days of the lockdown we took them out for their walk for a few days but many people started protesting. Then we made them walk inside our compound but because they used to poop and pee that also became a problem. They need a lot of exercises, but during lockdown that became difficult and we were always worried about where to take them for a walk. We could hardly take them outside once or twice a day.
Did you face any emergency situation?
Luna had a stomach infection. A lot of blood was coming out. That made us panic. We had to give her saline for three days and it was a tough time for us to see her in that state.
Was working from home and managing your pets difficult?
My work is mostly in the kitchen. My dogs are usually the vacuum cleaners of my kitchen. (Laughs) Zeus was shedding and he is like my shadow. He follows me around the house and won't leave the kitchen as long as I am there. With the food all around, having him in the kitchen while he was shedding was a problem. Also, every time my sister (Sakhi) is on the bed, they always want all the attention.
Despite the hindrances, do you count your blessings for having a pet, especially during such tough times?
Honestly, if I didn't have them I would go insane. Lockdown has also been a very emotionally turbulent phase in many ways. Sixty days at home without any contact with friends or people outside is not that easy. In my friends' group, I am the only one who has dogs and my friends were telling me how lucky I am to have them. We usually have to feed Zeus, but during the lockdown he learned to eat by himself and we were so happy to see that. Also, Luna is a talking husky. She replies when we talk to her and now she is talking more than ever seeing us in the house all the time!
Mainak Das, make-up artist, pet parent to a Lhasa apso named Lolo and a chihuahua called Spooky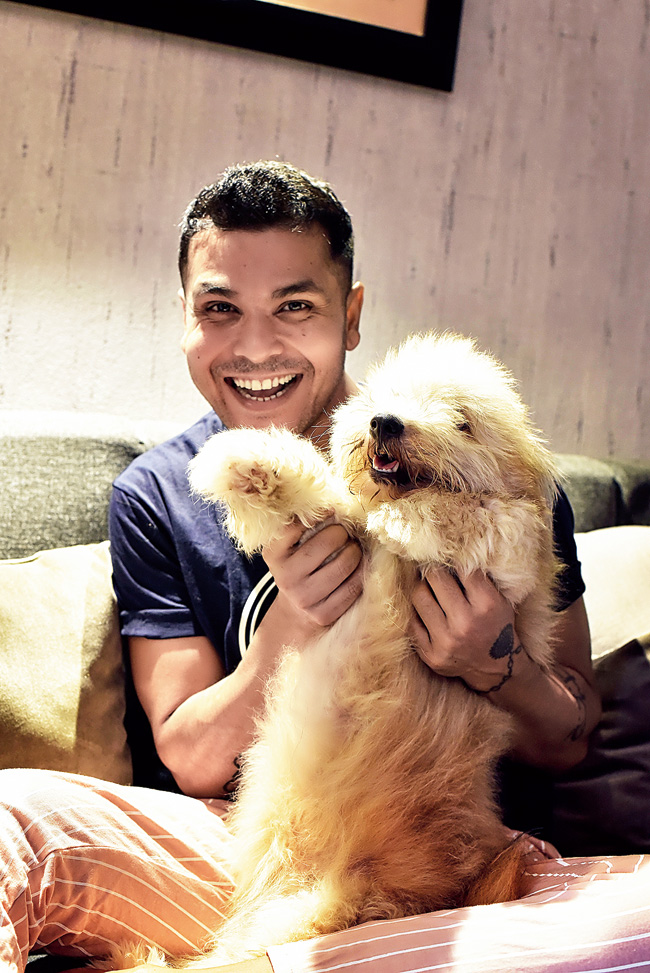 However, at present, he is living with Lolo, as Spooky is at his parents' house.
Was petcare tough during lockdown?
It was a bit tough at times. Lhasa dogs have a long coat and that needs proper trimming and grooming. Since I'm not an expert on dog's grooming, that could not be done. Also, any kind of long-coat dogs need proper bathing during summer. But bathing her was not an issue for me. I enjoy giving her a bath followed by spraying some deodorant on her body and combing properly.
What were the major challenges?
I feel if you love your pet it will never be a challenge for you at all. It is all about care, affection, and love. I believe that when you keep a pet you always have to take care of your pet as a child because the whole life of a pet is surrounded by his/her owner and the family.
Did you have to face any emergency situation?
Thankfully, I didn't face anything. I did not have to worry much. If anything would have happened, then I have a veterinary doctor who does Lolo's check-up. I would have reached out for help.
Was working from home and managing the pets difficult?
Lolo didn't disturb me at all. She is possessive about me. If someone hugs me then she barks a lot. Lolo usually comes and sits on the floor beside me and sees what I am doing. She is also a really good guard dog and always listens to my words. If I scold her, she understands and then keeps quiet.
Despite the hindrances, do you count your blessings for having a pet, especially during such tough times?
If I didn't have her I don't know how I could spend the lockdown days. Lolo stays in bed as long as I do. She roams around me all the time and tries to get some attention by sitting beside me on the couch. Whenever I go for a shower she sits on the doormat of the washroom until I come out. I believe that this is pure love that I will never get anywhere else. Pets can't speak but can make us feel loved by their affection. Those who have pets are lucky and they always have that one soul who will never betray them.