Celebs turn up for Parav
Two-day exhibition by Debjani Chatterjee and Sujoy Prosad Chatterjee was organised on September 18 and 19 at Zoom Tea-O-Graphy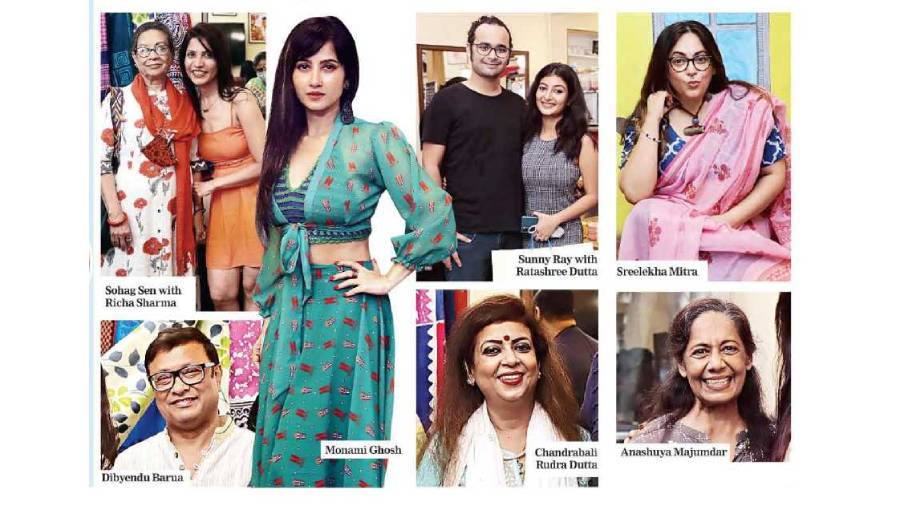 ---
Published 28.09.21, 09:06 AM
|
---
Parav, a two-day-long exhibition of Debjani Chatterjee's saris and Indo-Western range Oi-Shey, and Sujoy Prosad Chatterjee's ceramic, molten clay, wooden jewellery collection, was organised on September 18 and 19 at Zoom Tea-O-Graphy.
The exhibition was inaugurated by actress Monami Ghosh. Other people from different fields such as Sohag Sen, Anashuya Majumdar, Sreelekha Mitra, Chandrabali Rudra Dutta, Dibyendu Barua, Debmalyo Chatterjee, Richa Sharma, Ratashree Dutta, Sunny Ray and Rupashree Chakraborty were present at the two-day event.
While speaking about the overwhelming response of customers, Debjani Chatterjee said: "I am quite delighted with the footfall, Even after Covid threats and such inclement weather, people came and adored our products. That's what inspired me the most."
Sujoy Prosad Chatterjee said: "I express my artistic self through my jewellery. Those pieces are like the extension of my interdisciplinary craftsmanship. I am very delighted that people adored those pieces and our exhibition was such a success."
Debjani and Sujoy promised they will come up with the next season of Parav too. Snapshots from the event.