Music lovers, get set for Red Bull Off The Roof in Pune
A Telegraph chat with Akshat Rathee, co-founder and MD at NODWIN Gaming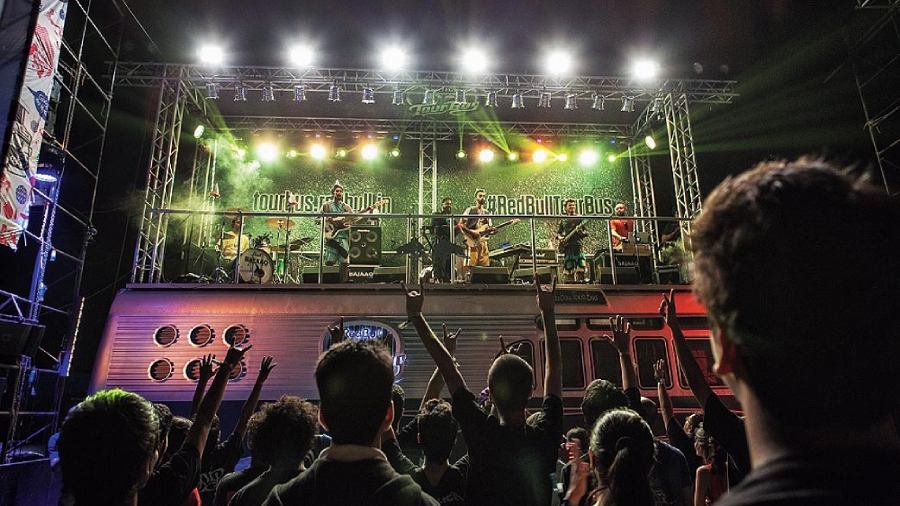 File picture of the Red Bull Tour Bus at Bacardi NH7 Weekender
---
Published 24.03.22, 04:21 AM
|
---
For music lovers, Pune will feel like home this weekend as for the first time in nine years, Red Bull Off The Roof returns to Bacardi NH7 Weekender this year in its home city on March 26 and 27. Following a digital edition in 2020, NODWIN Gaming, one of the world's leading esports companies and Bacardi are bringing India's happiest multi-genre music, comedy, and gaming festival back to its home city Pune. Here's what Akshat Rathee, co-founder and MD at NODWIN Gaming, told us before you attend gigs by LIFAFA, Anoushka Maskey, When Chai Met Toast and others.
This will be the first Bacardi NH7 Weekender since the pandemic started. What makes this edition special and different from what we have experienced over the years?
The Bcardri NH7 Weekender festival has built a very loyal and engaged community of fans for the past 11 years. They love the festival because of the experiences we specially curate for them. From our eclectic line-up of artistes that include some of the best musicians and stand-up comics/comedians to the off-stage fun and games be it the food, drinks shopping and even the ferris wheels, this property creates an electrifying atmosphere of celebration and community, which is what the fans will see this year too, and some more.
Additionally, this year, we will also prioritise safety at the venues and strictly mandate Covid-appropriate behaviour. We decided to go ahead and re-launch the festival in March after it was cancelled in February this year, only after we had multiple rounds of discussions with local authorities and relevant stakeholders. People have been waiting for a live event like this after being locked down for months now, making this much-anticipated event very special.
What kind of restrictions are we looking at?
Without compromising on the quality of the experience that is expected from a festival of this nature and scale, we have put in place stringent checks and protocols that we have been putting together for months. Festival attendance is limited to only those who have been fully vaccinated. We have security at all entry points where every person entering the venue will go through a thermal check. Also, we decided to only host the on-ground festival in Pune and not in Delhi and Calcutta as we had initially planned.
Tell us a bit about the line-up for the Red Bull Off the Roof Stage….
The line-up at Red Bull Off The Roof has been specially curated keeping in mind the kind of platform that it has been providing to artists over the years. Some of India's biggest names, as well as the most exciting up-and-coming artists have played on the bus since it was launched in 2013. While bands like When Chai Met Toast have played before, we have others on the lineup who will be making their debut on the bus. Red Bull Off The Roof has been a part of Bacardi NH7 Weekender in the past, and bringing it back after eight years meant that we had to program some really powerful and engaging performances for the audience.