Mahatma Gandhi doesn't live here anymore
Before Gandhi's 149th birthday, we stop by at Hyderi Manzil, where he lived for a brief but crucial while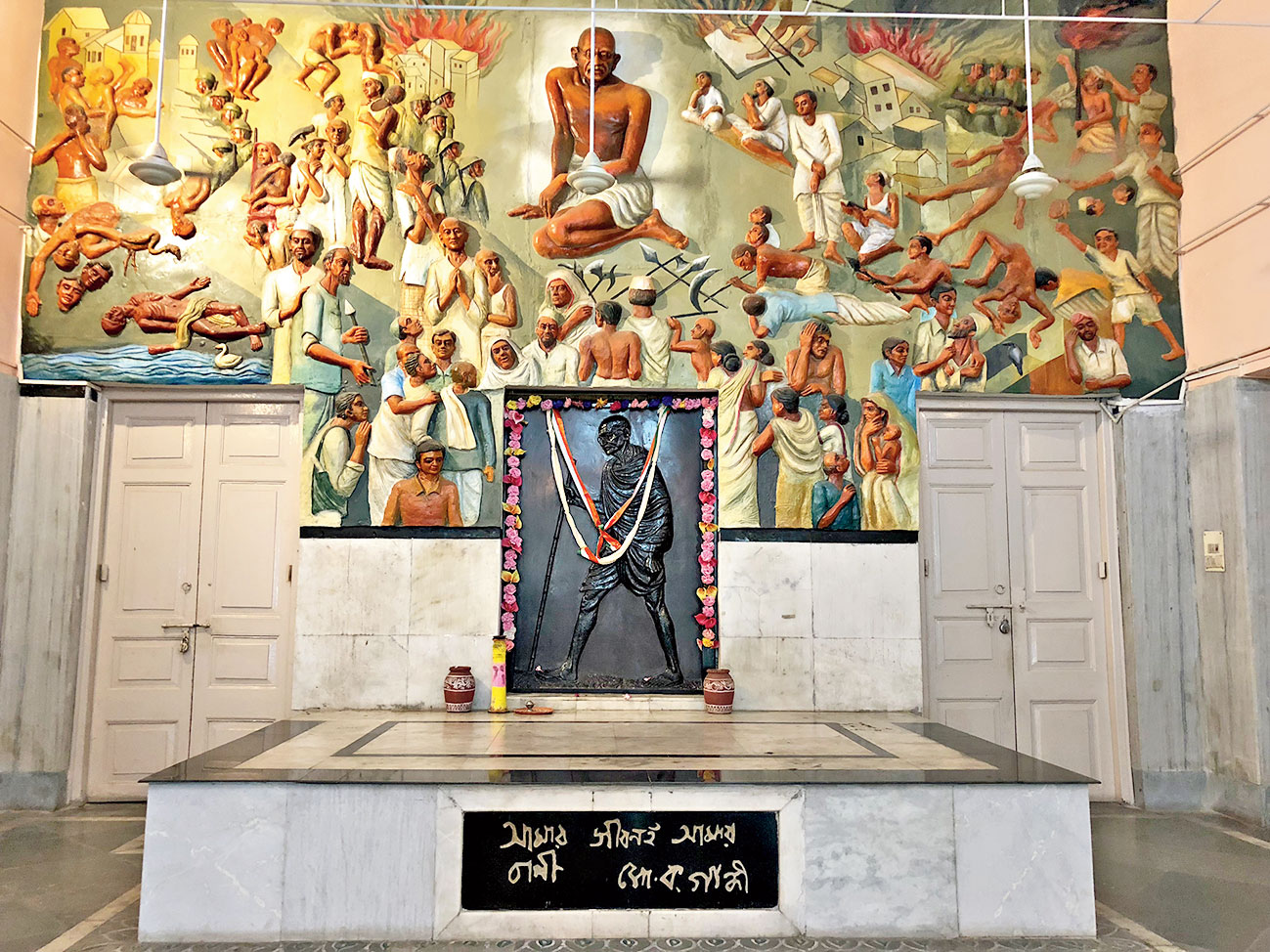 The central hall of Hyderi Manzil
Manasi Shah
---
Published 29.09.18, 06:27 PM
|
---
In the book, The Oxford India Gandhi, there is a reference to how erstwhile Bengal chief minister, the late Jyoti Basu, came calling on the Mahatma here. The excerpt reads: "...We said we were Communists and we have come to take your advice. What do we do in these circumstances... He said, '...if you could bring out a small procession with people of all religions... that may be the beginning of the peace process'."

As caretaker Dilip Dey ushers us inside and turns on the lights, we can hear it all, the earnest voices inside, the angry ones outside — Manu Gandhi writes how the Hindu youth thundered, "The slight suffering on the part of the Muslims has caused you to hasten to their succour. Where were you when we suffered?"
Dey's voice cuts through the olden voices, brings us back to the present. He says, "In official records, this property continues to be known as Hyderi Manzil, but it is now referred to as Gandhi Bhawan." From the relief work on the wall, a tangerine Mahatma stares out vacantly, around him are men, women, children, some distraught, all unrestful, many dying.
Abbas Bengali is one of the current owners of Hyderi Manzil. He says, "In 1923, Sheikh Adam, my great-grandfather, bought this property. Later, my grandmother Hoosainabai Bengali inherited it. At the time, it was already known as Hyderi Manzil." It was possibly named thus as Hyderi is the other name for Ali — the Prophet's son-in-law who Shias consider the first imam, he offers. "But I have no written proof to substantiate this," he adds.
We share with him Manu Gandhi's description of the house. He says he has heard it used to be a well-furnished place. "During the riots, parts of it caught fire, things were stolen. But had it been all that bad, would Gandhiji have stayed here?"
Dey, caretaker of this place for almost three decades now, is delighted to have a visitor. By his own admission, he doesn't get too many of them. As he guides us from room to room and finally the museum, he parrots a narrative he has obviously taken pains to learn. "That there is Gandhiji's [walking] stick... He would make his lassi in this pot... He had his puffed rice out of that bowl."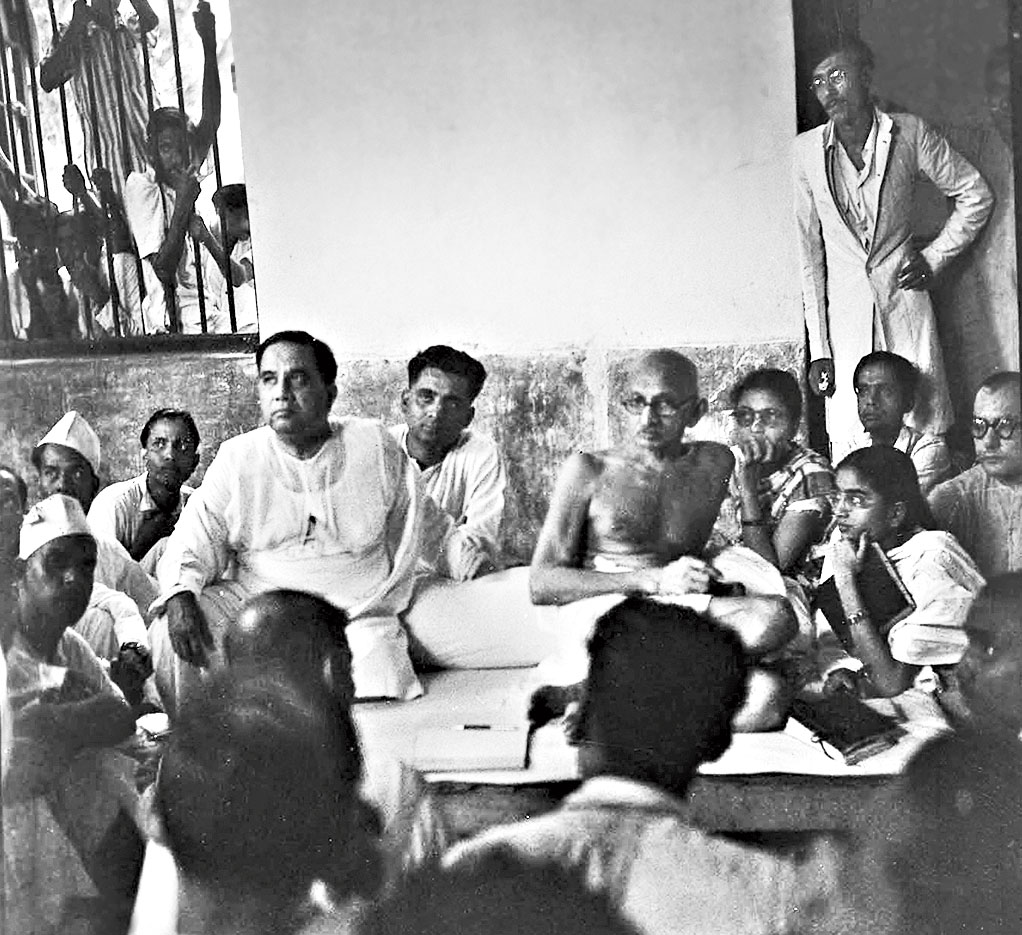 He points out to a watering can and a spittoon used by him, an upturned tumbler. The Mahatma's bedding, mattress, a box charkha, two regular charkhas, another laathi, a pair of khadau, two pairs of chappals, a pocket watch, a straw hat and a lantern. "This is where he would sleep," Dey says imperiously, as if he watched over him in person.
There are three swords in a glass case with a caption that reads: "Arms surrendered to Gandhiji to end the communal violence on the eve of Independence." Photographs — the Mahatma with Suhrawardy in 1946; him meeting women in Noakhali in January 1947; another of a street full of human carcass and a row of vultures on a wall adjoining. "This was Calcutta's Park Street during the riots," says Dey pointing to it.
Maya Das, joint treasurer of Purba Kalikata Gandhi Smarak Samity, the organisation in charge of the place, does not have much to share about Hyderi Manzil's history but she is keen to talk about her woes. How developing the house and procuring funds necessitated digging up a heap of documents. How none of it would have been possible without the support of Gopalkrishna Gandhi (Governor of Bengal between 2004 and 2009). "He had given 10 charkhas for local girls to come, stitch and earn. But it had to be stopped because of some interference," she is cryptic. We learn that a school for the underprivileged was started in the premises in 2006. But it closed down in 2015.
At last a silver lining for Das. She is excited about CM Mamata Banerjee's impending visit on October 2. "She last came here in 1995, when she was the rail minister," she says.
In 1947, the Mahatma was meant to go to riot-torn Noakhali, but was entreated by many to save Calcutta instead. He agreed on condition that the others would work to restore peace in Noakhali.
In The Oxford India Gandhi, Gopalkrishna Gandhi notes that Rev. John Kellas of Calcutta's Scottish Church College paid a visit to the Mahatma and asked him about the relation between a nation and religion. He was told, "A nation does not belong to any particular religion or sect. It should be absolutely independent of either religion or sect…"
As we take Das's leave and Dey's, the golden kitten at the latter's feet wakes up, stretches, then curls up again with a small sigh.
The description reads: "It was a very shabby house without any sort of facility... There was only one usable room where everybody and everything had to be accommodated, including Bapu himself, his luggage, and guests. Hindu demonstrators raised black flags and asked him why he is not going to Hindu quarters to save them..." Thus wrote Manu Gandhi of Calcutta's Hyderi Manzil where the Mahatma stayed in 1947 — between August 13 and September 7. It was from here that he appealed for peace and harmony to a people tearing at each other.
Standing before the single-storey structure in north Calcutta's Beliaghata one afternoon, we can see it all. The eyes behold a white-and-beige bungalow, neat to a fault, the verdant skirting, the Tricolour in one corner, but the mind overlays the immediate with the past imperfect.