In UP's sugar bowl, harvest is rich but not sweet
An overload of cane price arrears has given rise to a looming crisis for farmers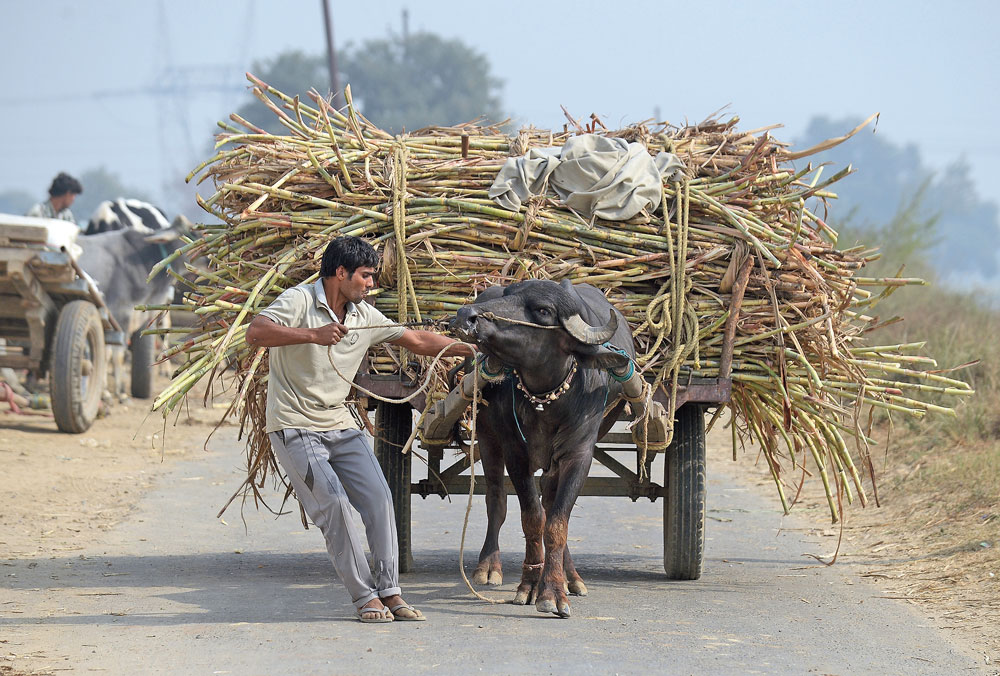 A man ferries sugarcanes in the Ghaziabad district of Uttar Pradesh
PRAKASH SINGH/AFP
---
Published 29.09.18, 06:09 PM
|
---
And to think that western UP, the sugar bowl, rewarded the BJP handsomely in the 2014 Lok Sabha polls and the 2017 Assembly elections.
Green revolution, fertile land and better crop varieties have meant prosperity, growth and political power of sugarcane farmers and they are feared the most by politicians in the region. The average yield per hectare in UP and other parts of the country has been going up, thanks to better varieties of sugarcane that have become available in recent years. Today, on an average the state yields anywhere between 780 and 950 quintals per hectare. A far cry from the 600-750 quintals of a few years ago.
Local leaders are already feeling the heat of the farmers' discontent. Dhoom Singh, who is chairman of the Sugar Samiti in Malakpur and also a local BJP leader, is unequivocal in his assessment. He says, "We will be in deep trouble if the farmers' issues are not solved at the earliest. If this situation continues, we may even have farmer suicides, which will be disastrous for the party."
The party had indeed made some lofty promises. "The BJP had promised that the payment for sugarcane farmers would be disbursed within 14 days and made a law regarding this after it came to power in the state. But the fact on the ground is they have been waiting for months for the payment for their last produce. What do you expect us to do when they come again asking for votes?" asks Tejpal Singh Thakur of Meetli, who claims to have voted for the BJP in the previous elections.
There are several areas in which politics, more often than not, prevails over economics. It is true more so when it comes to sugar production. It is often not easy to follow equations when an economist breaks down how governments at the centre and state decide on the price of sugarcane and how much the industry is forced to sell at.
Sugar pricing in India is controlled by the central government. Farmers get what is called fair and remunerative price or FRP. With the increase in sugar production and depressed international prices, the ex-mill price for sugar [refers to the exit price of sugar when it leaves the mill; basically the cost of production of sugar] is below FRP. In other words, there are no winners here.
According to Abinash Verma, director general of the Indian Sugar Mills Association (Isma), an industry body, the all-India average cost of sugar production is currently around Rs 36 a kilo. But the ex-mill price is between Rs 30 and 32. In other words, sugar mills are losing almost Rs 5 to 6 per kilo. "Mills are unable to recover their cost of sugar production. And that is why they are unable to make payments," he reasons.
The result has been an accumulation of cane price arrears. In fact, during peak crushing period of the just-concluded season, the cane arrears touched Rs 23,000 crore.
What about the new season? The figures are scary. "Cane price payable to farmers according to FRP will be to the tune of Rs 96,500 crore, which would be due by end of April and mid May 2019," Verma says. If the current ex-mill price of Rs 30-32 per kilo continues, the revenue realisation by them from sale of around 150 lakh tonnes of sugar would be less than Rs 50,000 crore.
In other words, arrears could shoot up to even Rs 50,000 crore by end of April 2019. Mills say they may not be in a position to sustain if this continues. Isma has requested the government to increase the ex-mill domestic prices of sugar to Rs 36 per kilo.
Despite lofty targets to produce ethanol in the past, India has lagged. For instance, out of 530 operational sugar mills in India, only 141 have distillery facilities to produce ethanol. The Rs 4,440 crore that the government has announced as loan for the industry to upgrade and build more distillation capacity will see the light of day gradually over the next two to three years. That too comes with some big "ifs" — if everything goes according to plan, if all approvals are in place, if all formalities are cleared.
Last week, the Centre announced yet another package of Rs 5,500 crore. It is aimed at reducing the industry's cane price liability and to help increase sugar exports. But these steps are meant for next season's produce. Experts say that in all likelihood this will not take care of last season's arrears. The sugar industry is also not hopeful of serious increase in exports unless the government makes it compulsory for each mill to export and ensures that everybody fulfils the export target.
Experts also blame successive governments for not thinking ahead or encouraging farmers to diversify. V.M. Singh, who is convener of the All India Kisan Sangharsh Co-ordination Committee, says the central and state governments are "clueless" about tackling farmers' issues. He points to how the government imported raw sugar the last two years knowing full well that home production would be more than adequate.
UP chief minister Yogi Adityanath recently suggested to farmers that they consider growing crops other than sugarcane as too much sugar "leads to diabetes". It has left the farmers in the region fuming.
"Let the government form a policy to discourage sugarcane production and give them better options. Farmers will have no problem in doing that, but there is no such policy in place as of now," says Singh.
Farmers agree. "Sugarcane is our biggest insurance against nilgais, wild boars and stray cattle. We can go for pulses and grains, but we know that we will not be able to protect our crops from these animals. Let the government assure us that these will not trouble us and we will diversify," argues Narender Kallu of Meetli.
Against this backdrop comes the news that India will, for the first time, surpass Brazil as the largest producer of sugar in the world. This may make the government tom-tom it as yet another achievement under it, but for the farmers, it may end up as another year when the very mention of sugar leaves a bad taste in their mouth.
Bitter Pill
The market in Delhi is good for you people. I would like to make an appeal to you that if you cultivate other crops and different types of vegetables, it will be beneficial for the state
This time the headache for farmers has set in a bit early as the UP government has asked the mills to advance their crushing — in western UP it will start on October 15.

Kumar claims the Baghpat mill owes him Rs 1.5 lakh from the last season. There are about 20 farmers in the hall. A discussion starts on how much the mill owes each of them and the final figure comes to around Rs 45 lakh. Bhanwar Singh, a sugarcane cropper with a receding hairline, is smoking a hookah. He goes so far as to claim that the local mill owes more than Rs 2 crore to this panchayat alone. (Baghpat has scores of panchayats with similar dues.)
Farmers along the Baghpat-Meerut Road and beyond have similar stories to relate — bumper crops and whopping unpaid dues.
One date that sugarcane farmers in these parts can never forget is March 7. That was the last day this year when they were paid by the local sugarcane co-operative mill. Another date they remember is May 13. This was the last day on which their produce was last accepted by the mill. Nothing after that. "Once that was stopped we had to sell our sugarcane to small traders or let it rot in the fields. It was that bad," says Ompal Sharma of Meetli village, 12 kilometres from Baghpat.
According to the UP government's latest figures, co-operative mills have to pay Rs 1,177 crore to farmers, while private mills have Rs 9,406 crore in dues.
After massive protests and electoral setbacks in the region, the Prime Minister announced a package of Rs 7,000 crore for farmers in June this year. But it seems to have had little impact on the ground as a huge chunk of it — Rs 4,400 crore — was towards increase in the production of ethanol. Ethanol, produced by the fermentation of sugarcane juice and molasses, is a popular bio-fuel, especially in the transportation sector.
Says Pradeep Gurjar, a Meerut-based farmer, "Some BJP leaders were fooling us, saying that the Rs 7,000 crore was for payment of dues. Now they say it will go into setting up ethanol-producing factories. Only God knows when these factories will come up. We farmers live from one crop to another, we cannot live on promises."
Suresh Rana, the state's sugarcane minister, assures The Telegraph that growers' dues will be cleared in the near future. He says, "The government's aim is to divert excess sugarcane towards ethanol production. It is being done for the benefit of the farmers."
Both the central and state governments have promised to clear all arrears before crushing season starts, but cane growers are not having any of it. Yudhvir Singh of the Bhartiya Kisan Union has an idea about how much of the Rs 7,000-crore package went to the farmers finally. "Rs 43 crore only," he says writing the figures in air with his finger. The rest, he says, has gone into the "pockets" of sugar mills in the name of schemes to produce ethanol and build buffer stocks.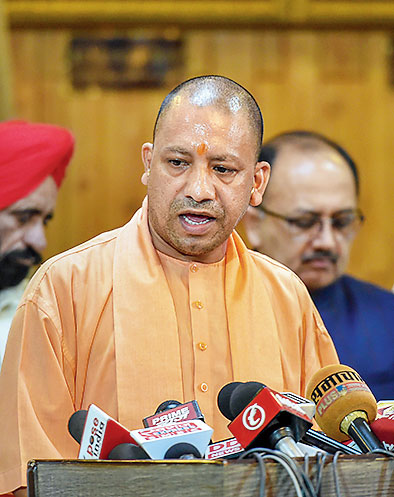 Until a few years ago, you could tell the seasons in western Uttar Pradesh when you drove down its highways just by looking at the standing crops. In winter, one would see an unending landscape of swaying wheat and mustard, during summer it would be all sugarcane and paddy.
These days, almost through the seasons, all that one gets to see are swathes of green sugarcane in various stages of growth. The rains have been plentiful this year and there are indications enough that this will be a record-breaking year for sugarcane. The Centre has also raised the procurement price of the crop to Rs 275 per quintal — a hike of Rs 20 from 2017.
And yet the air is far from cheery at the community hall of the Aggarwal Mandi Tatiri village, five kilometres from the district town of Baghpat and 50 kilometres northeast of Delhi. "Our fields have never looked so beautiful, but we are filled with fear. We don't know how much sugarcane will be bought by the local co-operative mill here and when we will get paid," says Sanjay Kumar, a burly 40-year-old farmer with a handlebar moustache.