From London to Delhi via China: Michelin-star chef Andrew Wong's journey
Wong who is the mentor chef at Baoshuan, The Oberoi, New Delhi feels cooking for the Indian palate comes with its own challenges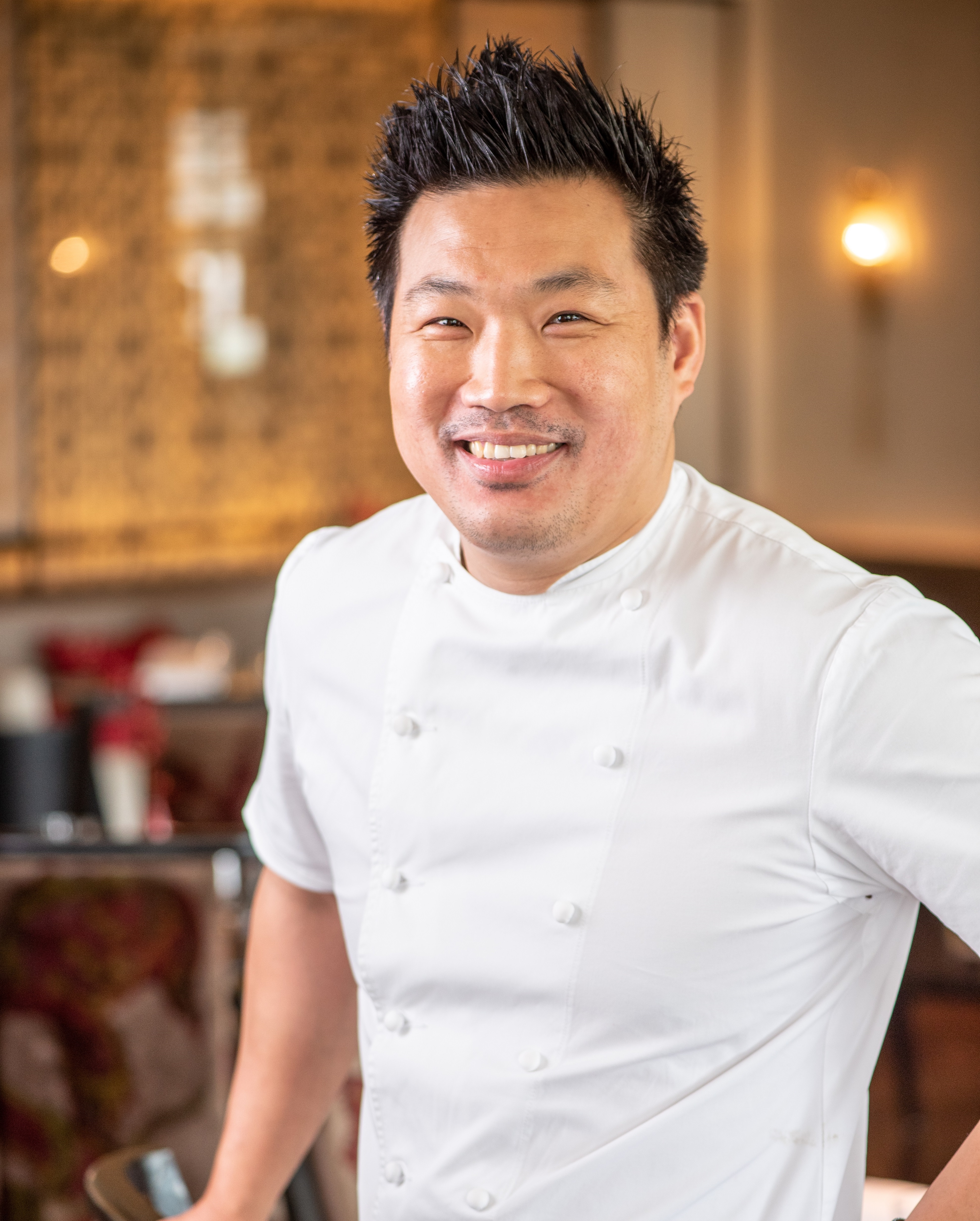 ---
Published 08.12.19, 04:50 PM
|
---
Andrew Wong, the 38-year-old chef-owner of London-based Michelin star restaurant A. Wong, is not your regular chef. For starters, he has a degree in chemistry from Oxford University and another in anthropology from the London School of Economics.
The son of immigrant parents from Hong Kong, Wong worked in the family's Cantonese restaurant in London as a child. "I resented helping out in the restaurant. That was my motivation to study hard. I didn't want to be a chef."
However, fate had other plans. At the age of 22, Wong's father died and he returned from university to help his mother with the restaurant. But he had never learnt to cook and so he enrolled at a culinary school in London and like everyone else specialized in classic French cooking, "since that's what most schools teach".
"But I was dissatisfied with my knowledge of true Chinese cuisine. And so I decided to travel to China," says Wong. He enrolled at the Sichuan Culinary Institute and later worked in Beijing and Hong Kong. "I was fascinated with how food in China differed so dramatically according to region and culture," says Wong who revamped his family's old restaurant and opened a new one at the same place called A. Wong in 2012. While Wong is responsible for the kitchen, his wife Nathalie handles the front office. The restaurant received a Michelin star in 2017. A. Wong serves food from all 14 provinces of China.
Part of what makes his restaurant special is his interpretation of thousands of years old Chinese recipes. Wong works with anthropologists and researches old recipes. During the Qing dynasty, the menu for the emperor was drawn up in advance for each meal and every menu was archived. Beijing's Forbidden City is now slowly digitizing all its kitchen archives, however, these are not particularly detailed, with a lot of the descriptions being very open ended. "For instance, you will get an entry saying swallow's nest, dried orange, steam egg white. And that will be it," laughs Wong. But working with anthropologists helps as then one can find a time reference and some literature written around that time. "May be you will find a poem that will have a description like bellowing steams of pastry, sitting on a bird nest with clouds or something like that. So you begin to basically piece it together," explains Wong. He can then extrapolate this information and create a dish. "It may not be exactly what the emperor ate but it is my interpretation," he says. 
Working in India has been a great learning curve for Wong. He is particularly impressed with the service. "In London there is an understanding that when guests come to your restaurant, they are coming to eat your food. So if they come and tell you that they want to change half your menu, there is a very simple response: go away. But the culture here is that nothing is too much. So you never say no to the guest. It's a massive culture shock to me."
Last October Wong opened a 110-seater Cantonese restaurant called Kym's (his parent's original restaurant was also called Kym's, named after his grandmother) in London's business district. It caters primarily to the lunch crowd.
The biggest challenge in Delhi has been to source ingredients. "I am spoilt for choice in London. There is no ingredient that I get in China and not in London." But it's a different story in India. A lot of the game meat is not available here. Then there are certain fermented and salted Chinese ingredients that are not FSSAI certified so the chefs at Baoshuan are trying to make them from scratch. "There are families in China whose entire livelihood is making just one fermented product. And to try to compete with that is very tough," says Wong, adding that the masterchef at Baoshuan, ChuanXi Sun is very talented and adapts the recipe according to the ingredients.
Baoshuan will complete two years in January. Has Wong figured out what makes it click? "There is no magic recipe for a successful restaurant. We listen and grow with our guests. We are constantly evolving."
Palates between the countries are different and coming across certain ingredients is also challenging. "In Delhi there is a very strong affinity to spice and to sauce but a large part of Chinese cooking is dry fry," says Wong. "Then there is your love for chicken and vegetarian food."
Mentoring Baoshuan has encouraged Wong to research traditional Chinese vegetarian dishes. Buddhist cuisine, specifically the food that the monks eat is primarily vegetarian. "There are several recipes that don't even have onion and garlic," he says. Baoshuan has a significantly larger vegetarian menu than A.Wong.
Another thing that he finds strange with his guests in Delhi is their aversion to meat going into oil, or fried food. Considering that most successful Indian Chinese restaurants in Delhi serve fried food, it is a bit odd. Also a large part of Chinese food is fried.
"We have a technique where we marinate the meat and then drop it into low temperature oil to seal the protein. It allows the meat to be moist. In Chinese cuisine we don't consider it frying. We think of it as sealing. Here we really tried to make the guests understand that it's not really frying. It's a part of a very historical kitchen technique, dating back 2500 years."
Did it work? "No. We had to buy a Rs 100,000 air fryer in the end to bypass this whole process," he laughs.
So are the Europeans any better? "There is a perception in Europe that Chinese food is very oily. If you go to an Italian restaurant, they are allowed to douse olive oil on everything. And that's healthy because that's like low cholesterol and everything. But in a Chinese restaurant you drop it in oil, and that is considered bad," he exclaims.
Wong says he hasn't made changes to traditional dishes to make them more palatable to the guests at Baoshuan. Instead he just selects those recipes from his large repertoire that he feels will do well in Delhi.
Wong talks fast and laughs easily and loudly. He is not above taking a dig at anthropologists, though he studied to become one. "They think in terms of meaning and deeper meaning and sometimes meaning that just doesn't exist. They claim the emperor ate something because of some reason, never because it simply tasted good," he laughs.
Wong is the mentor chef at Baoshuan, the Chinese restaurant at The Oberoi, New Delhi. His brief was simple: the restaurant had to be different from all other Chinese restaurants in Delhi. Wong spent a week eating at some two dozen Chinese restaurants in Delhi, before conceptualizing Baoshuan.
And what is his verdict on those restaurants? "I love Indian Chinese," he says excitedly. "Indian and Chinese are the two most popular cuisines in the UK. So if you mix the two together it is absolute dynamite. If I knew more about Indian Chinese I would open a restaurant in London and it would do really well," he jokes.
Like A. Wong, Baoshuan also serves dishes from all the provinces of China. When Wong first created the menu for Baoshuan, he just picked up the popular dishes from the A. Wong menu. "But that didn't turn out so well," he admits. The problem was with the dishes he chose. "I like to be a little playful with my menu but being playful is completely culturally idiosyncratic. If people don't understand the joke, there is no point in the dish," he says.
So for instance, A. Wong serves a carrot dumpling that has rabbit meat inside it as a joke. The dish does very well in London. But in Delhi it didn't quite work the same way.
"The reality is that what works in London will just not work in India," he says. In London, A. Wong serves a very refined dimsum menu at lunchtime and a multi-course tasting menu in the evening. "It's a three-and-a-half hour dinner but in India people don't want to be having dinner for so long," says Wong. 'You start eating so late, you will be eating past midnight,' he chuckles.