The need for sustainable food
A food hackathon is about coming up with a device, website or app that will be a step towards curbing food wastage and eating sustainably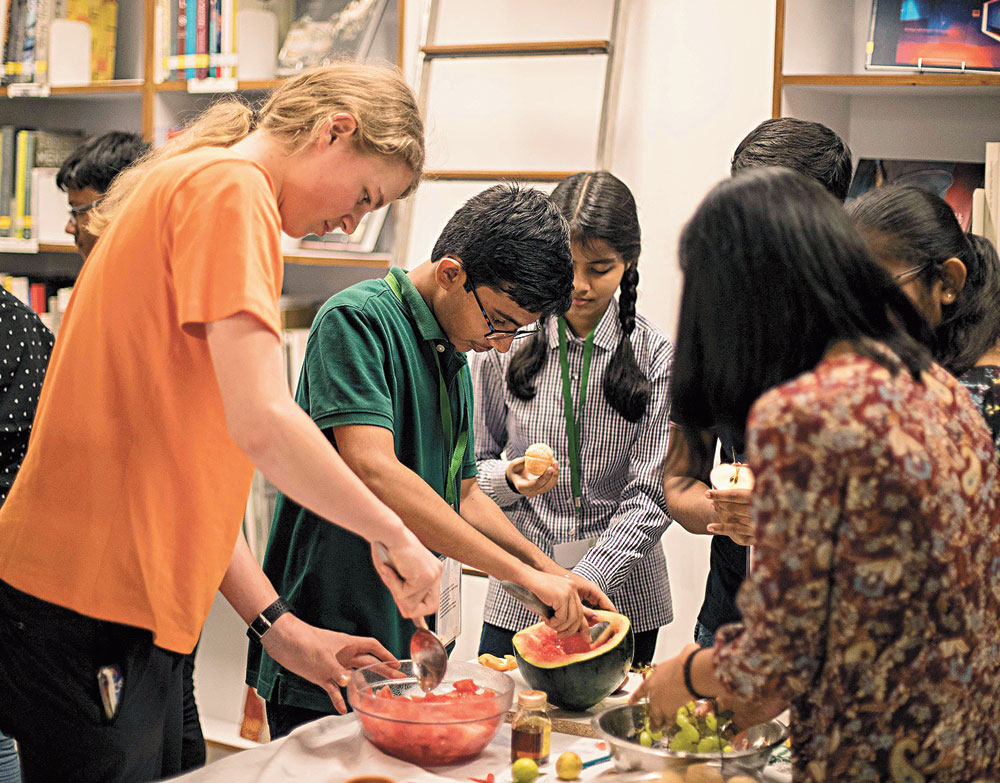 Hole truth: Participants at the four-day food hackathon organised at Calcutta's Max Mueller Bhavan
Picture credit: Sanyam Bajaj
---
Published 05.05.19, 09:40 AM
|
---
The phuchka alias panipuri alias golgappa was stuffed with fruits — scooped watermelon, sliced bananas, grapes green and black, and chopped apples. The tamarind water had been replaced with mausambi juice and the snack was served in cleaned up mausambi halves. "It was surprisingly delicious," says Yukta Raj, but then she invented the snack. Yukta's friend from school, Harsha Dwivedi, and team of six stuffed their phuchkas with sliced German sausages and cheese before nuking it for 30 seconds. The crispiness of the phuchka made a nice contrast to the chewy sausages and the warm cheese.
Both Yukta and Harsha were participating in a Food Hackathon at Calcutta's Max Mueller Bhavan, organised by Vernetzte Welten or Connected Worlds, an innovative student exchange programme in collaboration with Jugend Hackt, a German organisation that organises hackathons.
A hackathon by definition is when programmers get together to collaborate on software projects. A food hackathon, apparently, is about coming up with a device, website or app that will be a step towards curbing food wastage and eating sustainably. "We wanted to spread awareness about food wastage and the need for sustainable food," says Daniel Seitz, one of the mentors from Jugend Hackt.
There was a session on sustainable food and food wastage followed by a food workshop — that led to the freaky phuchkas — on the first day of the four-day event. It was followed by a brainstorming session that lasted late into the night. That is when the teams came up with a concept each. They had the next 48 hours to come up with a prototype.
The international food trend these days is to buy local. It reduces the environmental footprint and ensures the freshest fruits and vegetables. And what can be more local than growing your own food? But urban gardening is not easy; there is all-round lack of space and knowhow. The team that included high school students Yukta, Rittika Majumdar, Anushka Gupta and Malte Schink used sensors to record temperature and humidity and send the data to an app. A gardener can use this data to decide which plants to grow. "We would like to add a sensor that tells you when your plant needs water and nutrients," says Rittika as German exchange student Malte shows her how to fit the sensor to a power source.
It is the first day of the hackathon and the participants are all excited about their projects. One of the teams is working on a website that will tell an interested donor the nearest spot where he or she can drop off extra food. Another team is working on a similar concept. "A lot of times we have food left over," says Manusreehasa Gangavamsam. "The food goes to waste because we don't know where to donate it. The website we are working on will be able to tell you where you can donate excess food."
But a lot of people are still not aware how much food is wasted. "Did you know that on an average a European wastes 1,900 calories every day," asks Elisabeth Schiele, a German exchange student. She adds, "That is just 100 calories less than the daily calorie requirement of a woman." Her team is coding a website that will help spread food waste awareness.
Harsha's team is also putting together a website called Rezeptor. "It is a smart recipe-maker," she says. "If you have ingredients in the fridge or pantry that are about to spoil and you don't know what to do with them, just feed their names into the recipe-maker," Harsha explains. "It will give you the recipe for a dish that uses just those ingredients."
And is deliciousness of those recipes guaranteed? "Not yet," says Simeon Johannes Keske. He explains, "The Rezeptor [recept means remedy while tor means door in German] has a grading system. You have to grade the recipe. It has a learning mechanism that will help it make better and better recipes." Digest that.