Warmth of the staff makes a holiday memorable
Chandan Singh, a waiter at a resort in Ooty was so warm that he reminded the author of a fictional character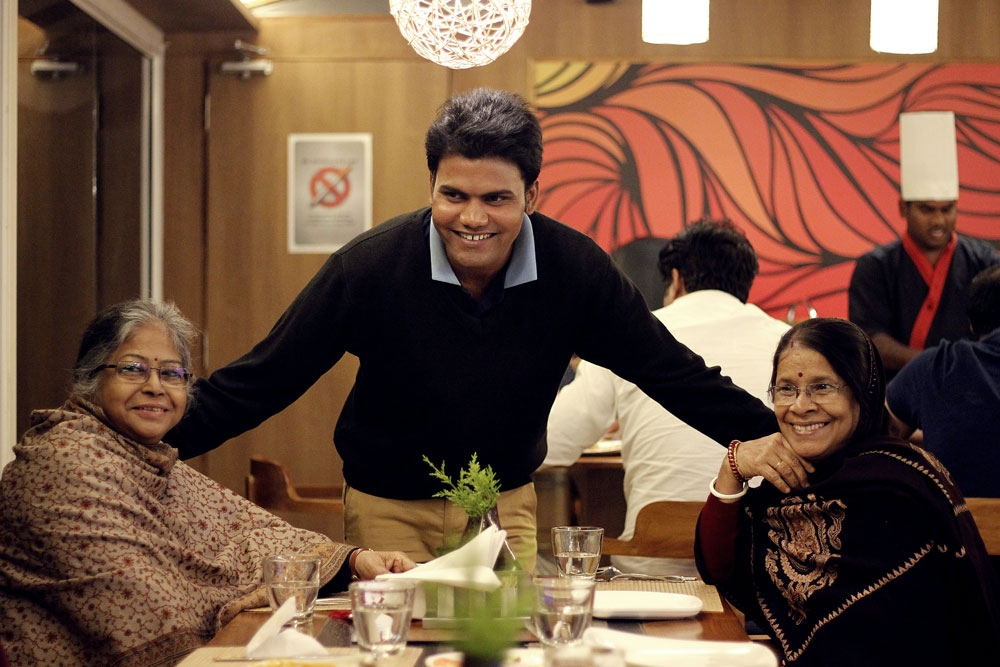 Chandan Singh with guests at the resort in Ooty
Source: Biswadeep Das
---
Published 05.05.19, 09:04 AM
|
---
Years ago, I came across Biswas moshai in the pages of a Bengali short story collection. Biswas moshai was the creation of Banaphool in a tale about a family on pilgrimage to Haridwar. From the time the family arrived in the temple town, Biswas moshai adopted them. He haggled with the porter, picked up the cranky toddler and took care of their unwieldy luggage.
Banaphool's story was set possibly in the early 20th century. So you can imagine my surprise when I bumped into Biswas moshai in Ooty.
A four-hour flight followed by a three-hour drive down the spiralling route from Mettupalayam to Ooty — I was drained. Upon reaching the resort that was to be our home the next four days, I dumped the luggage on the hotel lawns, transferred the baby to her mother and sank into a garden chair. I must have nodded off, because the next thing I remember is a tall man with an earnest expression peering into my face.
"Good afternoon," he said cheerily. In his hands was a tea tray. He must have seen my eyes dart lawnwards, because he said, "No need to bother about your luggage, Sir. I have sent it to your room. You are all very tired. Quite natural. Have some Nilgiri tea, Sir. Trust me, it is refreshing." As I took a couple of sips, he stood next to me, tall and slim in a waiter's uniform. No sooner had I emptied the cup, than he poured me a refill without the asking.
It was not as if Biswas moshai was the only one attending to guests, but he seemed to be working for pleasure, not duty. He was efficient without being robotic, and as warm as he was efficient. He was the quintessential host, pre-empting every need, all aflutter with concern, and omnipresent.
I got better acquainted with Biswas moshai later that evening. The rest of my travelling companions had opted for Japanese fare — the other option was North Indian — on a whim, and there he was patiently decoding the soba and udon. It was then, as most of the others conferred over rice with miso soup and teriyaki salmon, that I got to know him. His actual name was Chandan Singh and he hailed from Delhi, which is also where he got his professional training.
Banaphool's Biswas moshai never said "no". Hot milk for the children? Ask Biswas moshai. A post lunch craving for jorda or flavoured tobacco? Send for Biswas moshai. No small change? Shout for Biswas moshai. Over the next few days, we experienced the unique hospitality of Chandan Singh. Feel like having tandoori chicken? Tell Chandan. Don't feel like dinner, but the kitchen closes at 10pm? Just check with Chandan. Gluten allergy? Let Chandan know and he will take care of the menu. In our group there were two elderly ladies — Chandan said they reminded him of his mother. They told me later that a couple of times it happened that their tea went cold as they chatted. Chandan would come around like the good doctor, put his hand on the cup and silently fetch a fresh round.
He found me ruminative before a bonfire on the lush lawns one evening and got me a some piping hot tandoori chicken with a squeeze of lemon. Before we retired for the day, he wanted to know if the baby would have a soft-boiled egg for breakfast or should he scramble some with minimum seasoning to suit a child's palate?
One night after a meal of butter naan, mixed vegetables, chicken tikka butter masala and pulao, he brought us little bowls full of thick payesh. We asked each other whose ingenuity it was — it was not even on the menu. It was Chandan's doing. It was his birthday and he wanted to make us something that tasted of home. He served a disclaimer too: "It is on me, sir."
The day we checked out of the resort, Chandan packed breakfast for us, completely unasked — cheese-chicken sandwich, fruit juice in tetrapacks and boiled eggs. "It's a long journey to Coimbatore," he said as he handed us our packets.
The day Banaphool's pilgrim family left Haridwar, Biswas moshai went to see them off at the station. He made sure all the pieces of luggage had been loaded and counted before and after. He made sure that the children were comfortable and the women were not missing any of the travel essentials they had requested for. Before the man of the family got into the train he handed Biswas moshai a 10-rupee tip. Banaphool writes that as the train pulled out of the station, he noticed the vacant look in Biswas moshai's moist eyes.
As I took his leave, I hugged Chandan, stuffed some crisp notes into his pocket and remembered not to look back.