The inglorious mustard
Though the jhaanjh is somewhat lost in the bottled versions, the humble kasundi never fails to brighten up a dull meal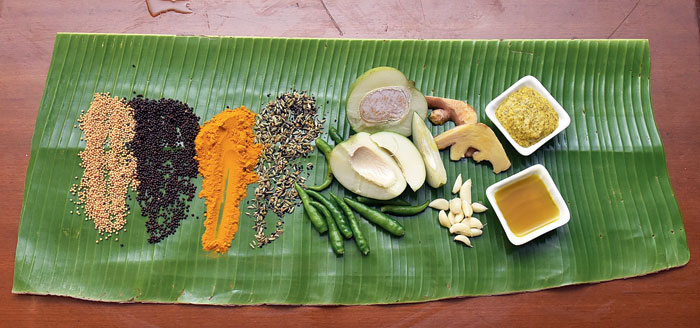 On my flight back to Mumbai, I decided to rediscover the lost glorious taste of this 'inglorious mustard'
Pictures: Rashbehari Das
---
Published 16.11.19, 02:41 PM
|
---
I was travelling to Dubai to attend a wedding of a very dear friend's son. For obvious reasons I was carrying a few boxes of assorted Bengali sweets from our confectionery, Sweet Bengal. But, to my surprise, my friend especially called me and asked me to get him a bottle of kasundi!
"Dada, ebar mishti eno na amar jonno, ek botol kasundi eno. Onek bochhor hoye gechhe kasundi diye shei fish fry ba lal shaak khawai bhule gechhi!"(Brother, this time do not get any sweets for me. Instead, bring me a bottle of Bengali mustard sauce. It has been so many years that I have forgotten the taste of having a fish fry or a Bengali red spinach fry with that sauce.)
On my flight back to Mumbai, I decided to rediscover the lost glorious taste of this 'inglorious mustard'. While the origin of mustard happened in the era of the ancient Mediterranean civilisation, the Romans imported the custom of using table mustard to Gaul, that's roughly present day France. The present face of mustard was actually portrayed by Duc Phillipe le Temeraire, the duke of Burgundy, who granted the town of Dijon to produce it in the late 14th century.
The name has originated from two Latin words, 'mustum ardens', which means 'burning must' and was prepared by unfermented grape juice. Later the English gave it the name it's known by now: mustard.
In modern times, when ketchup and sauces were much preferred with deep-fried spicy treats, this inglorious mustard sauce became the answer to the ketchup, used by chefs across the world. Originally used as a type of an achar, kasundi is known as the queen of pickles in Bengal. Usually, pickle-making starts from the month of Magh (January-February), but kasundi has its own rituals, which start on Akshaya Tritiya (in Baisakh). There are quite a few variants of kasundi, like gota kasundi, made with a long list of spices and some dried kul.
The one which is most celebrated in the Bengali household is known as jhaal kasundi (fiery mustard sauce). This the simplest one made with dry, ground mustard with or without mustard oil with an addition of green mango paste followed with various dried greens such as coriander, pudina and amrul.
As a kid, I used to love the jhaanjh, the pungency of this yellow sauce, that would fill up my nostrils with exuberance and temptation. But it used to keep me anxious to know why this was only served to us on occasions. I would hide behind the kitchen door and see my mother safely hiding these glass jars filled with golden goodness until I came to know that they were sent by didoon, my grandmother.
On weddings or birthday parties I recollect my brothers and I licking the plate as it's a cardinal principle of a Bengali dining that nothing goes to waste. This same principle was applied in my home, where I observed how the elderly women in my family would put to use the coarse mixture left behind after sieving the mustard to make what is called phool kasundi. This includes more chillies, turmeric, raw mango and salt, transforming it into a more grainy, bolder, fuller-bodied and spicier sauce.
It intrigued me further as to why we were not allowed to make this 'golden goodness' at home, until my father handed me a book by Renuka Devi Choudhurani, titled, Stree Achar. This was when I learnt that this glorious golden goodness was closely guarded by its own codes and conduct in the name of hygiene and purity.
It involved chanting out auspicious songs while washing the mustard by groups of married women (in odd numbers) facing the east, ideally in a pond or river. It was then strained using a man's dhoti, not a woman's sari! Surprisingly, this code is still practised by traditional families in Bengal, however with an acceptable alternative of washing the mustard under the tap!
In fact, the making of kasundi was seen to be an auspicious ritual and if in any year a family failed to wash the mustard seeds they were not allowed to make kasundi for the next 12 years! This is why people started to buy the bottled ones that followed the recipe used in the Dhaka-Bikrampur region of undivided Bengal.
But the watered-down version sold in stores lacks the punch and smoothness of the home-made concoction, thereby tarnishing the magical taste of this culinary darling. It has slowly lost its sharpness in today's emerging competitive culinary world.
From Kasundi Scotch Eggs to the Chilean Sea Bass, or from the Spicy Barramundi to our very own Chhana Aam Kasundi Paturi, today the sauce is used in world kitchens. It is also recommended as part of Christmas hampers across the Pacific Ocean, and served generously with fried fish and devilled eggs. Kasundi is not just limited to food it also involves shared moments, emotions and conversations between generations.
Today, it is important to revive this old lost saga of this 'inglorious mustard' sauce and make it a 'glorious' one because it is a tradition worth preserving. In fact, most of the dishes, like the Char-Grilled Lemon Mustard Pomfret or the Aam Kasundi Kankra at Oh! Calcutta has a strong presence of kasundi, and to take this legacy a step ahead I have also planned to use it extensively in my upcoming restaurants in London and the US.
Because, such a sauce never fails to brighten any dull meal. Even today as I am penning my thoughts, I am lovingly slathering a spoonful of it on my fish fry and mashed vegetables with steaming hot white rice. The taste is unadulterated and pure!
Anjan Chatterjee is the chief of Speciality Restaurants, which owns Mainland China, Oh! Calcutta, Cafe Mezzuna, Hoppipola, Asia Kitchen, Riyasat and more. And yes, he is a foodie!