Taste of Thailand
Chef Vipada Yimcharoen of the Royal Thai consulate-general in Calcutta shares recipes of some traditional Thai dishes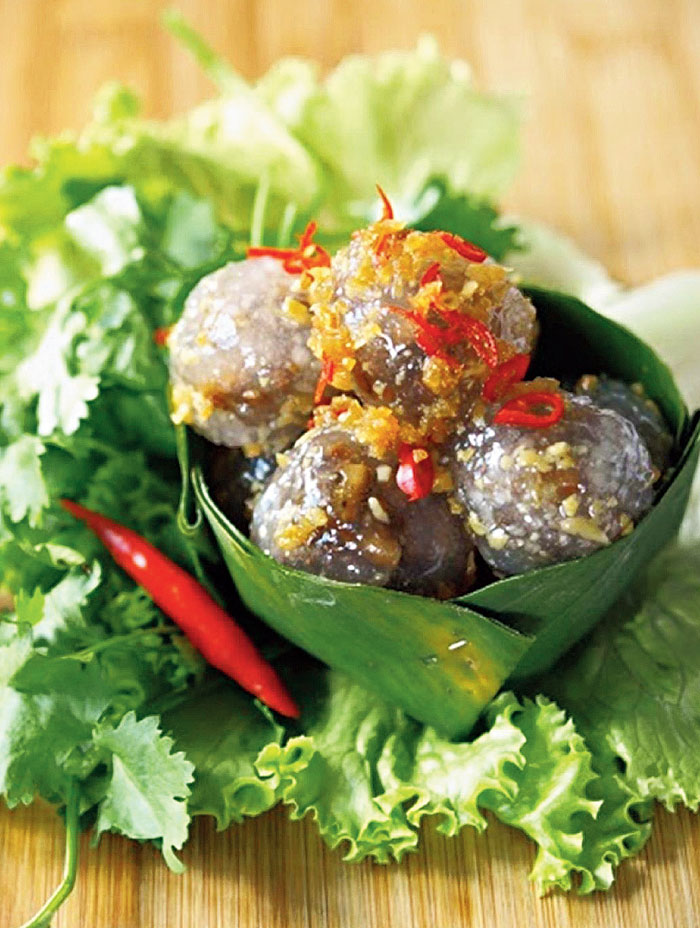 ---
---
Tapioca Balls with Filling
Ingredients
Minced chicken or mushroom- 270g
Minced sweet radish- 100g
Roasted peanuts (coarsely crushed)- 55g
Palm sugar- 150g
Vegetable oil- 1tsp
Light soy sauce or salt- 1tbsp
Pearl tapioca- 250g
Coriander roots- 2
Garlic- 3 cloves
Pepper- 1 tsp
Method
In a mortar add the coriander roots, garlic and pepper. Pound them together till it turns into a paste.
Over low heat, add oil and the paste into a pan. Stir the paste until it releases an aroma.
Add chicken or mushroom and continue stirring till the dish is almost cooked. The add palm sugar, light soy or salt and continue stirring until dry.
Let it cool and then mould into small balls. Rinse pearl tapioca in a pot of water and leave for five minutes. Add warm water to the pot and stir until the tapioca expands.
Pour the pearl tapioca into a meche strainer and drain.
Wrap the balls with pearl tapioca. Put a steamer on a stove and bring water to boil.
Place the balls on oiled banana leaf in a steamer, half inch apart.
Steam over fast boiling water until the pearl becomes clear — about 15 to 20 minutes.
Remove the strainer from the stove and leave for 5 minutes for the balls to dry slightly before
transferring to a serving dish. Sprinkle with crushed fried garlic. To make crushed fried garlic, firstly, pound peeled garlic. Then heat oil in a pan (medium heat). Next, stir the garlic till it gets golden brown. Finally use a slotted spoon to transfer the garlic onto blotting paper to drain the oil. Once cooled, the garlic will be crispy.
*Should be served with vegetable salad, coriander and fresh chillies as a snack.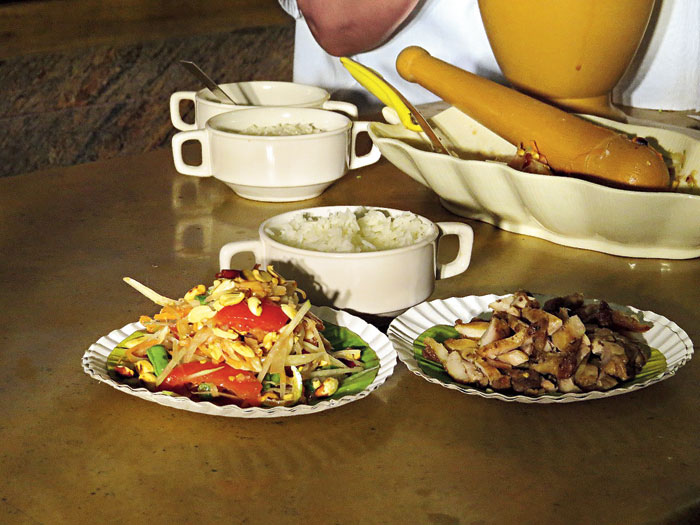 Thai Papaya Salad
Ingredients
Grated raw papaya- 1½ cup
Fish sauce or light soy sauce- 2tbsp
Palm sugar- 1½tbsp
Tamarind juice- 1tbsp
Lime juice- 1tbsp
Dried shrimp- ½tbsp
Roasted peanuts- ½tbsp
Tomato (small pieces)- ½cup
Green beans (small pieces - ½cup
Garlic- 5 cloves
Chillies (fresh/ dried)- 3-5
Method
Place the roasted peanuts, garlic, dried shrimps, green beans and chillies in a mortar and pound till they are crushed.
Add tomatoes, palm sugar, fish sauce or light soy sauce and then lime juice and tamarind juice to the mortar. Pound until blended.
Add grated papaya into the mortar and mix everything together. Avoid pounding too hard.
Garnish with additional crushed peanuts if desired.
*This menu should be eaten with steamed sticky rice (recipe below), fried chicken or grilled chicken.
Steamed sticky rice
Soak the sticky rice for 10 to 20 minutes. Next, scoop the sticky rice into a bowl, filling it to half. Add water into the cup, about 0.5cm above the sticky rice. Microwave for two minutes.
Take it out and add a little more water (not too much) and microwave for another minute.
Note: Suggested measurements can be adjusted to taste.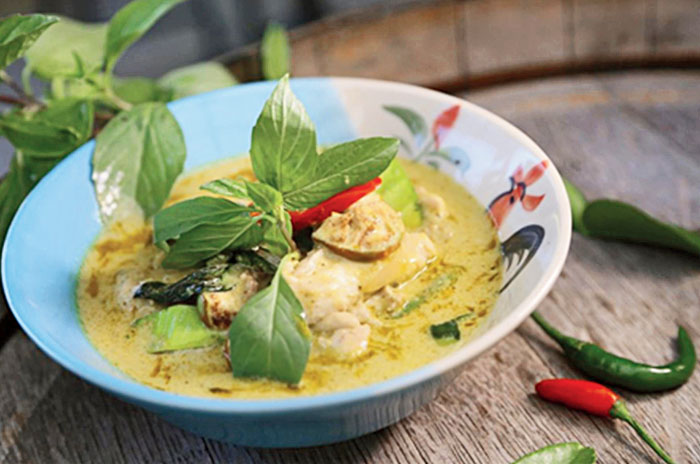 Thai Green Curry
Ingredients
Green curry paste- 2tbsp
Chicken slices (or 1 cup aubergine cut in round slices)- 300g
Coconut cream- 1 cup
Coconut milk- 1 cup
Stock (veg or chicken)- ½ cup
Pea aubergines- ½ cup
Apple aubergines (round shaped)- 4
Kaffir lime leaves finely shredded- 2-3
Red and green chillies
Handful of Basil leaves
Fish sauce or salt
Method
In a pot, bring the coconut cream to simmer and stir in the green curry paste. Add the kaffir leaf slices.
Add chicken and stir until almost cooked through. (Skip this step for vegetarian recipe). Add coconut milk and stock. Bring to boil.
Add all the aubergines and simmer until cooked through but not soft.
Add chillies, basil leaves and fish sauce or salt to taste. Turn off the flame.
Enjoy with steamed rice or roti.