Who would dare to introduce a new brand of sweet shops in Calcutta — a city that boasts of sweetmeat shops that are sometimes more than 150 years old? A city where every lane and by-lane has its own small or big mishtir dokaan, where every local has his /her favourite sweets. Trust the chief of Speciality Restaurants, Anjan Chatterjee, to do that by bringing his more-than-two-decade-old confectionery brand Sweet Bengal to Calcutta.

Founded in Mumbai way back in 1996, Sweet Bengal now has a strong presence in the maximum city with 29 outlets. "We formed a small factory and tried to get the karigars or as I call them, artists, and that was a start to our humble beginning called Sweet Bengal," said the chairman and managing director of Speciality Restaurants, which owns brands like Mainland China, Hoppipola and Oh! Calcutta.
"Mumbai was starved of good sweets and that found good resonance. The idea in Mumbai was not just to sell it to the Bengalis but the non-Bengalis. Unfortunately, Bengali food was not on the map and whatever little contribution we made, we now see it everywhere. When it comes to sweets, the benchmark is Bengali… everybody says Bangali rasgulla, sandesh or mishti doi…. We could benchmark it in Mumbai and it was an easier game because nobody was there. I am a sweet-maker from my heart, besides everything else that I do. I love my sweet," said Chatterjee, who grew up eating sweets from the famed north Calcutta sweet shops. "My mamabari is in north Calcutta and I have grown up with Nakur (Girish Chandra Dey & Nakur Chandra Nandy)," he said.
It wasn't a smooth start as the biggest challenge that was faced was getting manpower. "When you do something, you have to do it authentically. We had to take the karigars from here, motivate them. I had to get a Kumar Sanu to sing for them! I am talking about 1996-1997… I had to inspire and retain them. We had to give them Anandabazar Patrika every day. We had to create a mini-Bengal for them. Since then it has been an organic growth," smiled Chatterjee, who took baby steps and created this brand. "I took one step at a time. And there are so many details that go into sweet-making… how to get the right kadai, how to ensure there's the right kind of paak, perfect softness of the rosogolla. And most importantly, you have to be authentic, relevant and talkable. Consistency is also extremely important," he added.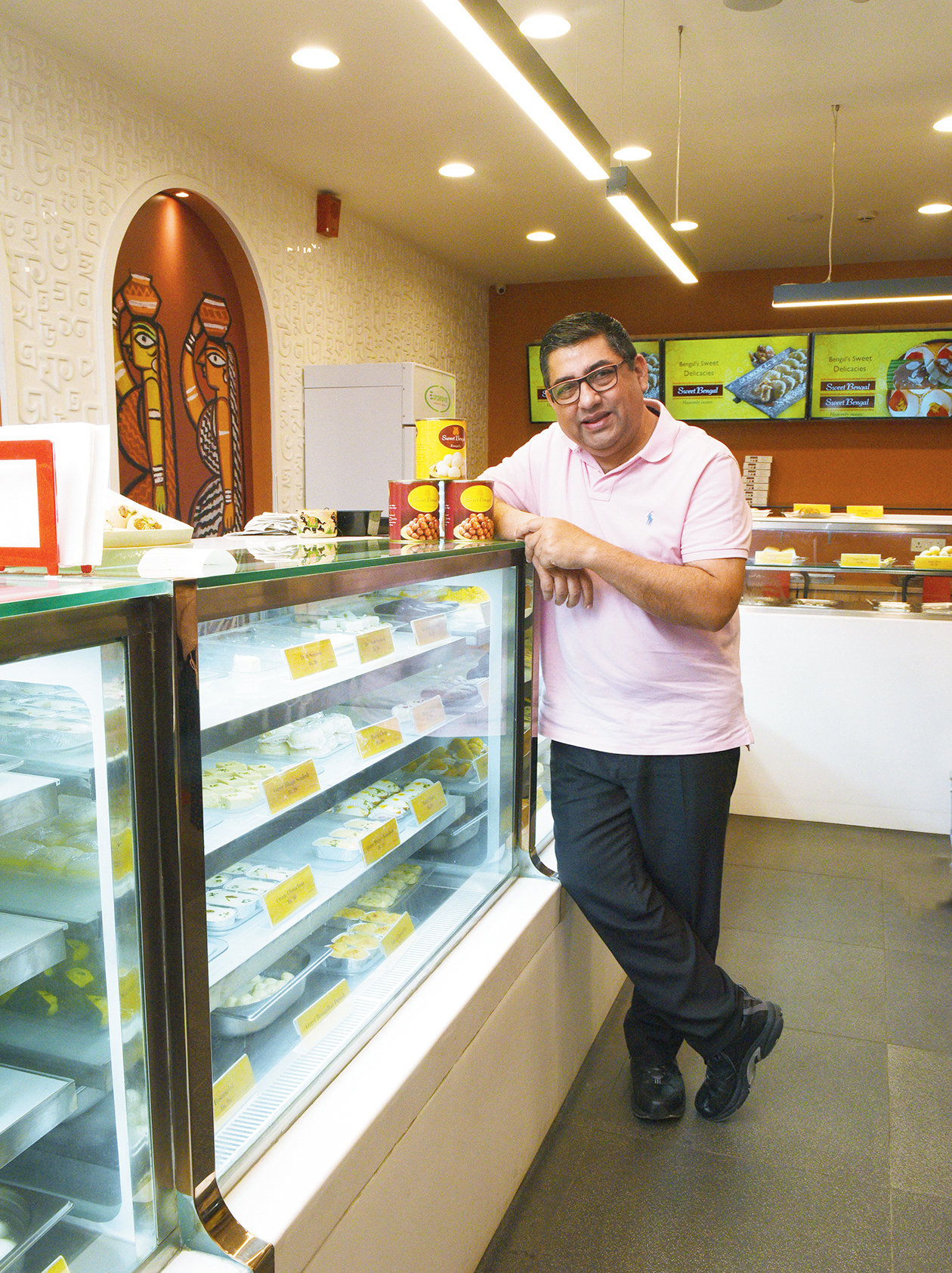 Anjan Chatterjee at the Southern Avenue outlet of Sweet Bengal. Rashbehari Das
No wonder, Sweet Bengal has found takers in 'Bay'-town celebs like Aamir Khan and Sachin Tendulkar, as well as people across continents. "People like Aamir Khan, Raju (Rajkumar) Hirani, Sachin Tendulkar talk about Bengali sweets… I remember this one incident when Aamir was shooting for Dangal in Ludhiana, and the director of the film Nitish Tiwari is a dear friend and had invited me to the sets. Aamir had four kheerkadam at once! I am a big promoter of kheerkadam or sandesh and when I go to London, I have to carry 18 boxes of those! So I know the potential of that," he added.
But why the delay in bringing the brand to Calcutta, the city that saw the birth of many Speciality brands. "I benchmark myself with the best in class. You may be a hero somewhere else but coming to Bengal is a difficult thing. We needed preparation and authenticity. The legendary Mani Shankar Mukherjee of Bengal, too, inspired me because he knows a lot about sweets.
You need to be satisfied with the product yourself to be able to sell it. I have worked for seven to eight months on this because here we are competing with the best. Anything which is good, propagates in itself and anything which is bad, you propagate it and it will die faster. This is a humble effort of ours and we have a reputation to protect. I have taken a lot of care to ensure that the product is worth giving," he told us.
Sweet Bengal, as Chatterjee pointed out, is high on hygiene. "When there's milk involved, hygiene is of utmost importance. Each and everything is tested before they are used. And, tradition and sweets are intrinsic so we aren't bastardising any sweet," said Chatterjee. After seven to eight months of trials and tastings, Sweet Bengal is here in the city with three outlets — Southern Avenue, CIT Road and Jodhpur Park. "This outlet was shut and we were paying rent for four months! We waited for the product to reach consistency," smiled Chatterjee before leaving us with some words of wisdom, "Each brand's launch is like a new movie releasing and you are as good as your last brand or product." We couldn't agree more.