Before Spanish National Day, must-try Spanish dishes
Chef Marcos Sierra, Hotel Arts Barcelona, flew in to curate a festival and talked to us about paella, patatas bravas and arroz con leche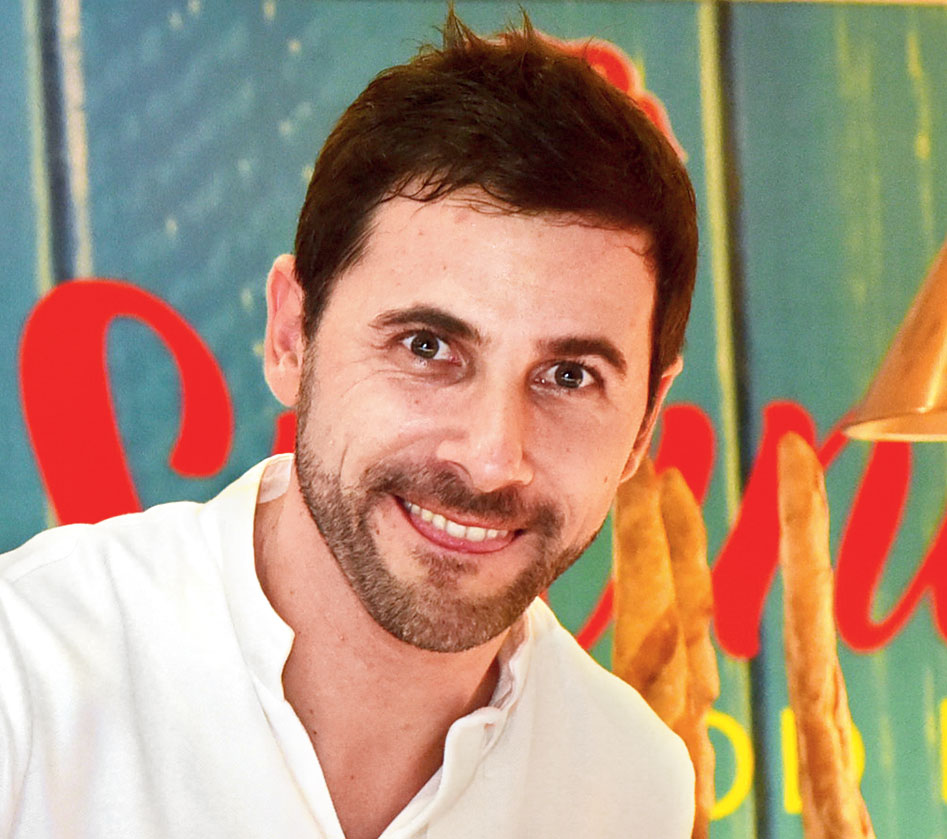 Marcos Sierra
Photo: Arnab Mondal
---
Calcutta
|
Published 27.09.18, 06:16 PM
|
---
October 12 is Spanish National Day. What better way to celebrate a culture than through its food? Chef Marcos Sierra, of Hotel Arts Barcelona, flew in to curate Una Fiesta, a food festival in The Westin, Kolkata. Being a Spaniard, I couldn't help but admire how authentic the dishes at the festival were. The spread transported me back to a Sunday afternoon in Malaga, Spain, where I would be digging into paella surrounded by my family. Between spoonfuls of paella, chef Sierra, who has also worked at Michelin-starred restaurants such as Arola Restaurant (Barcelona) and Taberna Lillas Pastia (Huesca, Spain), took a few questions.
What, in your opinion, is the identity of Spanish cuisine?

The fish of the Mediterranean and the Bay of Biscay, the meat from the Pyrenees, the fresh and quality vegetables. Spain's cuisine is so varied from region to region, and every region is so distinctively rich in food. We cook a lot with garlic, tomato, parsley, basil and onion. We pride ourselves on our Iberian identity.... The shrimp and seafood from the south, the octopus from the north-west, the red tuna from the south-west. From the mountains we get all sorts of local meats, ox in Asturias, Iberian pork.
Are there any similarities between Indian and Spanish cuisine?
Not one bit. Indian cuisine is based on cooked dishes and stews and a lot of the food is on low heat and slow-cooked, which is delicious in its own way. While there are similarities in terms of spices, the majority of food in India is extremely spiced. That's not the case in Spain.
Is that why you are focusing on traditional Spanish dishes?
What I really wanted to show was what I make at home. Pollo al Chilindron (chicken and vegetable stew), Sopa de Ajo (garlic soup) exactly the way my grandmother used to do it, normal paella, Arroz Con Leche (milky rice dessert), nothing too crazy. Sometimes the simplest dish is the best. One thing that I kept with me from working with chef Carmelo Bosque was to always focus on the produce and the simplicity. You can play around with food, but never lose sight of the traditional. And always focus on the quality of the ingredients.
In what ways have you experimented for this festival?
When I sent in the first menu, everything was very traditional, typical Spanish. After I researched the hotel, I changed some things, even adapting plates that we do in our hotel restaurants, like the Patatas Bravas which is a signature plate in one of them.

What ingredients did you bring from Spain?
I brought Pan Soplado (hollow Spanish crackers) and Caviaroli, a caviar packaged with olive oil that's delicious. I also brought a good Spanish olive oil, Arbequina from Jaen. Practically everything else is from here. I had to adapt and it wasn't easy. Some of the things were impossible to bring but still I was able to make do with what I had.