Recipe for 4 bowls of winter warmth
Make good use of seasonal produce with Mediterranean flavours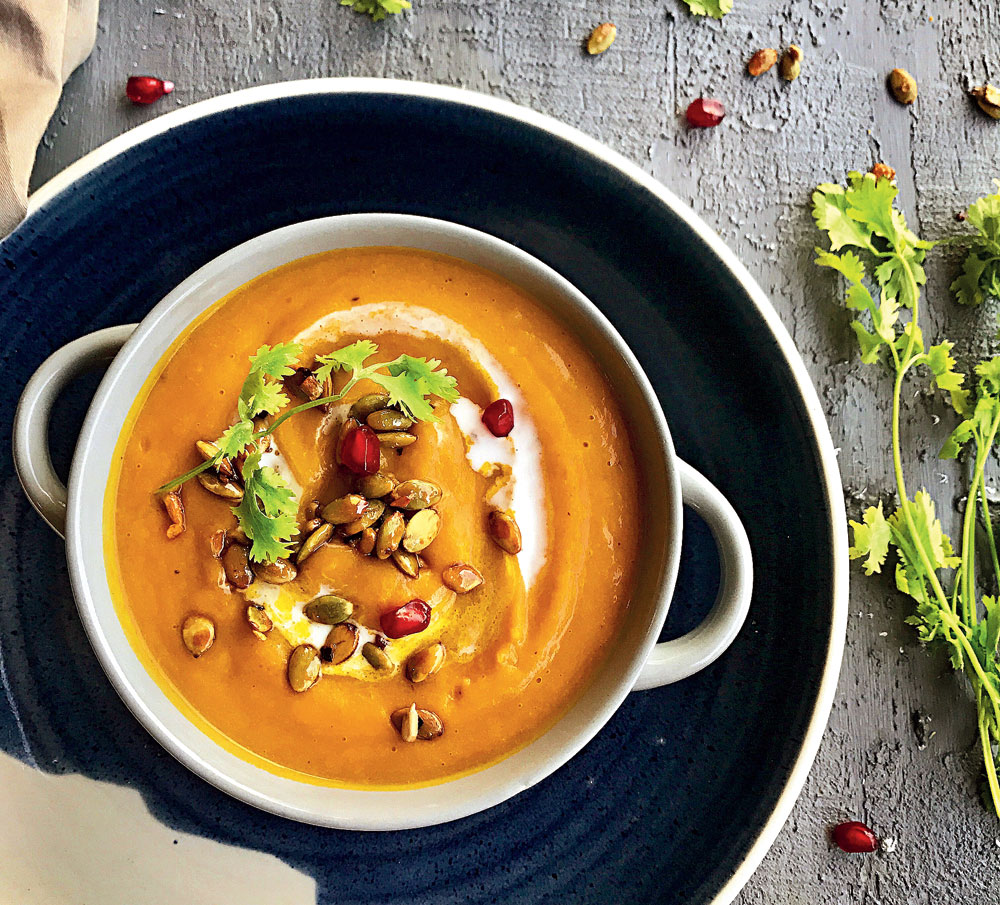 Roast Pumpkin, saffron and orange soup
Image: Natasha Celmi
---
Published 15.12.18, 05:19 PM
|
---
Chickpea, red peppers and coconut stew

A powerhouse of rounded nutrition with delicate flavours. You can replace the chickpeas with diced chicken or prawns.
Ingredients: 2 red peppers (chopped roughly), 2 cups chickpeas (boiled), one onion (finely chopped), 2 cloves garlic (finely chopped), chilli flakes, ½tsp paprika (optional), ½tsp cumin powder, 4 tomatoes (finely chopped), 4tbsp tomato puree, one cup water, ¼ cup coconut milk, some fresh thyme/rosemary, a handful of spinach leaves (optional)
Method: 
Preheat the oven to 180 degrees Celsius. Toss the red peppers with some olive oil and bake for 30 minutes. Heat 2tbsp olive oil. Add ½tsp chilli flakes to create a chilli oil. Add the onions and cook till soft and brown. Add the garlic and cook.
Add the chopped fresh tomatoes and tomato puree. Cover and cook for five minutes. Add the cumin powder, salt and pepper. Add the chickpeas and water with some fresh thyme. Cover and simmer for 20 minutes till it all comes together. Add paprika if using.
Season well with salt, pepper and some more fresh thyme. Stir in the coconut milk. Add the roasted red peppers. Adjust the chilli. Simmer for five minutes. If adding spinach leaves, add them now.
We are counting the days to Christmas and another eventful year, our Christmas tree is up at home and I soon have to get down to some Christmas shopping. The cool weather and all this love and happiness around calls for some warm, cosy food. For me, it's all about hearty one-pot hot dishes for the family to share.
I love the flavours from the Mediterranean and Middle Eastern kitchens — simple, fresh ingredients cooked with bags of flavour. My culinary philosophy emphasises on cooking with local seasonal produce. There are beautiful pumpkins, carrots, oranges and greens in the market these days and there are so many innovative ways to prepare them. Roasting vegetables and meat in the oven is a great way to cook as you don't have to keep hovering around the stove. Also, the nutritional value remains intact and you get a lovely smokey-charred flavour.
Here are some of my current favourite Mediterranean winter dishes that you must try making soon. They are vegetarian but you could add some grilled chicken or fish to them. Alternatively, enjoy them as an accompaniment to your meat or seafood dish.
Caramelised Sesame Carrots
Ingredients: 4-5 carrots (peeled and cut lengthwise), 3tbsp date syrup/ honey, 2tbsp olive oil, 1tsp ground coriander, ½tsp salt, freshly ground black pepper, 1tbsp sesame seeds, some fresh thyme leaves, 4tbsp thick yoghurt, 1tsp orange zest, mixed nuts (toasted and crushed), fresh parsley or mint
Method: 
Preheat the oven to 200 degrees Celsius. 

Place carrots on a baking dish or tray and drizzle with olive oil, date syrup, coriander, salt and pepper. 

Throw in some whole thyme leaves.

Roast for 20-25 minutes till brown and caramelised. Make the yoghurt dressing by mixing yoghurt, salt and pepper and 1tsp orange zest. Drizzle the dressing over with some sesame seeds, nuts and fresh parsley.

Burnt garlic greens
Do not waste the broccoli stems. They are full of nutrition.
Ingredients: One broccoli head (stem and florets), one zucchini (cut in cubes), full leaves of one bok choy (optional), 4 garlic cloves (sliced), 2tbsp olive oil, chilli flakes, juice of ½ lime, zest of ½ lime, almonds (toasted and sliced)
Method: 
Lightly steam or blanch the broccoli florets and stems along with the zucchini. This should take only a couple of minutes as you want the veggies to remain crunchy. 
Heat the olive oil in a pan and add the garlic and chilli. 
Cook till brown and add the veggies and coat well with the garlic chilli oil. 
Cook on low heat for a minute. 
Add salt, pepper, lime juice and zest. Top with toasted almonds.
Calcutta girl Natasha Celmi is a culinary specialist and food stylist based in Bangalore. Reach her on Instagram @cucinamiabynatasha or www.cucinamiabynatasha.com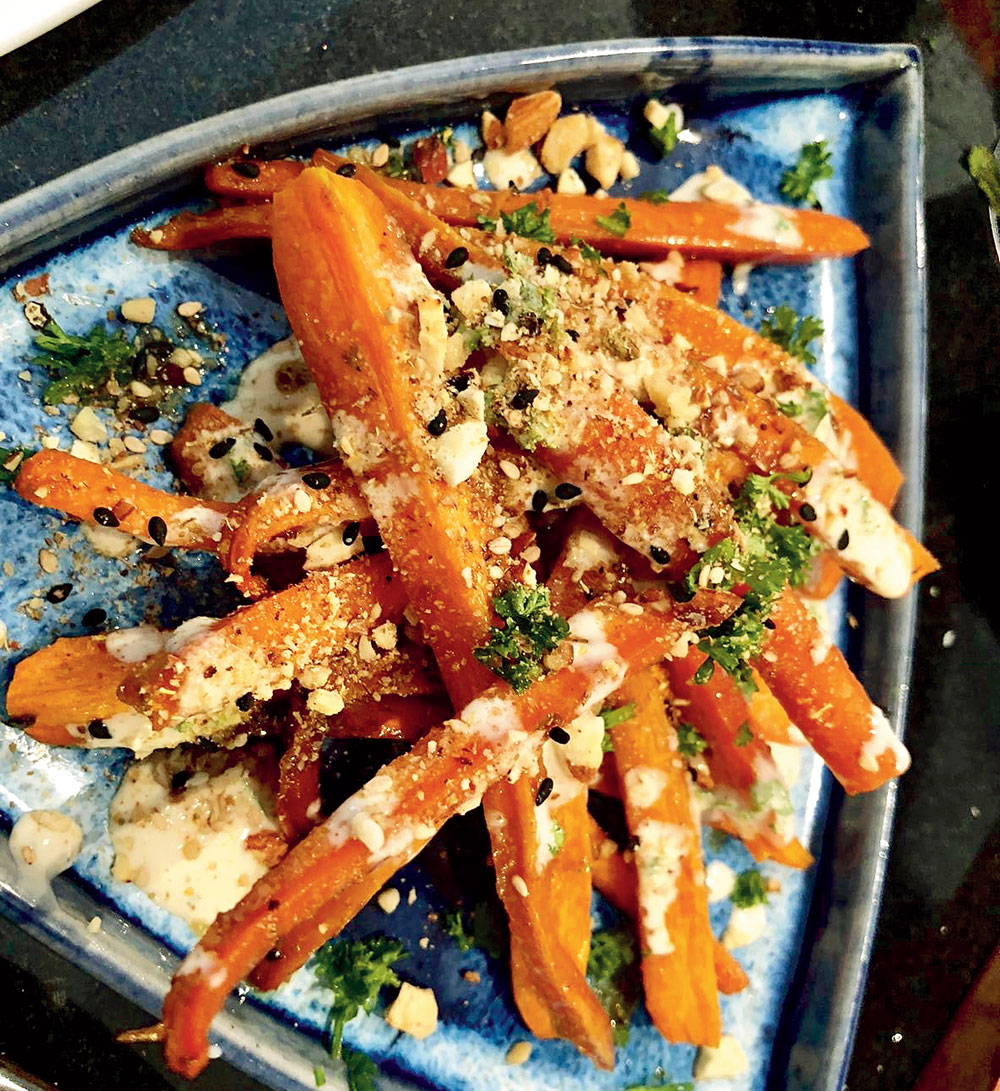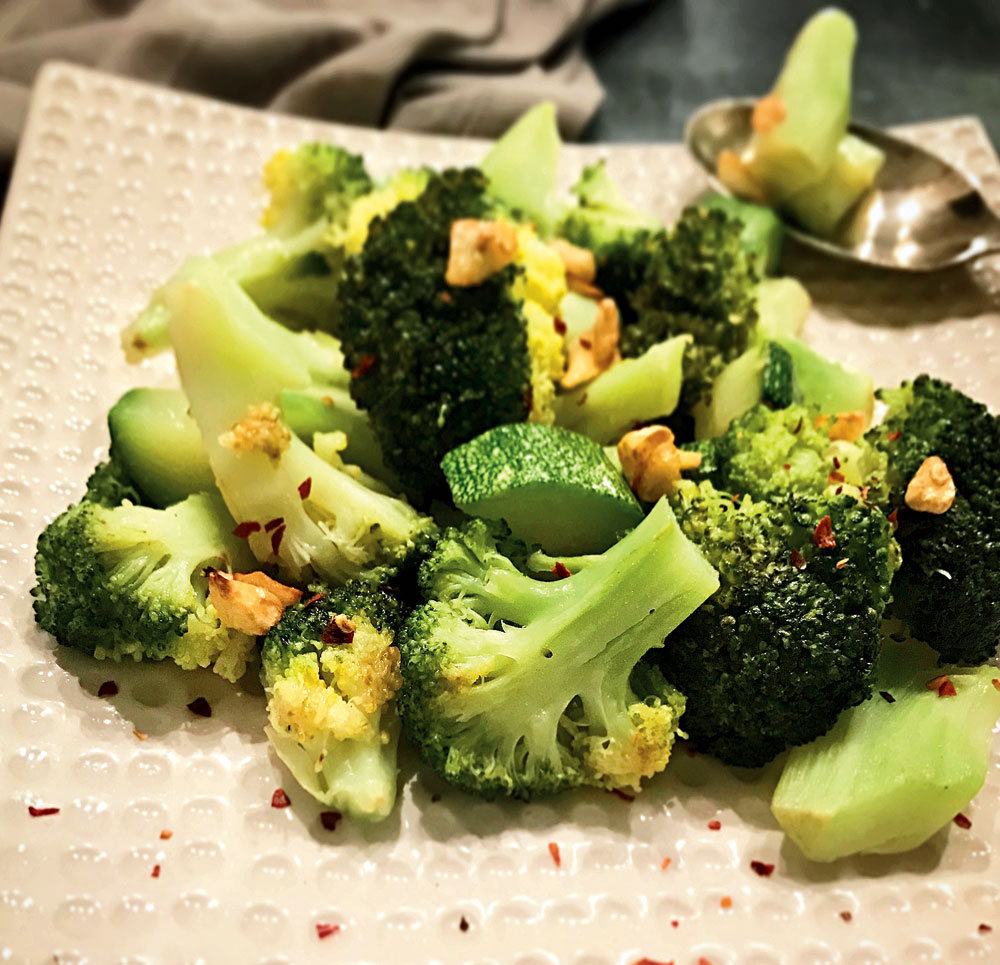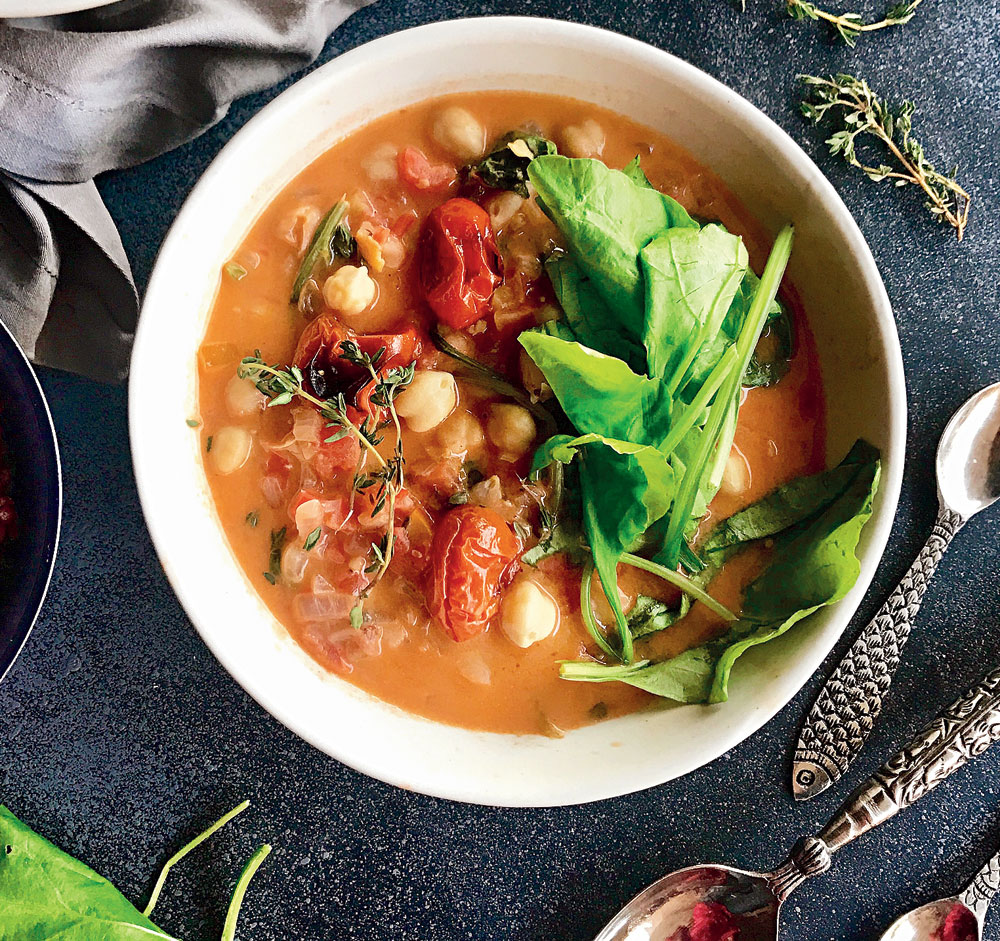 Roast Pumpkin, saffron and orange soup
A boring pumpkin soup gets transformed into an orchestra of flavours.
Ingredients: 2tbsp olive oil, one onion (cut in wedges), 500g pumpkin (cut in wedges), 1tbsp chilli/sriracha sauce, 5-6 saffron strands, zest of one orange, 500ml (or more) water, ¼ cup coconut milk (or cream), salt and freshly-cracked pepper, ¼ cup pumpkin seeds (toasted), chilli flakes, 2tsp honey/date syrup, fresh coriander/parsley
Method: 
Preheat the oven to 220 degrees Celsius. Line a baking tray with butter paper. In a bowl, combine the pumpkin, onion, olive oil, salt and a good grind of pepper and toss well. Bake on the tray for 25 minutes till the veggies are soft and caramelised.
Boil 500ml water with Sriracha sauce, saffron, orange zest, ½tsp salt and pepper. Bring to the boil and then add the pumpkin mix along with any oils from the pan. Reduce heat to medium and simmer for five to 10 minutes.
Remove from heat and cool for a bit. Blend. Transfer back to the same pot and stir in the coconut milk and adjust the seasoning. Combine the pumpkin seeds with the honey/date syrup and chilli flakes.
Pour soup into bowls, top with pumpkin seeds and some coriander or parsley.