Mornington Peninsula is where you find Australia's best wine
With its lush vineyards and hot springs, the Mornington Peninsula is Australia's best kept secret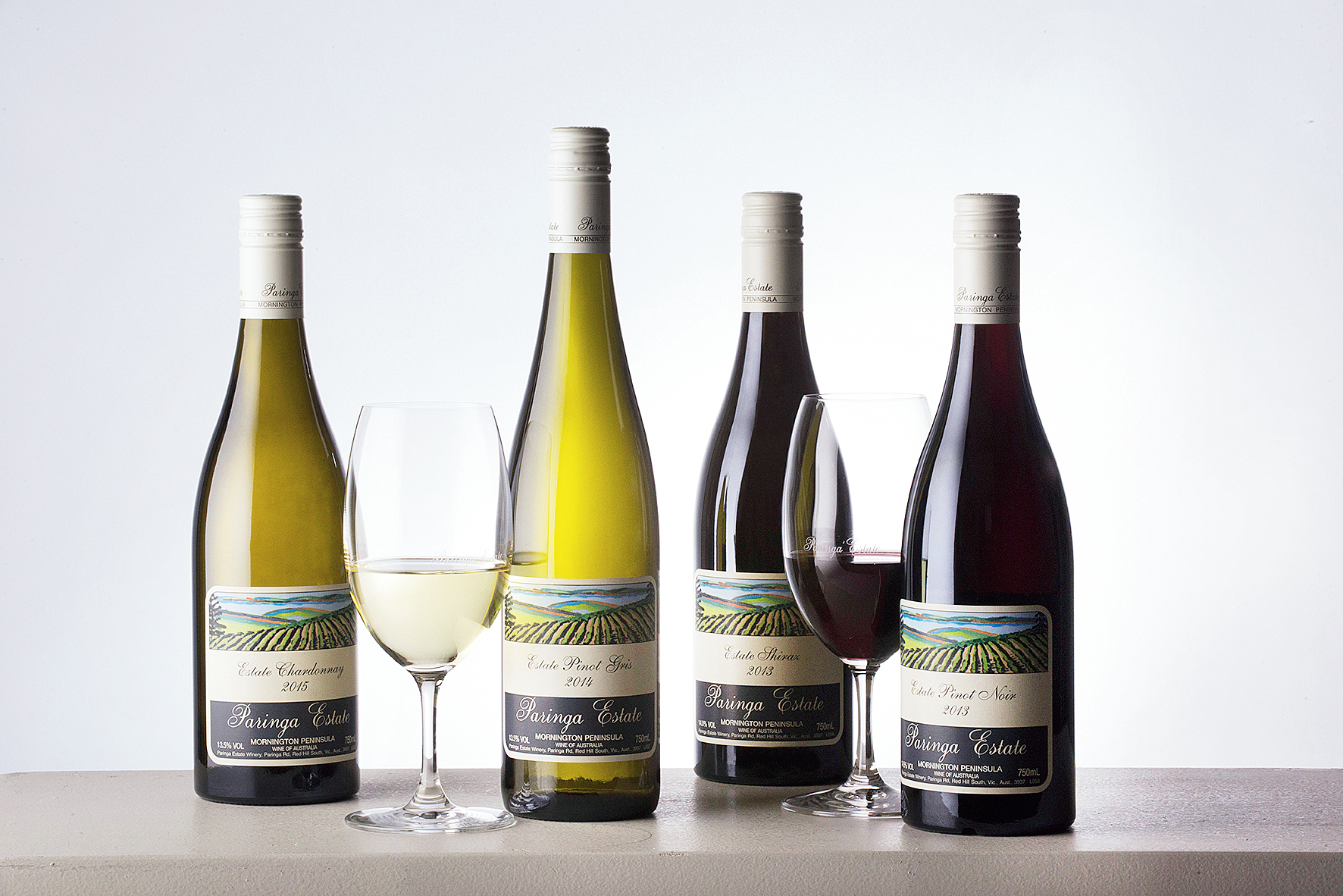 ---
Published 01.12.18, 04:18 PM
|
---
Just over an hour from Melbourne is some of Australia's best wine, food and great country experiences. What the Hamptons is to New York, Mornington Peninsula is to Melbourne. I spend the weekend on the fashionable Peninsula where a small country estate costs more than a penthouse in Sydney!
As you drive from Tullamarine Airport, the road curves lazily southwards down Port Phillip bay to a patchwork of bushland, pasture, hills, vineyards, olive groves and national parks. The Peninsula is also a resort region, rich in wineries, golf courses, restaurants, farmers' markets, great local produce and art galleries, with its iconic colourful Bathers' Pavilion just to remind everyone of its humble beginnings.
As idyllic as it can get
We dive straight into lunch at the very contemporary Pt. Leo Estate. The sheer size of the 134-hectare estate, the monumental cellar door and huge glass frontage of the restaurant take my breath away. Wines are average but the food is brimming with excitement and the Roast Apple-studded Sourdough Bread, served with local butter and Cape Schanck olive oil, is unbelievably good. The restaurant on a Saturday afternoon is packed with a 100 or more hungry customers, devouring everything from the Mushroom Tempura to the Beef Fillet with local Red Hill hazelnuts and the Broccoli and Cabbage Coleslaw.
Post-lunch, we heave out of our comfort zone and take a walk through the impressive sculpture park which offers a sweeping view of Western Port bay. Eager to make the most of this brief weekend, I skip cheese and dessert and head to the Main Ridge Dairy and goat farm. It's as idyllic as you'll get with baby goats frolicking on green pastures with young children. There's a little restaurant where we try a platter of some fresh goat cheese. Main Ridge supplies goat cheese to most of the restaurants on the Peninsula. Their Capriole, served with a pear chutney, is quite delicious, fresh, barnyard-y and nutty.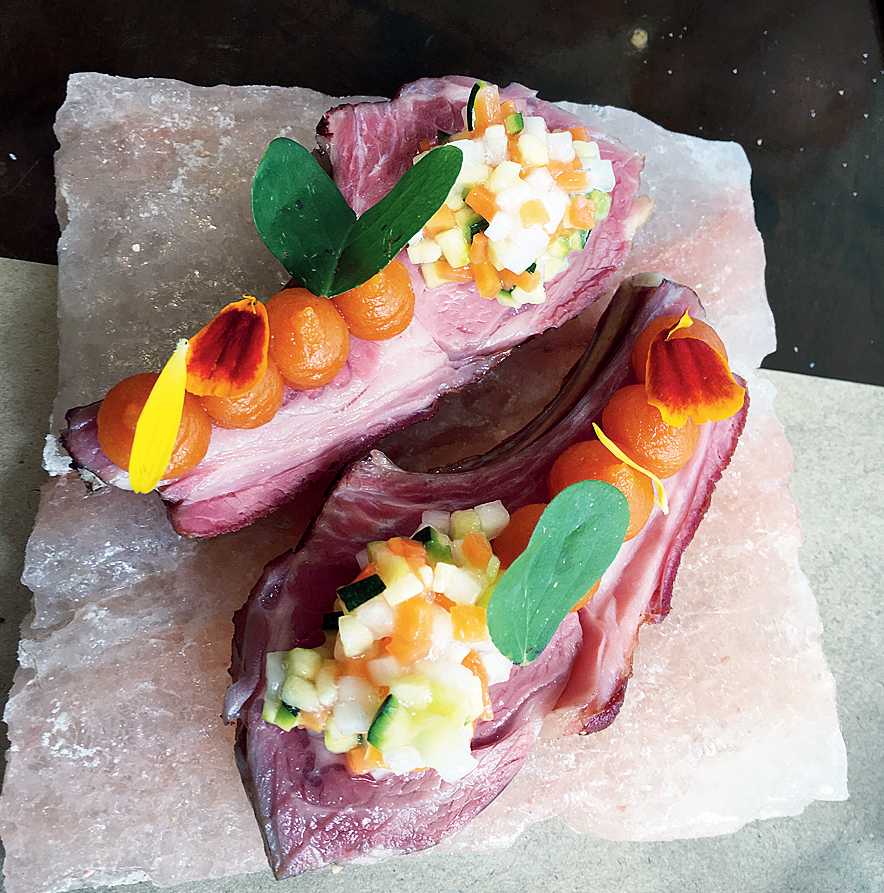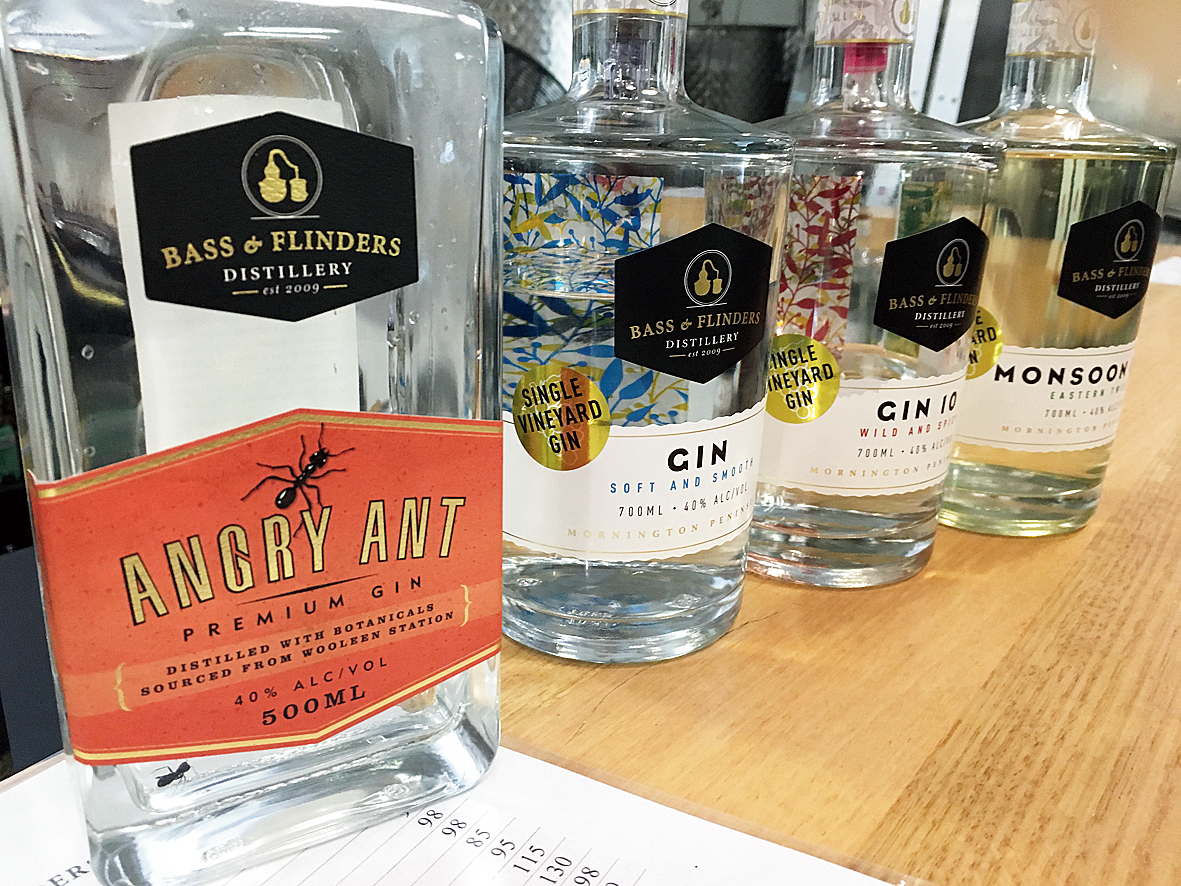 Then it went through some neglect. It was completely restored by the new owners in 2015 and now has an excellent restaurant, an adjoining art gallery and a cellar door featuring the family's own Elgee Park & Baillieu wines alongside a selection of the region's finest bottles from neighbouring vineyards.
Chef Patrice Repellin's seasonal French menu features fresh, local ingredients for breakfast, lunch and in-betweens, seven days a week. Close your eyes, bite into his buttery croissant and you'll think you are in France. Merricks also provides picnic hampers to enjoy on one of the many nearby walking trails. The ever-expanding produce store offers a stylish selection of country homeware and a range of delicatessen ingredients from the region alongside European classics. I especially loved the olive oil creams and potions, made on the Peninsula with locally-produced olive oil.
Cooled by the sea
I then arrive at my home for the weekend, Paringa Estate winery, owned and run by Lindsay McCall and his partner Sally Gudgeon. Situated on Red Hill amongst 10 acres of the most pristine vineyard, I meet Lindsay as he takes a walk around his double or split vines, a technique which he has developed to increase the quality of the grapes and allow them maximum exposure to the sun. "Good wine starts in the vineyard," he tells me and if his immaculately-maintained vines are anything to go by, some fabulous wines are in store.
In 1984, Lindsay, a geography teacher at the time, bought an old north-facing orchard on Red Hill. His parents had a farm and so he began fearlessly to plant vines himself in place of fruit trees. Mornington Peninsula is the promontory of land to the south of Melbourne that curls round into the sea. It's a place that, thanks to the cooling effect of the surrounding ocean, has emerged as one of the country's most important areas for quality wine. Rather than being big and blisteringly alcoholic, wines here have an elegance and a calm, crystalline structure.
Whilst not the first to plant a vineyard in the region, Lindsay is counted as one of the brave pioneers. Back in the 1980s, no one really knew which grape varieties would succeed on the Peninsula and it's thanks to the courage and perseverance of these few that the Mornington Peninsula is now one of the top wine regions in Australia.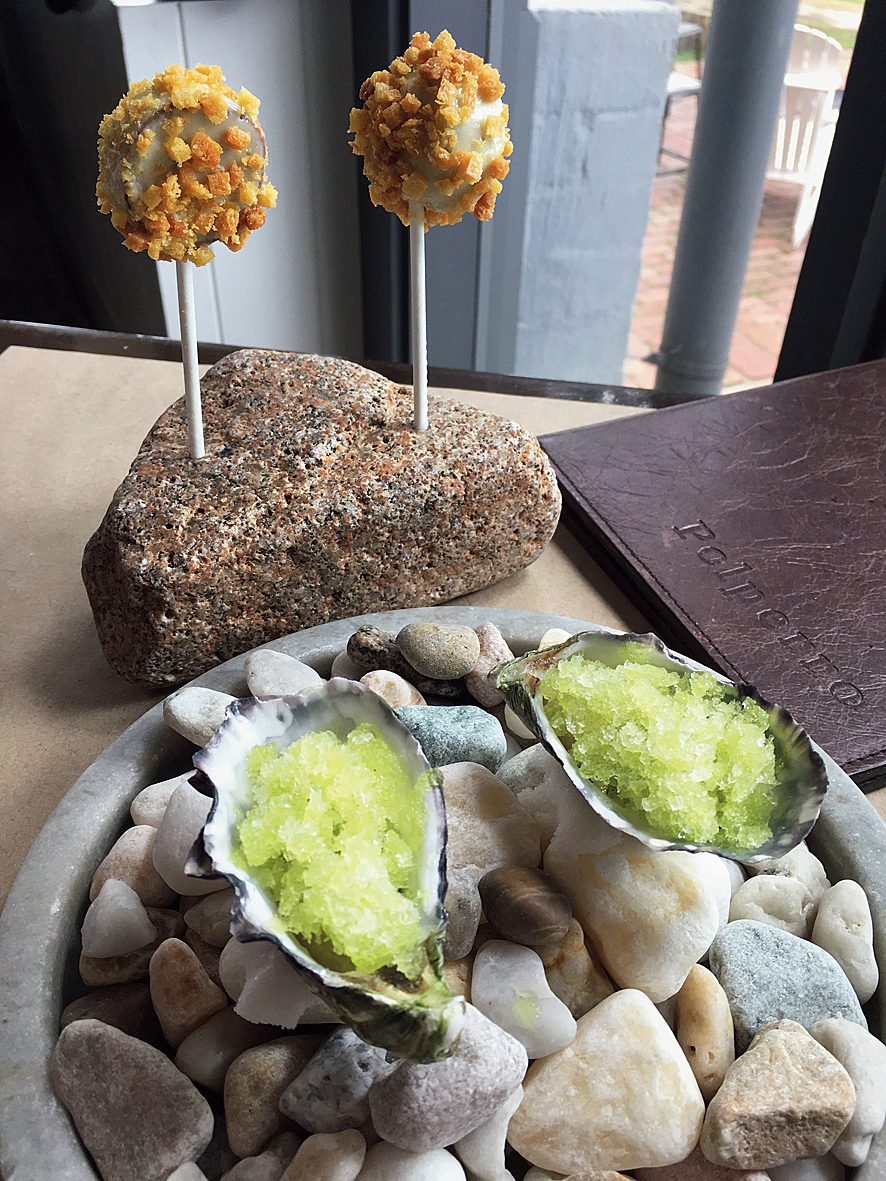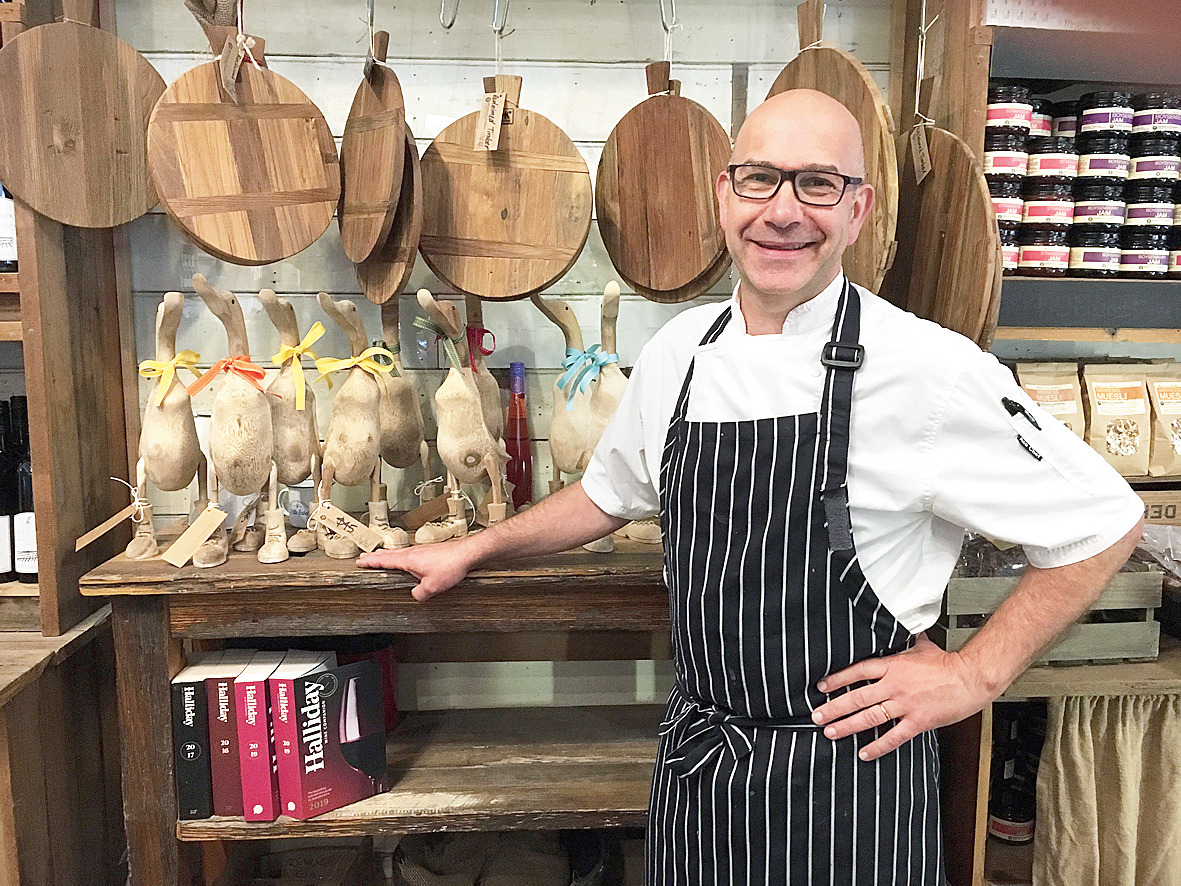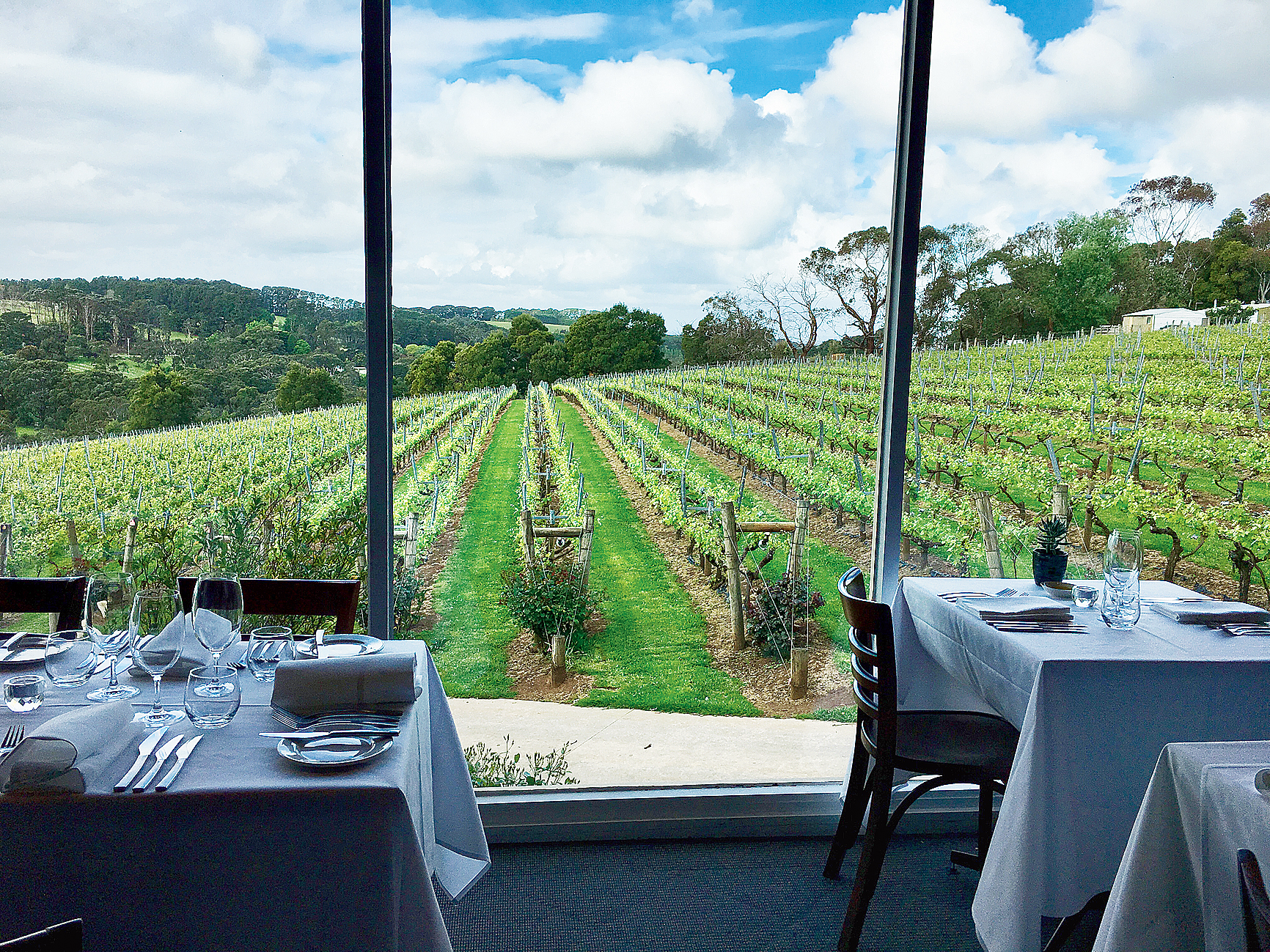 A tour-or-choose menu
We take a break from wine to visit the Peninsula's only bespoke distillery and cellar and taste a range of their gins, Australia's first grape-based vodka, limoncello, and brandy aged in French oak. Bass & Flinders Distillery also offers one of the most unique gin masterclass experiences in Australia where guests have an opportunity to create their very own bespoke gin, blending some of the 16 botanicals that Bass & Flinders use in its own gin production. Gin masterclasses are held at the distillery every weekend. Spirited, we move on to lunch at another winery restaurant — Polperro.
What began as a wine brand and lifelong dream of owner/ winemaker Sam Coverdale, eventually came into full fruition in May 2014 when Polperro was established. Sam and his wife Emma were looking for the perfect location to create an outlet for Polperro and Even Keel wines. With Sam attracted to the surf and winemaking opportunities on the Mornington Peninsula, he was set on establishing a business in the Red Hill area.
In 2013, the pair stumbled across a stunning 25-acre property surrounded by magnificent angophora trees and six acres of vines, planted in 1990, equipped with an existing restaurant and small accommodation retreat on-site. It was the perfect location for Sam and Emma to develop the business they had always dreamt about, featuring seasonal and local, supporting local businesses and growers who are working with them towards their goal of zero waste. Their vineyards and gardens are sustainable, using biodynamic and organic principles. The Polperro Bistro offers a seasonal menu with as much as possible coming from their very own kitchen garden right next to the restaurant. Also nestled on this beautiful 25-acre working property are four luxurious villas overlooking the surrounding vineyards.
We graze through lunch with wines from their estate and an unusual six-course menu which allows you to "tour" or choose. The courses are ranked by how much time they take to prepare, so the Duck Liver Pate on a lollipop stick takes five minutes whereas the Lamb Cutlet could take 10 and the Beef Short Ribs could take 20. The star dish for me is Oyster with Wakame, Ginger and Mirin Granita.
Where there is beauty, great food and wine aren't far behind. The Mornington Peninsula is Australia's best kept secret. Whether it's olive oil hand cream, strawberry and cherry picking, chocolates, hot springs, horse riding or just driving around taking it all in, it's a destination worth discovering.
Karen Anand is a culinary consultant, food writer and entrepreneur. In recent times her name has been synonymous with farmers' markets.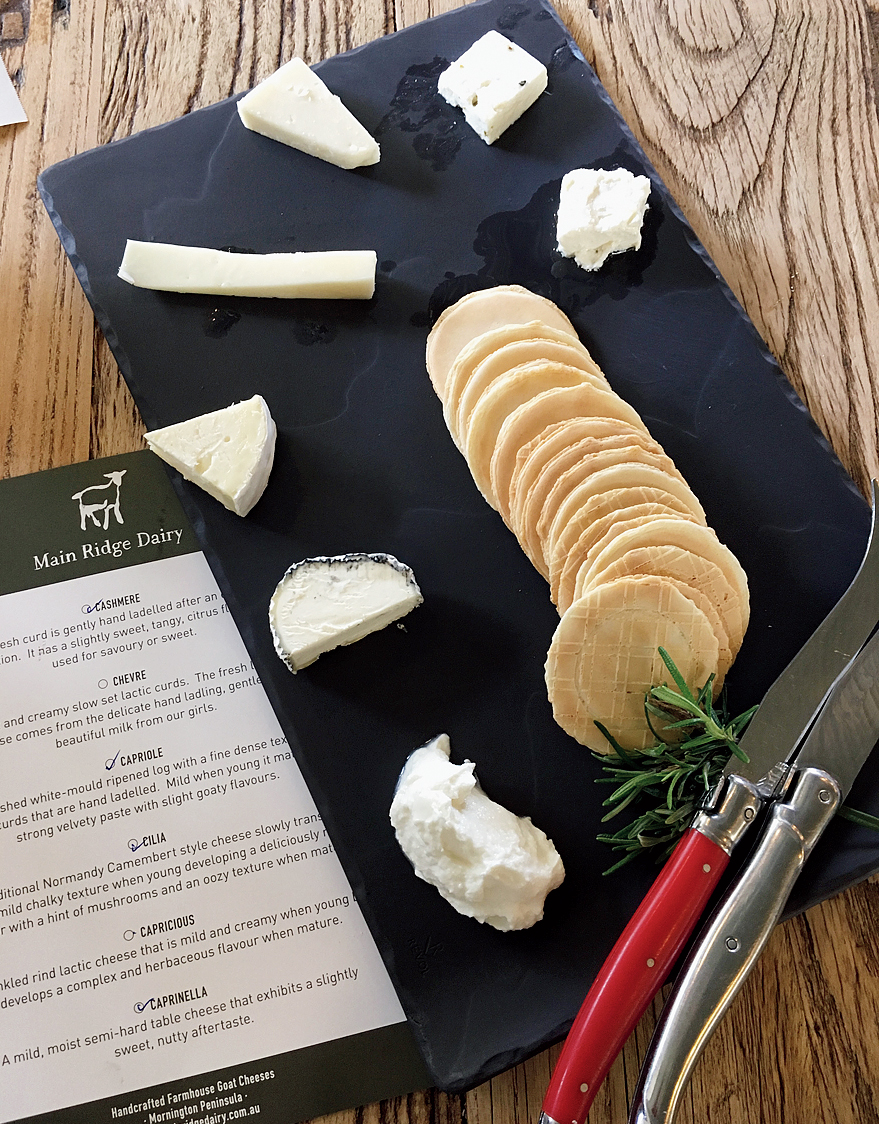 Paringa has an excellent restaurant presided over by young chef Adam Beckett, easily recognised by his tattoos. The spread is a five-course degustation or tasting menu and it's really creative, well executed with star dishes like the Calamari with Oyster Mayonnaise paired with a young Viognier from the estate, Flathead Fish with Asparagus Baked in Eucalyptus Bark paired with the Chardonnay to a divine Confit Roast Duck paired with the Pinot Noir.
The restaurant has sweeping views of the vineyards from every table. Although Lindsay produces award-winning Shiraz, it's his Estate Pinot Noir and crisp lean Peninsula Chardonnay that I love. In 2017, Paringa won the coveted James Halliday Australian Winery of the Year Award, and in 2013, the restaurant was awarded a Chef's Hat in The Age Good Food Guide, which it continues to maintain, and Best Restaurant in a Winery in Australia at the Savour awards in 2014.
The next morning, Lindsay and Sally take me to Merricks General Store for breakfast, a place that offers "country" at its best. It used to be a post office and then a general store in the 1920s.