Social media is the new restaurant, courtesy the coronavirus crisis
With uncertainty looming in the horizon, F&B brands are going the extra mile to stay connected with their customers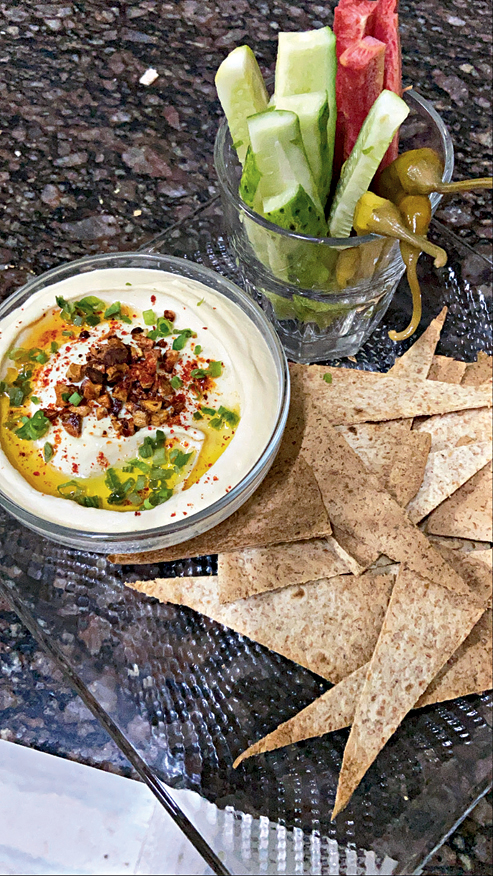 ---
---
The threat to public health due to Covid-19 has changed the way the F&B industry functioned. The restaurant owners are now looking at major changes in the way they operate. With uncertainty looming in the horizon, they are going the extra mile to stay connected with their customers. Their best friend in this endeavour? The ubiquitous social media.
In the world of Instagram, TikTok and Facebook, strategic social media presence brings with it numerous possibilities and maintains brand awareness. From sharing recipes to going live and answering queries, hosting workshops to hosting live musical performances, the F&B brands are now tapping into everyone from the Gen X to Gen Z and of course the millennials, through social media.
The Daily has active social media pages from where its chef-owner Urvika Kanoi has been posting easy and fun recipes as well as workout recommendations, immunity boosting tips, the importance of staying connected and mental health, to keep the cafe's patrons interested. "We are coming up with new ideas to help people pass their time and also pick up some skills in the kitchen. Almost a recipe a day is being shared and we are trying to keep them frugal, easy, delicious and quick so that it spruces up our patrons' meals without it being too much work. We are also putting up gluten free, Keto and vegan recipes and talking about how they can convert a dish into the same. I have been teaching most of what they ask for depending on the availability of ingredients. We also teach them to repurpose leftovers and how to zing up boring meals," said Urvika.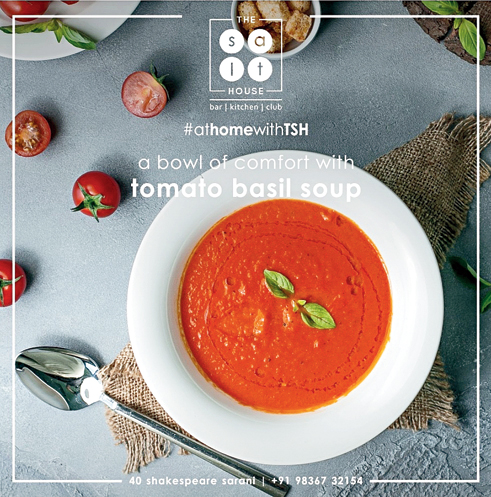 The Salt House, which has always been active on social media, is putting out recipes too and making use of the virtual interaction to keep their loyalists engaged. "Before the lockdown when we saw a dip in dine-in customers due to the virus, we started contactless deliveries. During the lockdown, we are engaging with the customers via social media. Along with polls, such as what do you miss about The Salt House the most, and throwback posts, we are also posting a new, easy-to-make recipe on our pages with pantry staples. So, recipes such as immunity booster juices, home-made pizza from scratch, Greek salad, tomato-and-basil soup, and a lot more have been posted with detailed instructions and that has gotten us a lot of traction on our pages," said Saloni Jhunjhunwalla, partner, The Salt House, that conducted its first Zoom session on April 29 and plans to do more in the coming days. While some of those sessions are chargeable, some are free. "The first session took place on April 29 with Vidhi Beri, health transformation coach, titled 'Happiness in India — the gluten free way'. The next one — a Mandala Drawing Workshop — will be held on May 9," added Saloni.
Roastery Coffee House shut doors as soon as the lockdown was announced and without a doubt, this move came with its own set of uncertainties. "Absolutely suddenly the world has become virtual and we are trying our best to be there. We interact with almost 800 to 1,000 people every day, physically. So what do we do about it with limited resources? There were few things we could do like Insta live and sharing recipes so that they (customers) can learn their fave recipes, ask questions so that doubts can be cleared. We are also collaborating with like-minded brands and people for knowledge sharing," said Nishant Sinha, founder of Roastery Coffee House that has hosted live interactions with coffee experts from not just the country but the world over. These sessions mostly involve showing coffee enthusiasts the right way to brew coffee using different methods.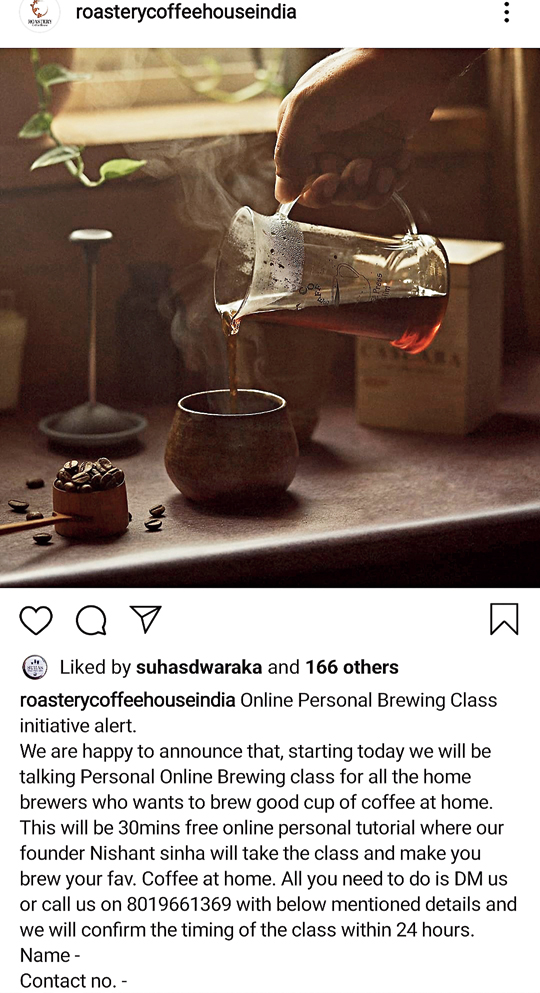 Social media challenges and catchy hashtags are tools to grab eyeballs. If What's Up! cafe came up with #YourKitchenOurRecipe where they shared easy recipes of food, cocktails and mocktails, Piccadilly Square threw the Stay In Cook-out Challenge that required people to come up with a recipe with one key ingredient or anything interesting that they could prepare using leftover food. "The lockdown has unlocked many new ways to interact with patrons. Not everyone can cook but there's no denying that we all love food. In The Foodie Challenge they (patrons) had to name one dish that best described their lockdown experience. It turned out to be a smorgasbord of experiences, from phuchkas to sizzling brownies," said Pooja Baid, owner of Piccadilly Square.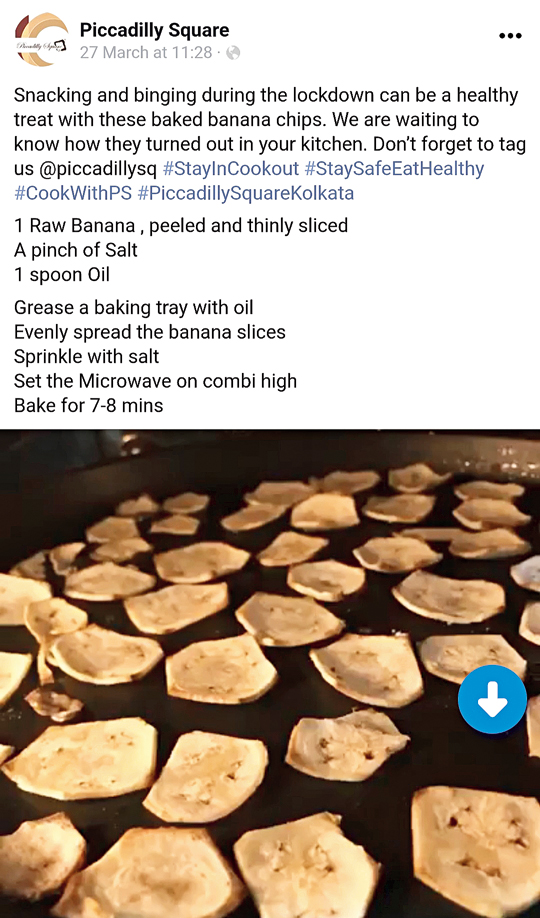 What's Up! cafe started posting from March 24. "We ran a special two-week-long #WhatsupDalgonaSelfieChallenge contest across Facebook and Instagram wherein we shared the recipe and the process (of making the coffee) and asked our patrons to prepare their version, click a selfie and tag us. After two weeks, two winners were chosen and they were given complimentary redeemable vouchers of Rs 1,000 each, which they can redeem once we reopen. On April 14, we had an online Nava Varsha special. We featured internationally acclaimed Rabindrasangeet exponent Manoj Murali Nair live on our Facebook page. The event saw more than 9.4K views and countless messages thanking us for gifting our patrons a memorable Nava Varsha evening," said Anirban Sengupta, partner of What's Up! cafe, which launched #QuarantinedSinger contest on May 1. Through this contest, people will get a chance to sing and upload their videos on the brand's Facebook page and the winner, to be decided through audience poll, will get to perform as an opening act for a professional band when the pub reopens.
Just like running a restaurant comes with its own share of hassles, creating social media content on a daily basis with limited resources is no mean feat either. "Honestly, it does take effort and energy to keep cooking every day and putting up content on social media. That too with no help and limited ingredients! I feel it's tough to stay relevant but it does come with its pros," said Urvika. Awareness and conscious eating in times like this is something that tops Pooja's list of priorities. "We want to remain connected with our patrons but at the same time we are mindful of the fact that the lockdown has led to limited resources. The challenge is to engage them and at the same time encourage them to use limited ingredients, reinvent available supplies and stay upbeat through these difficult times," said Pooja.
For The Salt House though, the biggest challenge has been attracting new people and potential customers. "Our existing clientele is loving the recipes and activities that we are doing but it is difficult to get new people to engage in our brand at this point," said Saloni. On the other hand, for Roastery Coffee House, factors like limitations of an app or the inability to understand someone's likes and dislikes over a virtual medium are posing the biggest challenges. "Understanding the audience (is a challenge) because when a guest comes to the cafe, you can see them and make out whether they are liking something or not. In the virtual world, we don't have much tools to understand this. There are other factors like managing with limited things and weak technology. For example, Instagram doesn't allow a live video with multiple people at the same time. Also, suddenly everything has stopped so creating content to post online is less," added Nishant.
With no certainty on when business will get back to usual, these brands are focussing on continuing to create relevant content and staying at the top of their game in the best way they can.
While Urvika plans to host game nights from The Daily's page, Saloni has plans to start delivering home kits with the required ingredients for recipes featured on the social media pages of The Salt House, once the current situation eases up a little, if not completely. Roastery Coffee House's social media strategy is to collaborate more with individuals in the same field as well as other brands and conduct Insta marathon to bring most of the coffee roasters to talk about the industry, among other things.
The brand owners say that even though they are missing regular, face-to-face interaction — one of the most important tools in their industry — the heart-warming messages that they are receiving on their social media platforms are what is helping them march ahead with the hope of a better tomorrow.