Gaga over Gaggan Anand
The celebrated chef tracks his journey from Calcutta with $500 in this wallet to a culinary business of $24million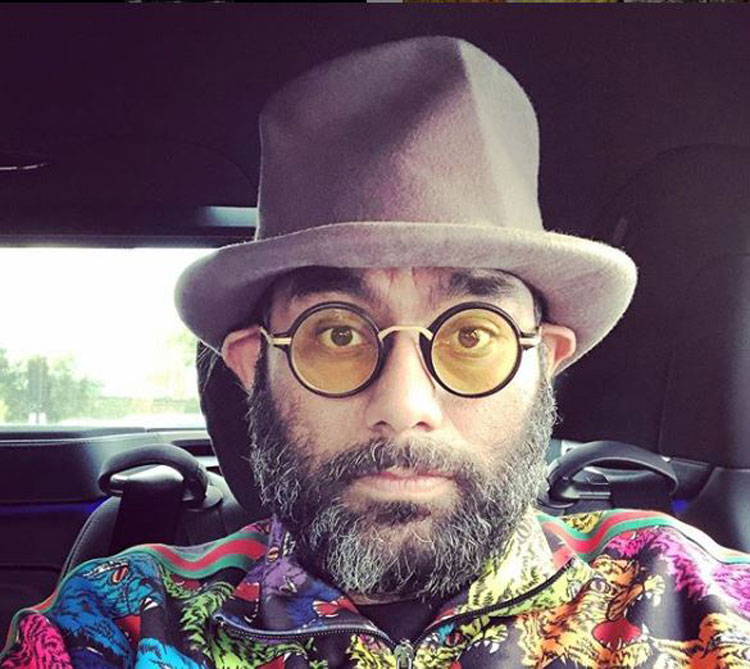 Gaggan Anand, owner-chef of two-Michelin star restaurant Gaggan in Bangkok
Source: Gaggan Anand's Instagram account
---
Published 23.02.19, 03:23 PM
|
---
Success is like a snake, a reptile. You will make it your pet and you will understand how to handle it and if you don't handle it well, it will bite you and you will die," said Gaggan Anand, owner-chef of two-Michelin star restaurant Gaggan in Bangkok when The Telegraph met him during his latest visit to the city for The Last Experience of Gaggan with ITC Hotels. He set the tone of the interview right at the beginning. "This is going to be the most un-boring interview of your life, where I am going to say that I from my city started with nothing and am back here for the first and the last time." The next one hour was a no-holds-barred chat on his journey, passion, love for music, Calcutta and, of course, food.
Your decision to shut Gaggan has recently created quite a bit of stir in the food world. So when did you decide to shut the restaurant?
I had decided that I will shut the restaurant Gaggan the day I had opened it. I knew I am going to run a restaurant for 10 years and I had told my partners that we have a cow and I will only milk it for 10 years. I have no contract; my partners are my best friends, they invested in me as a talent and today we have milked the cow and I think the cow needs to end and not kicked out. You watch sports? Every sports star who has not retired looks old and doesn't perform and gaali khata hai. I don't want to be outdated, out-thrown or out-fashioned.
Why did you not come up with another Gaggan somewhere else?
Then you wouldn't have taken this interview. Then I would have said yes to everybody wanting to interview me and you wouldn't get an exclusive. (Grins) It's about exclusivity and being rare and limited. India mein you see any ad, it goes like: "It's limited and yeh toh best hain in the world sir". They will add the best themselves. But here I have got the responsibility of being the best, not just the best Indian restaurant but the best in the world. So being that is a very heavy weight to carry on my back. So you have to say more nos than yes. You have to say a lot of things which are diplomatically incorrect but you have to say because it shows your real character and you can't fake it. That has made me what I am today.
I want to tell you the story of how I from my city started with nothing and I am back here for the first time and the last time. I will never cook again outside my kitchen. So it doesn't have to be racially not cooking in Bengal but not cooking in any part of the world. I will only be cooking in my kitchen.
So is starting The Last Experience of Gaggan tour with Calcutta a way of saying thank you or paying back to the city?
It is a way of saying thank you. The last two years I have done around a leg of 30 countries, so the last bit which was the most important was India. It had a very serious impact in my life. In India I can come every two months and sell out but... I think the only criticism in my life is today I am here and people will be coming to my restaurant Gaggan in Bangkok and they won't see me. That's the only criticism I have. You cannot find any other fault, you can't say namak was zaadaa, or mirchi was zaadaa. So after this February when I become 41 (his birthday was on February 22), I will never cook outside my kitchen. So the last year of my restaurant I will be at my restaurant as much as possible.
Your next project is in Japan?
I won't open until it's 2021 or 2022. I will take a one-and-a-half-year break, it's not happening tomorrow. It's not like one door closes and the other opens.
Have you started working on your next project? You had mentioned to us in an earlier interview that it's going to be a 10-seater restaurant...
Now it has become 16! Because 10 will give me money in 10 years and 16 will give in seven years. (Laughs)
Then why not increase the seating further? It will mean more business...
Materialism never attracted me. That is why I have never done a private function. Actually, I did it for one family and then I regretted.
Tell us about your new project…
I can't talk much about it; it's three years from now. And then see…
But aren't you opening with your partner Goh?
Oh, so you are a stalker! (Laughs) Okay, so the restaurant will be called GohGan, our initials. In Japan, rice is called Gohan. The food at my new restaurant will be completely different.
One look at your Instagram account will reveal your love for Japan. What exactly do you love about that country?
One thing common between Japan and India is perfection. You know Dal Bukhara? For the last 40 years the recipe has not changed. Exactly the same dal with the same hours of cooking, same ingredients and that's why the most successful restaurant in India is Bukhara (ITC Maurya Hotel, New Delhi), because they have not changed anything about it. Now, you can go to Japan and see somebody making something for 400 years using exactly the same recipe, no variation.
So that was a successful model in this part of the world and it's a successful model in Japan. I love perfection and I don't like that it goes down to masala chai. Like people put 25 per cent of spices, it doesn't make sense. You just need ginger and cardamom and to make a good masala chai there has to be a technique and a very bad tea that will give you the strength. Try making it with a Darjeeling tea and it will taste horrible. And the best masala chai tastes very good in a mitti ka bhar!
In Japan you have two worlds. One world is so perfect and the other world is like a manga comic. If you follow Japanese fashion, it is the most avant-garde and over the top in the world. Everything in Japan is crazy and I think that is why it helps me to be a complete misfit.
How much of a Japanese are you at heart?
Japanese (points at his shoes), socks and everything in my house….
I would say from 2012, since my first trip to my next trip will be my 84th time in Japan. I can speak a bit of Japanese, the way I look and dress up is mostly Japanese. See, my food is India, Indian sentiments, everything about India, roots of my memories of my life presented in the minimalism of the Japanese way. So it is not Japanese. Many people thought I would do Japanese fusion food but it was a complete mistake.
What has been your biggest learning in the last nine years?
It is to handle success. Success is like a snake, a reptile. You will make it your pet and you will understand how to handle it and if you don't handle it well, it will bite you and you will die. It is like a cobra... it could be vicious but it could also be an expensive leather bag. If you can handle a cobra, you will be a master of it.
In the last nine years, I have understood what is my success and I have handled it. The first two years were very bad and I couldn't control and handle it. It was like you are recognised at the airport, here there and you are not a Bollywood star or a cricketer but you are recognised and you don't know how to pretend and you don't wear things to show. I am transparent and very misunderstood.
See, I have nothing to lose. I left this country as a very defeated person in life with 500 dollars, leaving my wife and running from her. Running from the domestic issues that would drown me as a person and I would never rise as a respectable person in my life. You can buy everything in life but you cannot buy respect.
Last year I took my mom on a holiday and the hotel had a Rolex store. I told her: "Mom I will buy you a watch". So she tried the watch, looked at it and then she saw the price tag and she was like "What?!". I told her that it was among the cheap watches, because watches can be more expensive. She then said: "Will it give the time better? Plus this is so heavy". She taught me a lesson. Three years back she went for her dialysis in an autorickshaw and when I was buying her a BMW she didn't let me because she said who will maintain it, where to park, who will drive this car… and she still uses Uber. I have four cars in my home (pauses).
Certain things money can't buy but she loves me, respects me and money doesn't come in between. But I need money to see her dialysis is done properly; the reality is a very big equation. So when I left defeated, I converted the 500 dollars to an annual business of 24million USD.
What are the new things you want to do in the next 10 years?
Next 10 years is GohGan and doing a cooking school in India for sure. I am writing a book, Meenakshi (Kumar, brand manager) is helping me do that. That book will be online and will come for free. Today the only way to reach everyone without spending money is online. And I don't want to make money with this book because I have made money in my life. I am not the poster chef type. I have been invited to go to MasterChef Australia as a guest, but no. Because I don't believe in that. I don't think cooking is competition, cooking is an act of love. You have made it competitive like a lifestyle movie to get viewers. And laugh at others' miseries. Cooking is one of the most incredible things we did and that's why we are not animals.
I will release the book on the last day of my restaurant, when the cashier closes, midnight… free! I am doing the book with the world's most celebrated food photographer Sergio (Coimbra) from Brazil. He is shooting with me six times in India, including Calcutta. And we are looking for what to shoot in Calcutta.
What is the book about?
My book is not about recipes. It is basically about my life, my stories are my memories and the book is called For Unlawful Curry Knowledge. The first chapter is me, dad and a motorcycle. I have created a room in my home and am going to write in it, I am a night person. Meenakshi will write my book, too, and Sergio is talking to Apple to launch globally. We are also talking to some publishers who would launch one table-size copy. One copy per country, which will be around 10,000 dollars, where the photographer and publisher makes the money. It's mostly a collector's edition. And my decision is to make it free for the world. Mostly all the movie directors of Netflix wanted to make a movie out of it.
Seriously?!
Yes, arre bohut! Bollywood and Hollywood. I won't give you names. One of them came to Bangkok and we spoke about the first scene and he described it: "You are sitting in this car, getting an award and you are old…" like a typical Hindi movie! I said "Get out!" I was like f**k it, they are messing up my story.
I think 20 years from now I will get the highest award by the government probably, when I will be finished but my mom will be proud. They will recognise me like in Ek Doctor Ki Mauth, when I will be like I don't want it.
The Thai government wants me to change my passport, but I am like no, I am an Indian and that's why I have to stand in every queue and that's why when I come to India, at the airport they tell me why have you come back! (laughs)
You travel extensively and you see it as an inspiration. What would you say is trending in terms of food?
Culture! You see the culture, their country, what they eat, what they die for, what is my dish that they don't like…
We love saffron, South-East Asia hates it. Spain, Iran all these places love it, go to South America, they don't like it. So, one ingredient can become a disaster or a blessing. In my restaurant there are at least 20 countries on the tables, and all of them have to go like: "Wow, what was that?!".
Who is a foodie to you?
A foodie does not come with Instagram followers; a foodie comes without any inhibition. With the way they eat, we will understand if they are a foodie or not.
Your daughter Tara is adorable. Does she understand what you do? Has she eaten at Gaggan?
She is edible! My only regret would be that she has never seen me at my peak at Gaggan. I don't know, I will reach my next peak, too, but my regret will be that she saw Gaggan when it was over. The last thing I did before I left for Calcutta was to cook her dinner.
Is she easy to impress with food?
Very easy, I know what to give her. The spiciest thing I have cooked for her is a chicken pulao with a little bit of haldi and salt and cooked in a pressure cooker. I think my wife is taking very good care of her, that's why I can be here. Tara is very curious when I cook, she is there.
You keep visiting Calcutta. What's your take on the food culture here? Do you think the food scene here has improved or undergone a change?
Not improved. From good food we have become buffet eaters. We have lost it. We are trying to do things that we copy from others and try to pass it as ours. The fish is not a Kolkata Bekti at many places and they use cheaper fish like basa which is a disgrace and KFC is the new chicken. Chinese, how it was 25 years back in Park Street, is not the way it is now. The classic chimney soup, where is it now? It's gone.
Do you have any favourite street food places in Calcutta?
I am not much of a street food person. But I like the chilla from this guy near AC Market in Burrabazar. Phuchka is from a guy called Lakhan, my mom has been eating from him since the age of two I think! It is at New Alipore E block. My jhaalmuri is still from a guy in Behala, and he puts aam aada and aam achar. My favourite chop is from Chopda, which is near SN Roy Road; his name was Chopda, I don't know his real name. Then doi phuchka would be from the stall near Kalibari near Avenue House. I like my roll simple, thinnest paratha with either chicken, dhone pata, hari mirch, nimbu and black pepper. I don't like egg chicken… it has to be one single thing.
My Bengali food memory is of bhaja, fish roll…. Then a place called Bengal in Behala that had a lot of maach and fried fish. In biryani I like Royal Indian Hotel in Chitpur.
I stick to these places and do not waste my money in other places. My memories are very important because I cook with memories. Like gondhoraj lebu is the king of lemon for me. In Bangkok we use yuzu lemon from Japan.
The restaurant Gaa by Garima Arora, who worked with you, has got a Michelin star. Any other rising Indian chef you have noticed?
Not yet. To be a restaurateur and a chef are two different things. Chefs don't like to face people. You ask a chef, he will be like 'tu sambhal le', they just want to cook. A restaurateur has to face it and a chef-onwer has to meet his own devils. Which is a tough job! Garima got the best female chef because she was placed in the right place and incubated in the right nest. If she was in India she wouldn't have survived and that's what happened to me. If Gaggan was in India, I would have never been successful in the world. People would complain why the rosogolla wasn't gol. It happened to me once, and this guy said: 'Sir, paach taka katchi, rosogolla gol chhilo na'. So yes, I had to fight those battles.