Calcutta boy has one-in-three chance of winning The Great British Bake Off
Rahul Mandal didn't cook while he was in the city. He moved to the UK eight years ago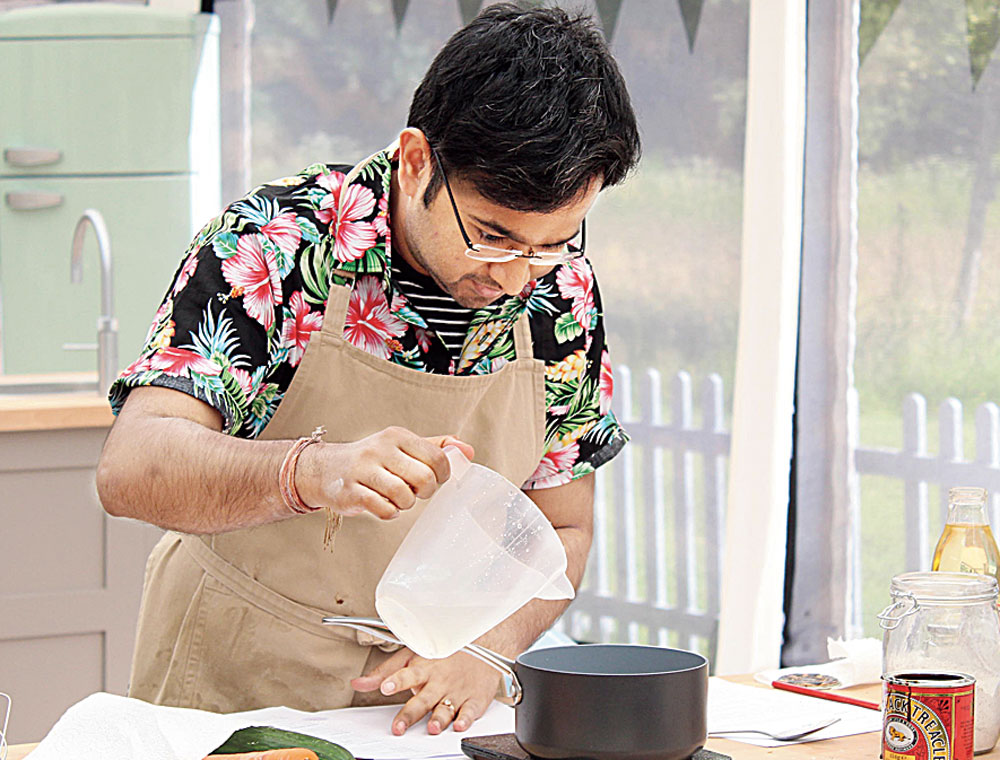 Rahul Mandal on The Great British Bake Off
A still from the show
---
London
|
Published 26.10.18, 06:31 PM
|
---
Why is that Bengali boys appear to flourish only when they get to Britain? That certainly seems to be the case. Take, for example, 30-year-old Rahul Mandal, who moved from Calcutta to Loughborough University eight years ago to do a PhD, now works as a research scientist, and has become a national figure because he has a one-in-three chance of winning The Great British Bake Off.
This is a hugely popular TV programme which began life on the BBC but was sold for a sack of gold to Channel 4 two years ago and is routinely watched by around six million viewers.
Each series begins with 12 amateur contestants, who are asked to bake cakes, tarts, bread and the like and show off their culinary creative abilities. Each week one contestant gets kicked off the show amid usually tearful scenes until three are left for the final.
The current judges are Paul Hollywood and Prue Leith, while the programme also has two presenters — broadcaster Sandi Toksvig and comedian Noel Fielding.
For the current series, the final takes place on Tuesday (October 30) with Rahul as one of three left standing after 10 weeks of baking. That itself is remarkable because back in Calcutta he did no cooking and — like most Bengali boys — allowed himself to be fed by a doting mother.
One of the other finalists is also Indian — Ruby Bhogal, 29, a Punjabi project manager with London Underground, who is one of four siblings who grew up with their mother making jalebis. She is backed by the Daily Mirror because of her "gorgeous looks".
The third contestant, Kim-Joy, is also not of English ethnicity, which must count as ironic considering tea, cakes, scones with jam and cream are an essential part of English culture.
Rahul, whose PhD was in "optical metrology", now "works in Sheffield University's Nuclear Advanced Manufacturing Research Centre, where he specialises in light-based measurement of engineered components".
He says he is inspired by an "East meets West" style of baking and that his "instinct is to undertake every bake with a forensic attitude to research and an uncompromising attention to detail". He tries to ensure his "creations are beautiful, full of flavour and structurally elegant, too". He is trying to come up with "crisps with a flavour of pilau rice or Palak Paneer".
Even five years ago he was not even aware of The Great British Bake Off, a programme which provokes deep passions among its viewers. Some think Rahul should have been jettisoned last week but that the judges allowed him to finish his decorations even after time was up.
Although he was interested in watching cookery programmes rather than sports as a child in Calcutta. "I never baked when I was in India. My baking journey began in the UK about five years ago when I was feeling lonely, and needed to do something along with my studies. At that time, it was limited to making bread and biscuits. The first cake I made was about two years ago, when my parents visited the UK for the first time."
It was a friend who pushed him into applying for Bake Off. He was surprised when he was accepted but not as much as his family back in India.
Another Bengali, Tamal Ray, who appeared in a previous series in 2015, tweeted: "Oh my god, I could watch a whole show about Rahul Skyping his parents!"