A tete-a-tete with Michelin-starred chef Julien Royer
With a career spanning the French West Indies, Polynesia, London and Singapore, Julien is now stopping by in Delhi's JW Marriott Hotel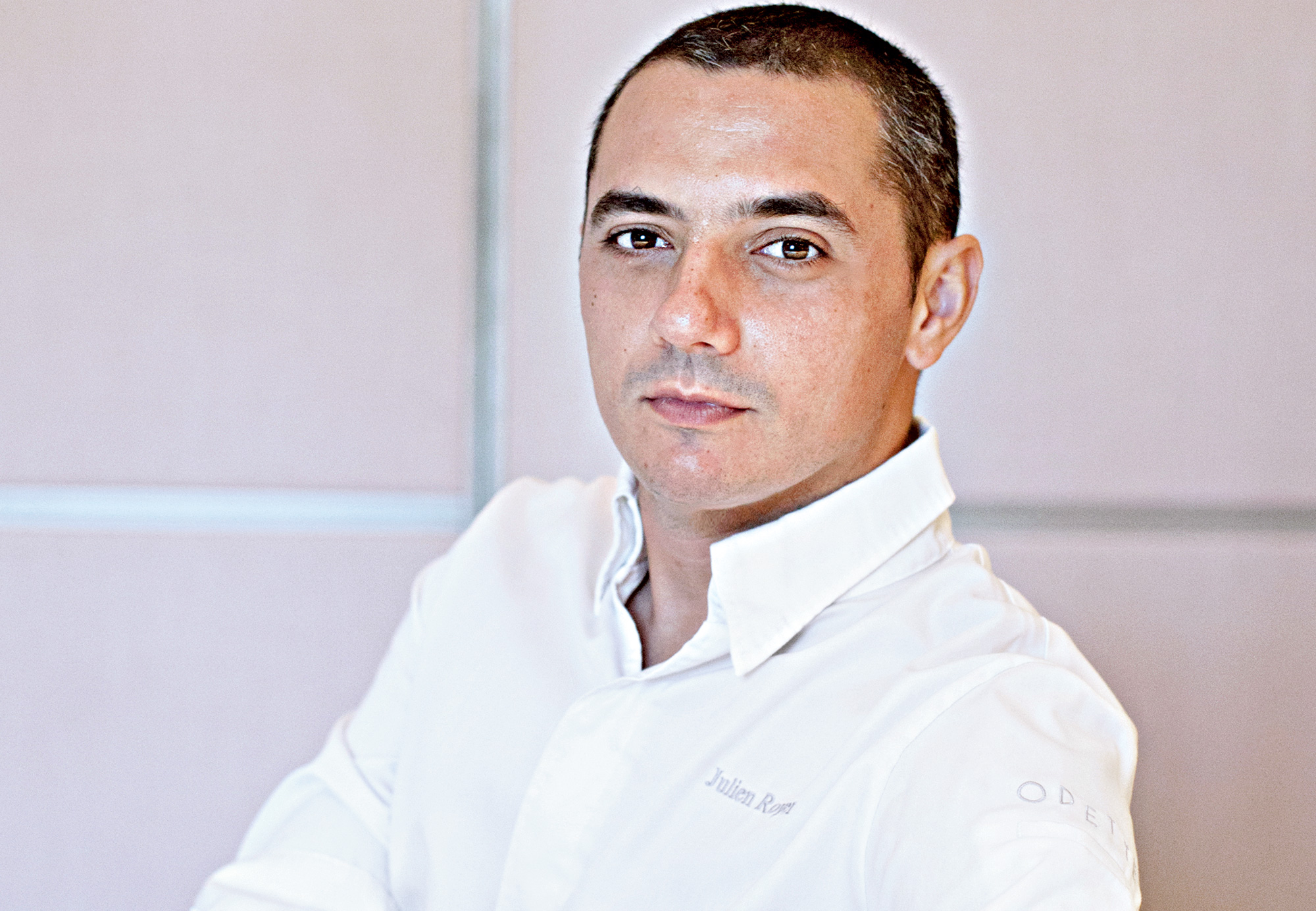 ---
---
Singapore-based Michelin-starred chef Julien Royer is known for modernising the French cuisine of his homeland, never forgetting to celebrate the ingredients with his award-winning restaurant Odette. With a career spanning the French West Indies, Polynesia, London and Singapore, Julien is now stopping by in Delhi's JW Marriott Hotel for their Masters of Marriott promotional on March 14. Before he whips up an indulgent five-course modern French dinner for his guests in Delhi, we caught up with Julien:
Your Michelin-starred restaurant Odette is known for marrying innovation with tradition. How do you ensure that in the culinary world?
From the beginning, we wanted to create a novel space and experience, going against the stereotype of stiff, unwelcoming fine-dining establishments. We have constantly evolved the Odette experience, from our dishes and wine list to introducing new, impactful ways to enhance the meal for guests. The details are what push us from good to great, always striving for better than the day before, from our cuisine to the smallest of touchpoints, in and out of the kitchen.
A modern French restaurant in Singapore — how did you manage to beat that paradox?
Singapore is the perfect crossroad of the region, its cultures and cuisines. The people here travel frequently and are innately adventurous for new flavours and authentic experiences. Odette is special to many because we are offering that authenticity, honesty and comfort with the best produce we can source, with the goal to serve a plate that is gourmand, brought to your table with simplicity, love and a smile. I feel it is this unique comfort that we offer which has brought so many to our doors and to return season after season.
What made you say yes to Masters of Marriott? What innovations are you bringing to the table in Delhi?
What I truly love about Masters of Marriott is that it is an initiative that celebrates the pursuit of consistent innovation and excellence as well as global talent. Today, Marriott has emerged as a front-runner in the world of hospitality and what better than to join forces with those who are leaders in the industry. As part of my visit to the country with Masters of Marriott, I will be curating a five-course modern French dinner for discerning guests. With Odette, we have always intentionally gone against the stereotype of fine dining as stiff and unwelcoming while presenting the very best of produce in its purest form. I am looking forward to sharing our unique brand of hospitality with guests in Delhi.
What do you think about traditional Indian food? Any favourites?
I have been to Mumbai only once before. I was very impressed by the vegetarian food and I had been taken to this place called Swati Snacks. It was truly amazing with such an amazing diversity of flavours.
What are some of your favourite modern kitchen trends?
I love that vegetables are taking centre stage in more restaurants. I have always believed that vegetables should not be viewed as just an accompaniment but as equals to any protein on a plate.
What do you think about sustainability in cooking?
I think chefs and guests are all paying more attention to being ecological and green, to sustainability and health as well. More are deep-diving into where produce comes from and how things are being grown. I think it's absolutely necessary for people to show greater appreciation for provenance. This helps raise the profile of truly great artisans or producers who are usually not in the spotlight. It helps keep their traditional practices and heritage alive.