The last night of the year calls for gala celebrations. And, in equally joyful styles. Calcutta boy Surya Sarkar who breezed through town recently brought out a few of his edgy and statement styles for this special shoot at ITC Royal Bengal. We chose The Brass Room as our backdrop for a couple of shots, which 'pays tribute to Calcutta's heritage of jazz, blues and western music', a perfect complement to the red-carpet dressing that Surya showcased. The other photographs came alive against the lovely white facade of the EM Bypass address. Minimal yet striking was the mood with Surya playing around with the classic monochrome, a pop of a bright hue, only bits and pieces of accessories and a fresh look.
Post-shoot, we caught up with Surya on homecoming and more.
How special was this shoot? A sort of homecoming, right?
It was an early morning flight and I spent 14 hours in the city. So this shoot was indeed very special for me. t2 is something I started my career with. Calcutta is just not home, it's a feeling for me.
What memories of Calcutta do you have?
The rain-drenched Calcutta night is one of my most favourite memories of the city. I used to go for a drive from my home in Salt Lake to Park Street just to have ice cream.
How important is the city in your scheme of aesthetics?
My childhood was spent in a very culturally rich environment, where this intricate art form called alpona caught my wholehearted attention from the beginning and today one of the most loved elements of the brand is inspired by alpona.
Talking of aesthetics, your style is bold and beautiful. What kind of changes has it undergone over the years?
My core sensibility itself is edgy and sexy, it always shines through my work. As a brand we are always evolving and upgrading with new techniques and technology.
You have done white and black for this t2 shoot. Evergreen, right?
White's my most favourite colour. When it comes to dressing up in white or black, you can't go wrong. They are classic .
These are just right to set the party on fire! What are tips to dress head-turning this season?
As the festive season is here so we thought to showcase some classic looks with modern sensibilities. As for dressing up for this season, I always suggest 'you do you'. No need to follow trends until you really love them. Wear anything with confidence. Pop colours are nice for this season. It lifts up the mood instantly. But make sure you go a little easy with your styling of any pop colour.
What are party classics for you?
An LBD for girls. Always. What can be better than some diamonds to style them with?!
Finally, if you have to pick one item that would rock 2023, what would it be and why?
Corset. People are very health-conscious now and they work hard to maintain their bodies. And what's wrong if they want to flaunt it in some really cool corset?!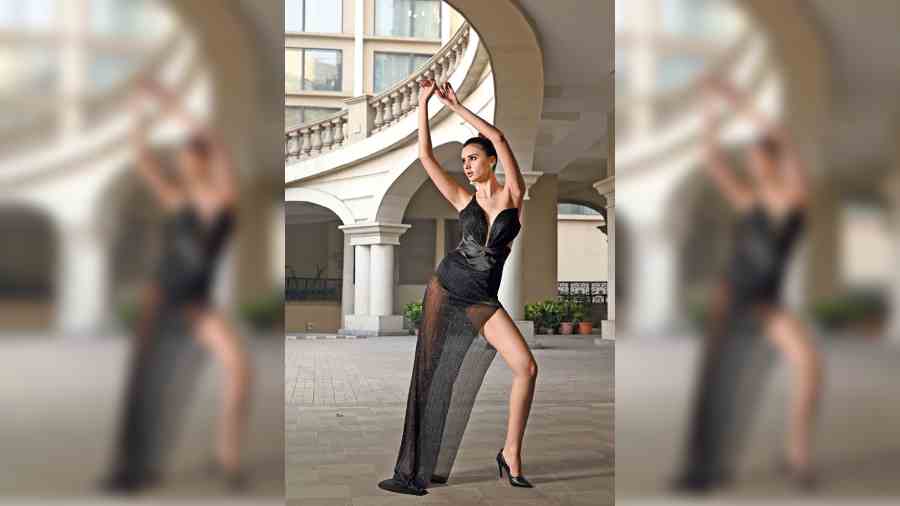 Jessica Aaron is all oomph in this black number, edgy with the sheer and shimmer. The topknot adds red- carpet vibes.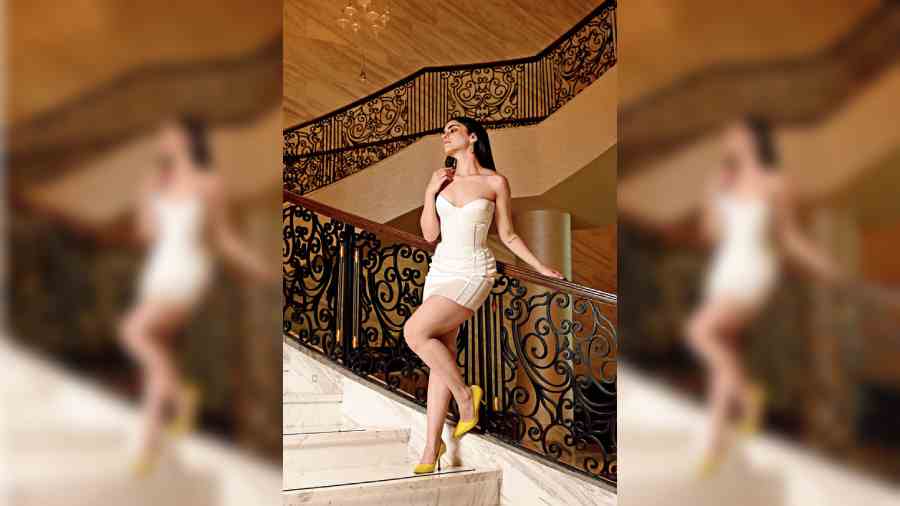 Sevina Kahlon is simple and stunning in a little white dress with corset detailing. The look is styled with pop shoes and a hint of colour on the ears. #minimalcool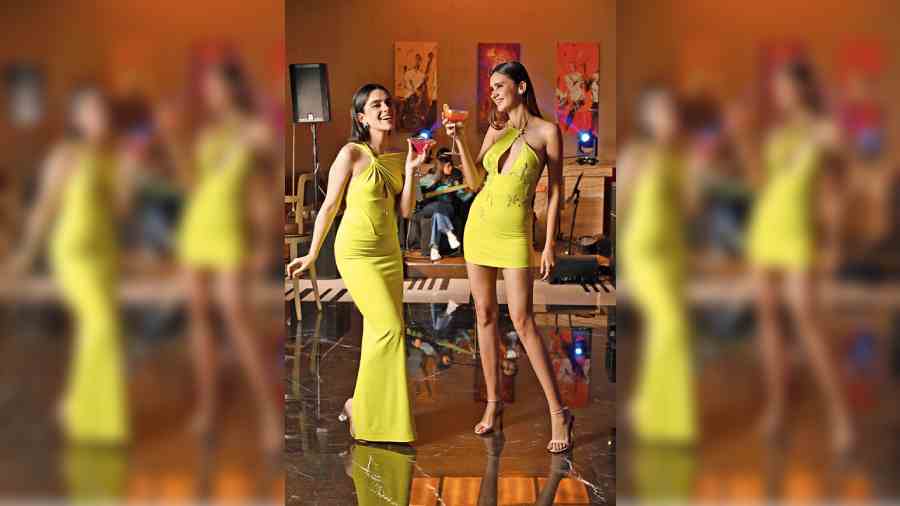 Sevina and Jessica were fun in fresh pop hues as they raised a toast with Pornstar Martini, 'a tribute to Douglas Ankrah for creating this world- famous cocktail' and Cosmopolitan. We love Surya's classy-cool play with necklines. Flirty and feminine.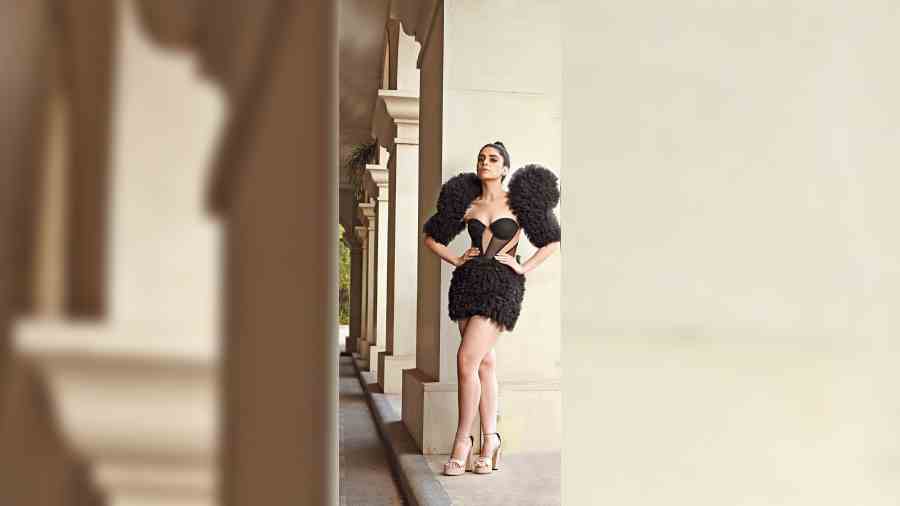 Sevina is so striking in her little black dress. The exaggerated sleeves add oodles of drama.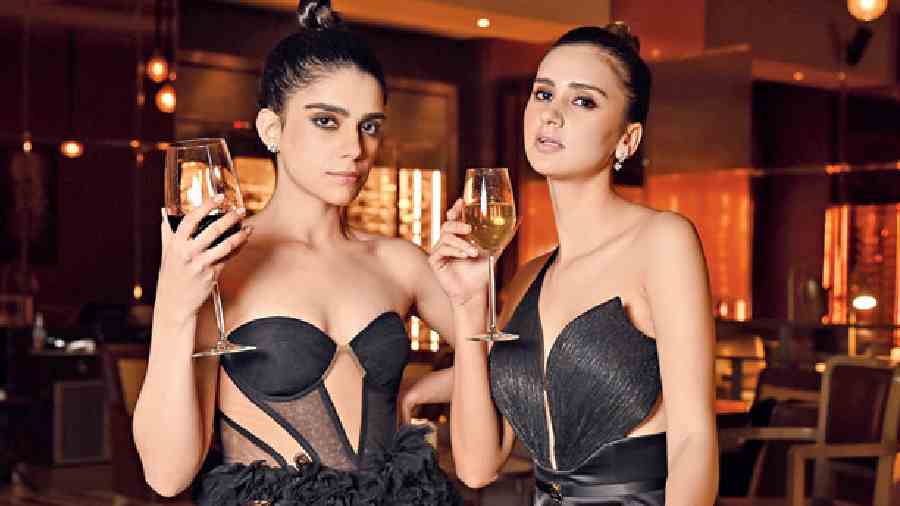 The Brass Room which serves a 'medley of international flavours fused into the tapas menu' plated up TBR Potato Taters, Prawn Balchao Cutlets, Black Rice Arancini and Smoked Salmon Tartare for this shoot.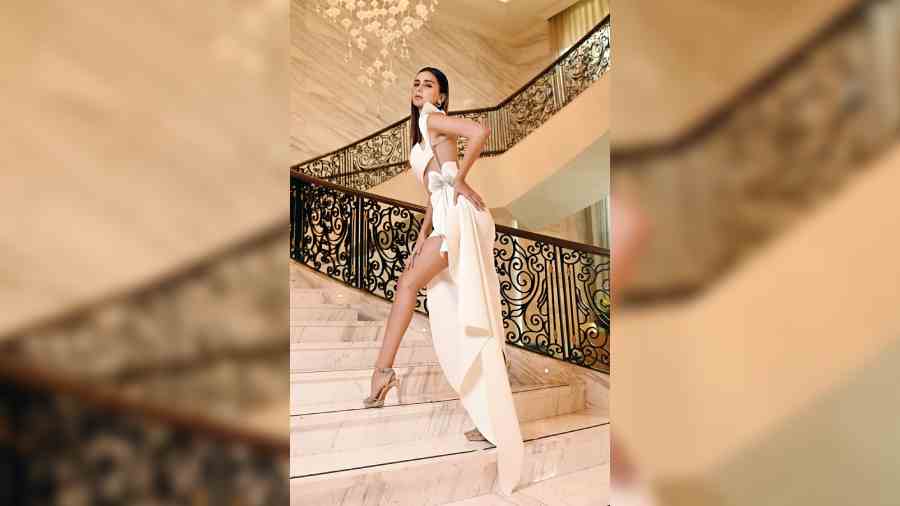 Jessica is quite the diva in this bodycon gown. While the thigh- high slit lends a sassy touch, we absolutely love the fall of the gown. The floral touch oozes a starry vibe.
Pictures: Pabitra Das
Models: Sevina Kahlon and Jessica Aaron
Jewellery: Prism Jewellery and Sara Jewellery
Styling: Sumit Sinha
Makeup and hair: Sujoy & Nabo