An interpreter of faith
As Sharma elaborates, another key innovation was Gandhi's assertion that 'ahimsa' was a non-negotiable tenet of the Hinduism of his conception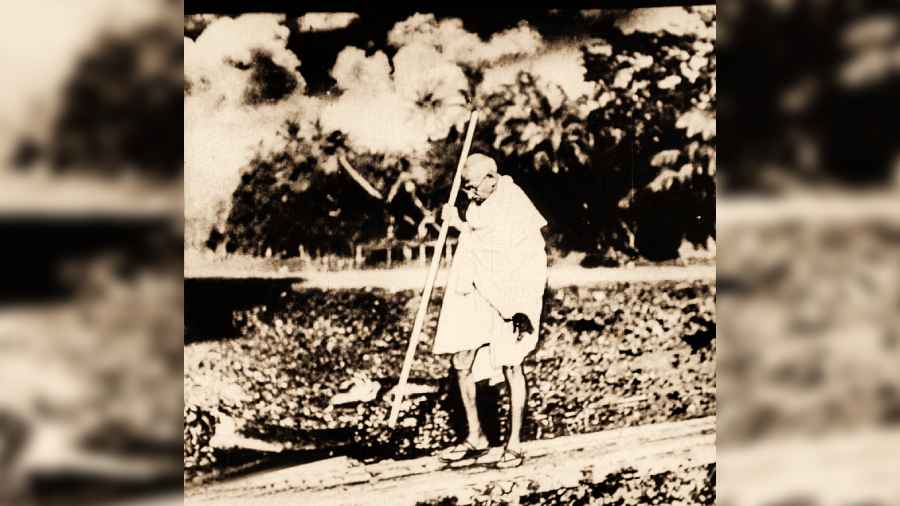 Rooted as he was in his own image of Hinduism, Gandhi's ahimsa was an ideal and, crucially, a practice that looked beyond sectarian considerations.
Mahatma Gandhi at Noakhali [Library]
---
Published 11.03.22, 01:42 AM
|
---
Book: Elusive Non-violence: The Making and Unmaking of Gandhi's Religion of Ahimsa
Author: Jyotirmaya Sharma
Publisher: Context
Price: Rs 699
In recent decades, a number of writers have studied Gandhi as a cogent thinker, especially as a political philosopher. Eschewing biographical and historical narratives, they have approached Gandhi's thought as an object of philosophical inquiry. While there are many facets to Gandhi's life and thought, Jyotirmaya Sharma's Elusive Non-violence approaches Gandhi as an interpreter and reformer of Hinduism. Drawing on the vast corpus of the Collected Works of Mahatma Gandhi, Sharma has herded together a number of disparate elements of Gandhi's views and attempted to stake a claim that Gandhi's conception of ahimsa lies squarely in the realm of religion.
Gandhi proclaimed himself to be a sanatan or traditional Hindu. However, this self-description needs careful parsing to recognize the uncommon constituents of his personal faith. Apart from rejecting many practices, including the worship of idols and temple-going, Gandhi introduced a number of innovations as a critical insider. Of singular significance is his assertion of the supremacy of one's conscience or the 'inner voice' as he put it. Although he was no scholar of Hindu thought or Sanskrit, Gandhi argued that all ideas had to be subjected to scrutiny and not accepted merely on the authority of the shastras. As Sharma elaborates, another key innovation was Gandhi's assertion that ahimsa was a non-negotiable tenet of the Hinduism of his conception. Sharma also provides a sound narrative of Gandhi's exegeses of the Gita. A well-known move by Gandhi is the rather extraordinary and strained interpretation that claimed the battle in the text was not a real one but represented a contestation between good and evil within ourselves.
Based on a close textual reading, Elusive Non-violence resolutely frames Gandhi in Hindu terms. This device sharpens a number of questions on the constituents of Gandhi's thought and also highlights his infusion of new ideas into the religion he was born into. In the process, it sunders the connections of Gandhi's ahimsa with many other sources as well as with his lifelong practice. Moreover, the discursive nature of the exposition often overwhelms the argument.
Gandhi did locate ahimsa at the heart of a reconfigured Hinduism — a creed of his own conception. But the Hindu or the metaphysical dimensions of ahimsa do not exhaust his capacious understanding of the term. For one, from early in his life, Gandhi embraced all that he deemed valuable in other cultures. Thus, his ahimsa is deeply imbricated with different religious traditions, especially Christianity. During his formative years in South Africa, Gandhi encountered non-conformist Christian denominations and was also deeply influenced by Leo Tolstoy's The Kingdom of God is Within You. This engagement with diverse moral traditions continued throughout his life. Thus, he could assert to the journalist, Louis Fischer, "I am a Christian and a Hindu, and a Moslem, and a Jew." Indeed, one of the charges of orthodox opponents was that he was smuggling alien ideas into Hinduism.
Rooted as he was in his own image of Hinduism, Gandhi's ahimsa was an ideal and, crucially, a practice that looked beyond sectarian considerations. His personal outlook apart, how else could Gandhi expect adherents of other faiths to embrace his ahimsa and put it into practice? Similarly, carving out a wholly autonomous sphere for his thought, independent of his action, is an important but fraught exercise. As Gandhi had asserted "My life is an indivisible whole, and all my activities run into one another."
Another key challenge to parsing Gandhi's thought is its changing nature over five decades in public life. For instance, Sharma points to Gandhi's affirmation of the caste order. Given the stylized nature of exposition that collapses the temporal dimension, we are not alerted to the fact that this view was from the 1920s. But we should recognize that Gandhi drastically revised his position, especially owing to his disputation with B.R Ambedkar. Thus, in 1935, Gandhi went on to write an essay titled "Caste Must Go". We may also recall that Gandhi's campaign against untouchability was conducted in the teeth of opposition which included an assassination attempt in 1934. Similarly, Gandhi is quoted as telling American journalists in June 1942: "I shall expect non-violence to arise out of that chaos." But the interpretive gloss that follows in Elusive Non-violence would read very differently if we recognize the political context on the eve of Quit India.
It may be noted that the 'Elusiveness' and the 'Making and Unmaking' of Gandhi's ahimsa in the title pertain to their conceptual nature and do not relate to the terrain of modern Indian history. Gandhi recognized that all ideals were unrealizable to their fullest in the mortal flesh, but that did not prevent one from striving for them. Finally, the claim of the book blurb that Gandhi's formulation "has left the liberal-constitutional space in India bereft of the legitimate use" of the language of non-violent dissent is a sweeping assertion, one that is neither elaborated upon nor substantiated in the volume itself.