In a year when the whole world was taking uncertain baby steps out of the pandemic-induced stupor, I had the privilege of hosting a very special event for The Nehru Centre, London, recently, with a very special guest, who, through her work on and off stage, epitomises the spirit of the Mother Goddess — Bharatanatyam dancer, choreographer, motivational speaker and professor of Natyashastra, Sohini Roychowdhury.
The Nehru Centre was formally launching Dancing With The Gods, the Roli Books published coffee-table book inspired by Sohini's journey and world view, in the UK, during Sohini's professional visit to the land. The launch honours were being done by none other than celebrated bestselling author, and the current director of the centre, Amish Tripathi, who was effusive in his praise for how well the book explores the various stories around dances from Indian dharmic traditions, and also explores the relationships between Indian traditions and the traditions of the ancient pagan cultures, which have sadly died out like that of Greece and Egypt, and how this wonderful coffee-table book is a brilliant way to explore our traditions.
The launch formalities dispensed with, Tripathi, very graciously, left the stage open for my freewheeling chat with a persona I know well, personally and professionally. This familiarity set a warm tone for the almost hour-long interaction, where the book launch was but an excuse to delve into a more intimate conversation on Sohini's journey as a dancer and what really makes her tick. As an added embellishment, it had already been decided that we would pepper our conversation with videos of Sohini and Sohinimoksha (Sohini's multinational dance troupe) performances that best reflect the ideology and ethos of the book, as well as represent signature themes of the Sohinimoksha oeuvre.
Starting off with trying to understand the philosophy behind the book, I veered the conversation towards the overlying themes of Shakti and the Divine Feminine during the celebration of the Mother Goddess, humanism and connecting civilisations through the arts and a shared human history, that run through the book. These are topics that Sohini is passionate about, and having her articulate her ethos and beliefs, her stage stories, as she calls them, was fascinating. The book features many of her troupe members from across the world, who, having learnt their craft from Sohini, are now young performers in their own right, performing with her on the best of the world's stages. This is Sohini's love story about connecting civilisations through Bharatanatyam and bringing humanism together.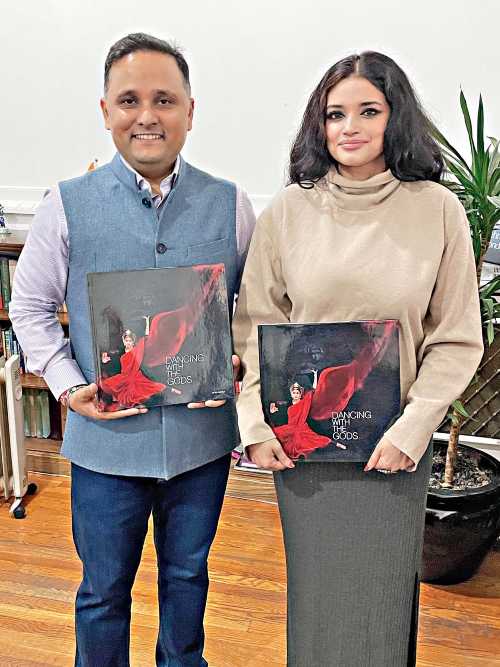 Amish Tripathi launched Dancing With The Gods, at Nehru Centre, London. The coffee-table book by Monidipa Mukherjee and Sutapa Sengupta decodes the various layers of Bharatanatyam through the journey of Sohini Roychowdhury's dance troupe Sohinimoksha.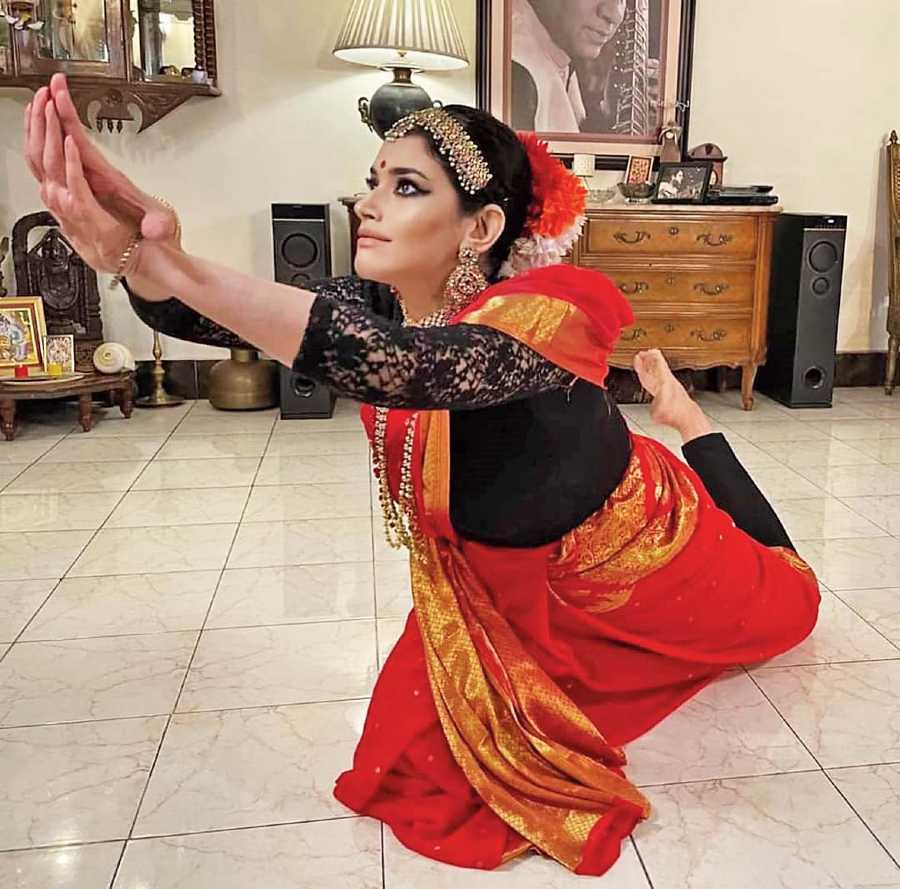 Sohini RoychowdhSohinimoksha dance troupeury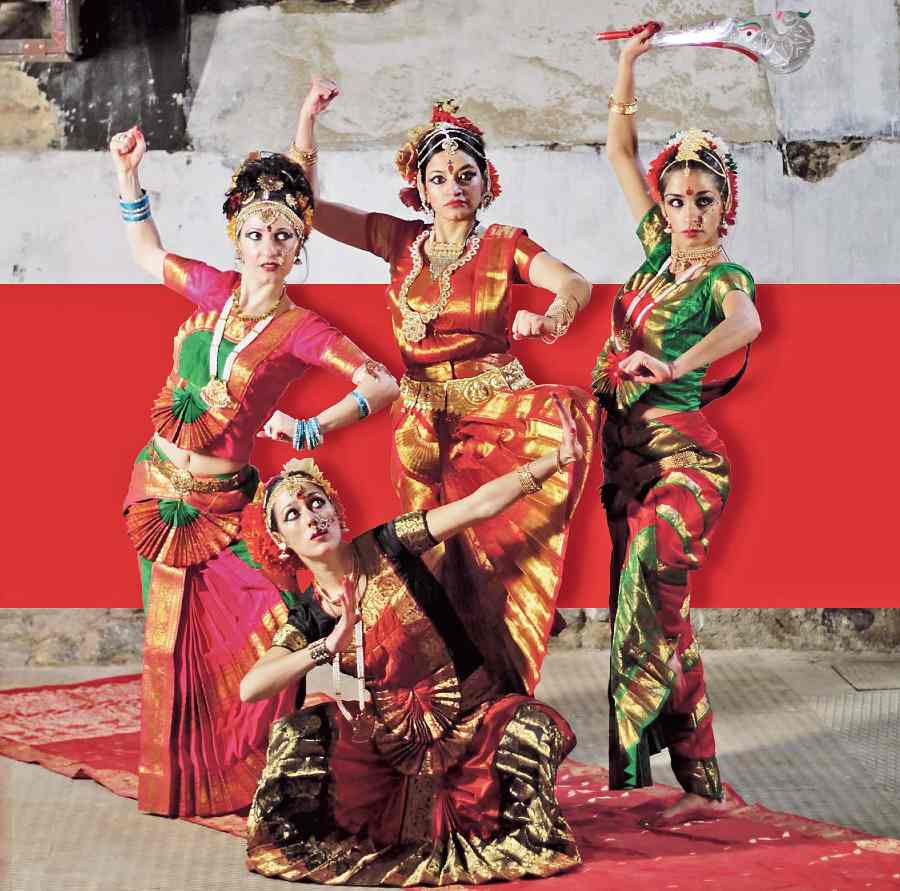 To exemplify this exposition, I played a scintillating video from Sohinimoksha's performance for the President of India at the Pravasi Bharatiya Divas. I wanted to show this discerning audience of The Nehru Centre, London, a glimpse of what Sohini does with all these multinational dancers on a global stage, people from different countries coming together. Sohini explained that this performance was a Sohinimoksha dance opera on Durga, and very relevant today... because it celebrated the enlightened and empowered woman in all of us. I observed that the music track, and the choreography, had the coming together of various religious, spiritual and philosophical sentiments through different chants — like an amalgamation and holistic fusion of all the world's religions, but through the prism of a celebration of Goddess Durga. This was an interesting, and for the times we live in, even bold, representation of humanity as one. Sohini's explanation was simple, yet telling — "We are one world. I had Gregorian, Shiva and Sufi chants, just to say that the world is one and humanism is our greatest religion. So, that was the bonding factor, and that as artistes we are idealists. We believe in a world without frontiers, and art without territory. That was the binding ethos of this production."
I found her message powerful and very relevant. I took the moment to call out to all of us artistes, writers, creative professionals, to, along with our art, our voice, our craft, carry a message of the 'world as one'. I think every time we perform or communicate, if we can take this message across the world, 'it's one world', I think we may be able to add to world peace, to create one humanity.
Noting the space and backdrop (a framed photo of her father late Pandit Subroto Roychowdhury) of another video piece on Shiva, this time a solo, I delved into how, in spite of being the daughter of a globally renowned sitar maestro, she chose dance as her professional calling. Sohini gave us more than a peek into how she started out learning dance and sitar simultaneously, and how her father's all-pervading influence as a fiercely impartial guru, combined with a laissez-faire attitude — when it came to his daughter's professional choices — led her to choose Bharatanatyam.
We continued our conversation, touching upon Sohini's deep involvement with the marginalised sections of society, her dance classes with the inmates of Maharashtra jails, the shelter home girls of Apne Aap and LittleBigHelp (where Sohini is also a trustee), and how her dream, and ambition, is to have the next generation of professional Bharatanatyam dancer from their ranks. She spoke of her foray into the world of Healing Through Dance, her Mudra Therapy workshops that she conducts online, for Narayana Health — new vistas for a relentless creative and humanist soul.
Eventually, like all good things, our session was drawing to a close, and we chose to end on a high — picking up my violin, I sang and played an ode to Durga, with Sohini accompanying me with her very expressive mudras — basking in the glory of the Mother Goddess, of the Divine Feminine, the girl child and Stree Shakti — woman power! The afterglow lingered permanently, for us, as well as, I am sure, for our viewers.