Voices from the past
Uttarpara-based Samatat Sanskriti's Shukno Gange Asuk demonstrated how the most celebrated Bengali poet-composers in recent history may resonate with our times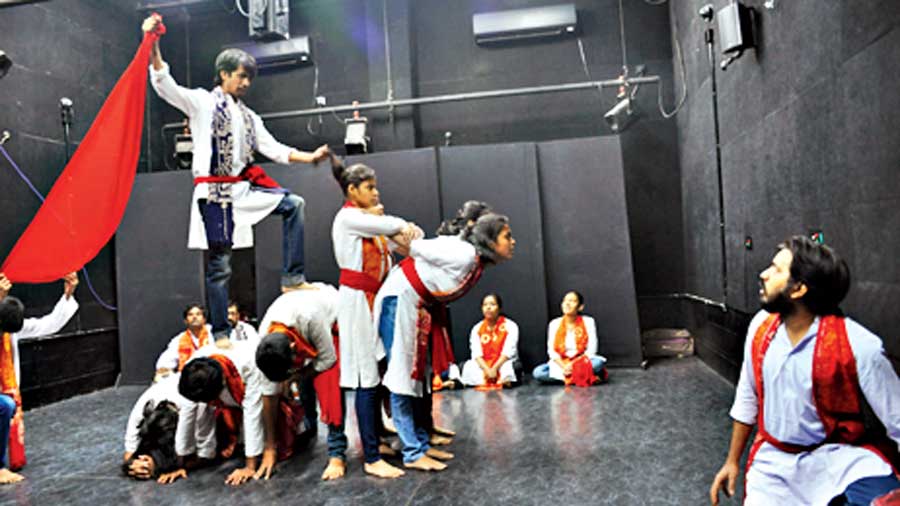 A moment from the performance of 'Shukno Gange Ashuk'.
Anshuman Bhowmick
---
Published 31.07.21, 01:28 AM
|
---
Gone are the days when the month of May would ring a bell in Bengali-dominated regions all over the world, and rehearsals would be in full swing to mark the birth anniversaries of Rabindranath Tagore and Kazi Nazrul Islam. The Covid-19 pandemic may have restored some of the magic on social media platforms, but the infectious energy and warmth is clearly missing. Uttarpara-based Samatat Sanskriti's Shukno Gange Asuk demonstrated how the most celebrated Bengali poet-composers in recent history may resonate with our times.
Scripted and directed by Anuran Basuroy, this half-an-hour-long production stands out on several counts. First and foremost, it is conceptualized and executed by a team of young actors raised in one of the citadels of cultural refinement in the Hooghly district, Uttarpara. They pick up about a dozen Rabindrasangeet and Nazrulgeeti numbers which we all know, but there is a design to the selection. The songs respond to the killing fields spread all about us and are tied together by a sensitive script that probes deep into the words penned by the composers. Thus Rabindranath's "Where the mind is without fear" is placed in the backdrop of a surveillance society. A clarion call for demolishing the achalayatan (the immobile institution) finds a counterpart in Nazrul's "Kandari hunshiyar". It reconstructs the Rabindra-Nazrul Jayanti programmes of yore as well as our romantic and subjective response to the changing colours of nature through their songs and poems. It then pits them against a strikingly different reality. This critical review of our cultural practice takes shape by means of compositions that hold a mirror up to our times.
This reviewer experienced it within the intimate setting of Tripti Mitra Sabhagriha. The actors — sporting white panjabi on jeans with a Santiniketani uttariya tied loosely around — spoke directly to the audience, eliciting a response or two, and then recreated images and patterns with their bodies, with live music accompaniment boosting up the energy level. Snippets from Bisarjan underlined their deep understanding of the crisis. The choreographers, Arghya Samanta and Sourav Das, must be lauded for lending a dynamic aura to the effort.