Gifted vision
Manicktala Dalchhut's Aspiring Women Theatre Festival 2021 at Minerva Theatre showcased 12 productions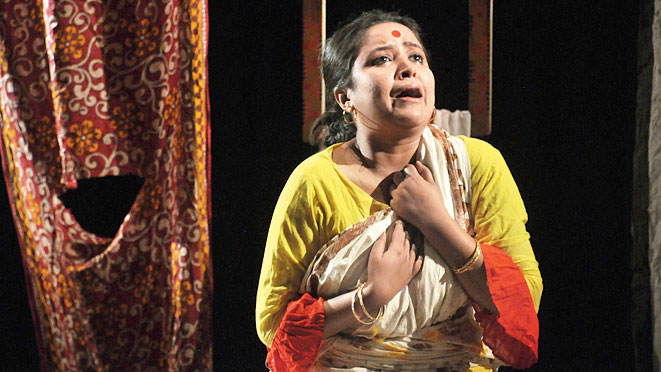 A scene from Theatre Forum's Parshwacharitra.
Manicktala Dalchhut's Aspiring Women Theatre Festival
---
Published 18.12.21, 01:04 AM
|
---
North 24 Parganas' distinction as the most happening theatre district of West Bengal was displayed in ample measure in Manicktala Dalchhut's Aspiring Women Theatre Festival 2021 (September 12-16) at Minerva Theatre. Of the 12 productions showcased, more than half came from the district. The strong presence of women directors and actors — many of them unsung in Calcutta — marked the festival out.
When this reviewer visited the festival on September 13, he was marvelled by the sheer originality and imaginative sweep of Bongaon-based Theatre Forum's Parshwacharitra (Side Role). This solo act by Urnabati Sen was inspired by the countless young women who were lured by the magic of public theatre when it arrived in Calcutta. What started as another innocence to experience tale set along Chitpore Road of yore, took a surprise turn in the last 10 minutes when the protagonist, Nanibala Devi, emerged as Chunibala Devi, the actor who played Indir Thakrun in Pather Panchali and received an international award for acting excellence — a first among Indian actors. Experiencing this at the 128-year-old Minerva Theatre — the epicentre of the narrative — was eerie at times. Sen, who also scripted and designed the 35-minute-long piece, put her best foot forward in the 19th staging of the production and would surely explore the subtle undertones in future. Although a piece of fiction, she may work on the historicity of the script and also maintain consistency in employing the background score that sounded amateurish towards the end.
The evening also featured Meghmala by Nazat Bhabna. The director, Mithu Dey, rekindled memories of Nandikar's engagement with school theatre in the 1990s. Essayed by children and young adults coming from the underprivileged families living in a remote village near Basirhat, Meghmala had its moments but only a few. Except for Srotaswini Bar, the actors looked out of their wits.
Gobardanga-based Rabindra Natya Sangstha's Telescope worked out a Madhusudan Mukhopadhyay script on the rupture between the scientific mind and a mundane life. Directed by Biswanath Bhattacharya, this brief work found young Smriti Chakraborty handling roles beyond her age.