Tell the truth
THEATRE: The big draw of About Calibans is the polished performance of the actors who insert into their activities incidental features of the space like windows and a staircase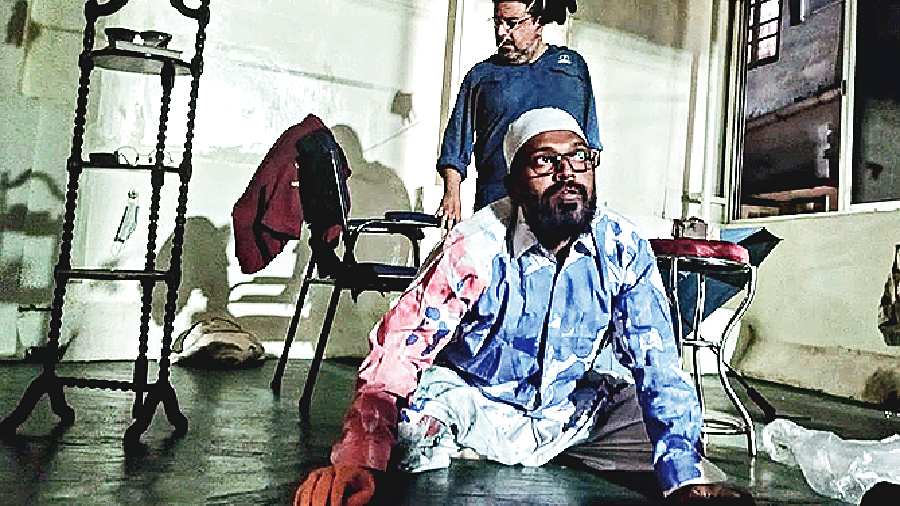 Dipankar Sen: A moment from About Calibans
Dipankar Sen
---
Published 26.03.22, 12:15 AM
|
---
The search for and discovery of new performance spaces continue even as we come to uneasy terms with a way of life wherein the presence of Covid-19 is a given. One such space that has sprung up at a Dover Lane address is the rather quirkily named Ghyaghasur Theatre Space. A late January evening witnessed a performance of About Calibans (produced by Best of Kolkata Campus) at this venue.
Conceived of and performed (along with his co-actor, Biswajit Das) by Mukherjee P., About Calibans is a freewheeling commentary on the Calibans of the world — that is, the quintessential marginalized subaltern. And the world it is, of the past and the present, as the hour-long performance collects Calibans from an expansive variety of textual sources and connects them all to the central figure of the Calcutta Caliban of Nabarun Bhattacharya's imagination. While this unbridled eclecticism endows the text with plush intertextuality, it also gives to the performance the character of a diffused rant nearly about everything. The impact could have been sharper had Mukherjee P. reined in his impulse to be so frenziedly inclusive.
The major draw of About Calibans has to be the polished performance of the two actors who insert into their activities incidental features of the space such as windows and a staircase. True to the grammar of off-proscenium theatre, both actors make effortless use of light from the street or even the occasional honking of a passing vehicle or the wailing of an infant that waft into the space from outside. The performance is punctuated by striking visual images using the bodies of the actors and mundane objects, say duct tape and polythene bag. One wishes that future editions of the performance will be fine-tuned to make the reception experience more participatory for the audience. Although it is rather perverse to be positive about the Covid-19 situation, the shake-up has undeniably punctured the ascendancy of proscenium plays, enabling niche, experimental works like About Calibans to flourish.