For freedom and intimate bonds
In itself a brave idea, made doubly so by making the event a ticketed one with each hour of art coming for a price, @artalonetogether pieced together music, dance, theatre, poetry and conversations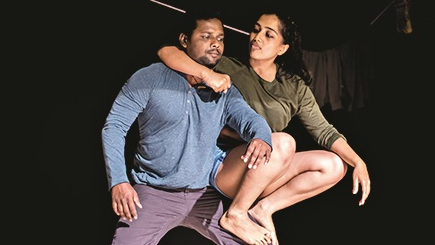 ---
---
A recent online morning-to-night mixed art festival titled @artalonetogether, curated jointly by Artsforward and Smoke Inc, featured a bunch of performances for the audience to experience from the safety of their homes. In itself a brave idea, made doubly so by making the event a ticketed one with each hour of art coming for a price, @artalonetogether pieced together music, dance, theatre, poetry and conversations to celebrate the arts and make it possible for the performers to earn.
Body of Bodies brought together two pieces, Rorschach Touch and Amorphous. In the former, tightly-choreographed by Diya Naidu, two dancers — male (Priyabrat Panigrahi) and female (Diya Naidu) — collaborate to imaginatively explore touch by making intimate connections with each other through movement. The result is a slick duet of tremendous dynamism, between two gendered bodies that move freely beyond gender limitations. The dancers fashion an emotive biography, laced with a shared affinity, congenial humour, playful battles and thrilling displays of power and unity.
The deeply tactile experience between the dancers that the piece offers, even as it invites the viewer into its space to respond and react to the forces within it, is a particularly poignant choice. After all, in these terrible times of fear and paranoia, touch is the one thing that arouses the deepest apprehension. And yet, the viewer's response to the piece is one of all-pervasive warmth of nostalgia for a world one has had to leave behind. Far from indulging in the melancholy of longing, however, the piece attempts to redefine the present with a sense of wonder and re-imagination.
Devised by Ronita Mookerji and Priyanshi Vasani, Amorphous uses film and movement to chart the narrative of a journey of the female body from form to formlessness. Two artists, who identify themselves as women, collaborate to engage in a discourse on gender-neutrality. Mookerji, a dancer and Vasani, a filmmaker, seek to answer questions on a gender-bending fluidity aspiring to achieve a freedom of form that can embody within it the masculine and feminine energies.