Newer forms
Viswanathan explores a narrative of post-pandemic theatre through his play Shakespeare in Venice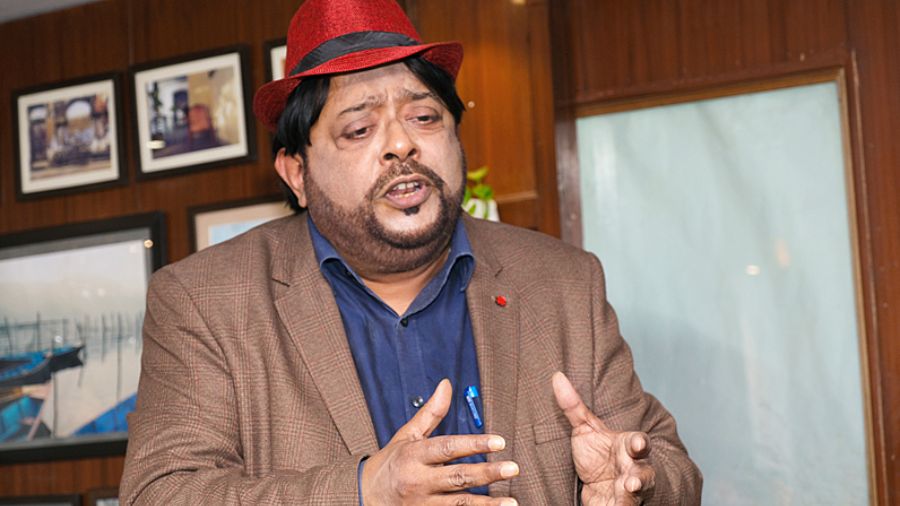 ---
Published 21.05.22, 02:23 AM
|
---
In many ways, the latest venture of Bohubrihi, Shakespeare in Venice, is stamped with the telltale marks of post-Covid theatre. The minimalist approach in its making, the brevity of the production, the conscious decision to design the performance for off-proscenium spaces — these are all features of post-pandemic theatre, but leaner and tighter. Thus, The Merchant of Venice becomes a solo act, conceived and executed by Ashoke Viswanathan.
The crucial spin given by Viswanathan is to structure the performance in the form of a classroom lecture in which explication is privileged over enactment. The effect it produces is to bring into unmistakable focus the fundamental truth that theatre is an art form embedded in life situations. We are jolted into recognising that the classroom, the doctor's chamber, the bedroom and myriad other time-space capsules are indeed zones where theatre unfolds. The classroom-like performance configuration also determines the performative code in the sense that Viswanathan has no choice but to seek ways and means of erasing full-blown theatricality from his theatre and insert in its place a performative idiom — 'acting,' one may say — that one encounters in an academic setting.
Viswanathan handles the challenge of presenting the narrative in segments and also commenting upon key issues of the text (mainly, race and gender) quite judiciously, so that the hour-long show moves at an even pace. The choice to use multiple languages enhances connectivity, but in a country like India where Shakespeare's characters have spoken in numerous tongues, this is hardly an innovation. The opening exposition on blank verse remains an exercise in pedantry, floating free from the rest of the performance.
The bit where Shylock delivers his epic harangue on racial discrimination is arguably Viswanathan's only venture into theatricality as we know it, with the use of the mirror nudging the spectators towards introspection. The performance witnessed by this reviewer kicked off a good 50 minutes behind schedule; Bohubrihi will hopefully not be this tardy during future shows.